Country, rap, and even 90s pop artists appear in the RIAA's list of best selling artists of all time.
Welcome to our best selling artists of all time list! The list has recently been updated to reflect 2021 sales figures, which have introduced some interesting changes. Notably, Eminem has moved up several positions on the list, surpassing Guns N' Roses, and the previously unranked (within the top 50) Taylor Swift has found a spot of her own, above the likes of Bon Jovi, Queen, and Chicago.
The Eagles moved the most units of the top 10 artists, selling approximately 19 million additional albums between 2017 and 2021 – and proceeding to the number-four position as a result.
Breaking down the RIAA's list of Gold and Platinum artists, you'll find a few surprises.
For example, only a few hip-hop artists appear on the best-selling artists of all time list.  Eminem is right behind Guns N' Roses. 2Pac manages to hold his own, narrowly beating out Bob Dylan and Def Leppard.
Proving the power of manufactured pop, the Backstreet Boys make a strong showing, beating out Phil Collins and Dave Matthews Band.
Underscoring the popularity of country music, several country artists appear on the list.  Garth Brooks takes second place, while Reba McEntire, Shania Twain, George Strait, and Fleetwood Mac rank high with total albums sold in the double-digits.
You can check out the top 50 best-selling artists, starting with #50, along with how many albums they've sold, below.
---
50. Dave Matthews Band – 34.5 million units
49. Britney Spears – 34.5 million units
48. Bon Jovi – 34.5 million units
47. Def Leppard – 35.5 million units
46. Bob Dylan – 36 million units
45. 2Pac – 36.5 million units
44. Backstreet Boys – 37 million units
43. Tim McGraw – 37.5 million units
42. Rod Stewart – 38 million units
41. Foreigner – 38 million units
40. Simon & Garfunkel – 38.5 million units
39. Chicago – 38.5 million units
38. Eric Clapton – 40 million units
37. Reba McEntire – 41 million units
36. Queen – 43 million units
35. Santana – 43.5 million units
34. Alan Jackson – 43.5 million units
33. Guns N' Roses – 44.5 million units
32. Bob Seger & The Silver Bullet Band – 44.5 million units
31. Taylor Swift – 46 million units
30. Eminem – 46.5 million units
29. Alabama – 46.5 million units
28. Kenny Rogers – 47.5 million units
27. Shania Twain – 48 million units
26. Kenny G – 48 million units
25. Journey – 48 million units
24. Neil Diamond – 49.5 million units
23. Celine Dion – 51 million units
22. U2 – 52 million units
21. Fleetwood Mac – 54.5 million units
20. Van Halen – 56.5 million units
19. Whitney Houston – 60 million units
18. Metallica – 63 million units
17. Madonna – 64.5 million units
16. Bruce Springsteen – 65.5 million units
15. The Rolling Stones – 66.5 million units
14. Aerosmith – 66.5 million units
13. Mariah Carey – 68.5 million units
12. Barbra Streisand – 68.5 million units
11. George Strait – 69 million units
10. Pink Floyd – 75 million units
9. AC/DC – 75 million units
8. Elton John – 79 million units
7. Billy Joel – 84.5 million units
6. Michael Jackson – 85 million units
5. Led Zeppelin – 111.5 million units
4. Eagles – 120 million units
3. Elvis Presley – 146.5 million units
2. Garth Brooks – 157 million units
1. The Beatles – 183 million units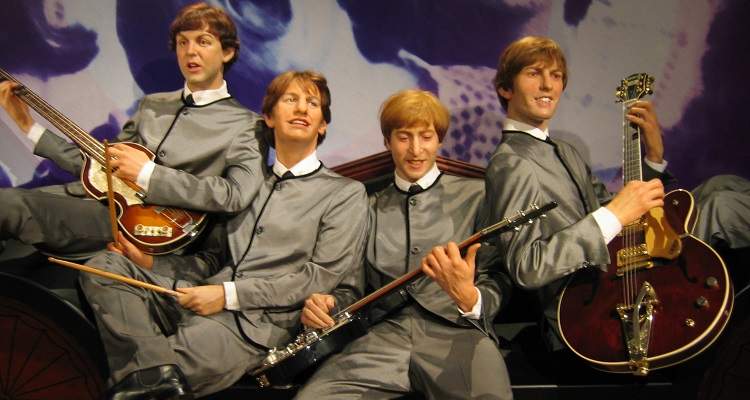 ---
Featured image by Rodrigo Amorim (CC by 2.0)