Here's our latest data-stuffed royalty statement from a successful indie artist from Europe.
Earlier this week, we shared the royalties for one of Justin Bieber's producers.  Now, it's onto an artist who's racked up more than a million streams in just a few months.  Most of those have been happening in Europe (so the payouts are listed in Euros).
+ I Wrote a Hit Song With Justin Bieber. Want to See My Royalties?
The full royalty statement is below.  But first, here's a rundown of the essentials.
Most of these streams happened in 2016.  This is an indie artist with 100% ownership of publishing and masters.
So who is this artist?  We've removed identifying information from this royalty statement.  Typically, a royalty statement lists basic information like artist name, song, album, and numerical ISRC codes.  We deleted all of those fields.
This artist is accumulating streams on these platforms: Spotify, Apple Music, Amazon, Tidal, Google Play, Deezer, Rhapsody, and a few others.
Those are the big ones, though there are a few details to pick through here.  First, notice that both 'Amazon' and 'Amazon Prime' are listed.  Those are somewhat similar services, though Amazon Prime is the bundled version for Prime subscribers and a slightly different offering.
Also, you'll notice some older, cloud-based services like iTunes Cloud and Google Play Locker.  Guess those are still out there.
Also, 'Wimp' is actually TIDAL.  Apparently older brand names can live in royalty reports for a while.  That also goes for 'Groove,' which was alive in 2016 but will be transitioned into Spotify by 2018.  Yeah, Microsoft decided to give up on streaming music entirely.
Now, onto the actual royalties.
On 1.205 million streams, this artist earned €3,765.01, or $4,432.58.  That breaks down to 0.31 Euro cents per spin, or 0.367 cents.
So which platform is paying the best?  That depends on both the streaming service itself, and the country.  Here's a breakdown of several per-stream payouts per platform and country.  Keep in mind this is in Euro-cents.
(CH = Switzerland; D = Germany; AT = Austria)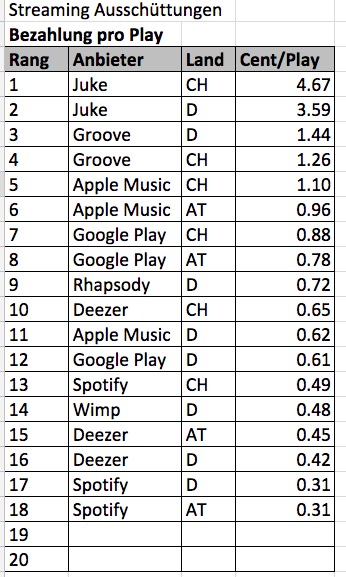 Spotify is mostly at the bottom of this breakdown.  But that is made up by volume (not sure why the numbers skip around so much at the end…)
And, here's the full-blown royalty statement.
Again, we've removed identifying names, ISRC codes, etc.  But all of the royalties and payouts are intact.  The date stamp is simply when we converted this into a PDF (again, the plays themselves were in 2016).
And, here's a direct link to the file.
---
Got some royalties to share?  Please send them to [email protected].  We'll sure to share them (confidentially if needed) to the music industry community.