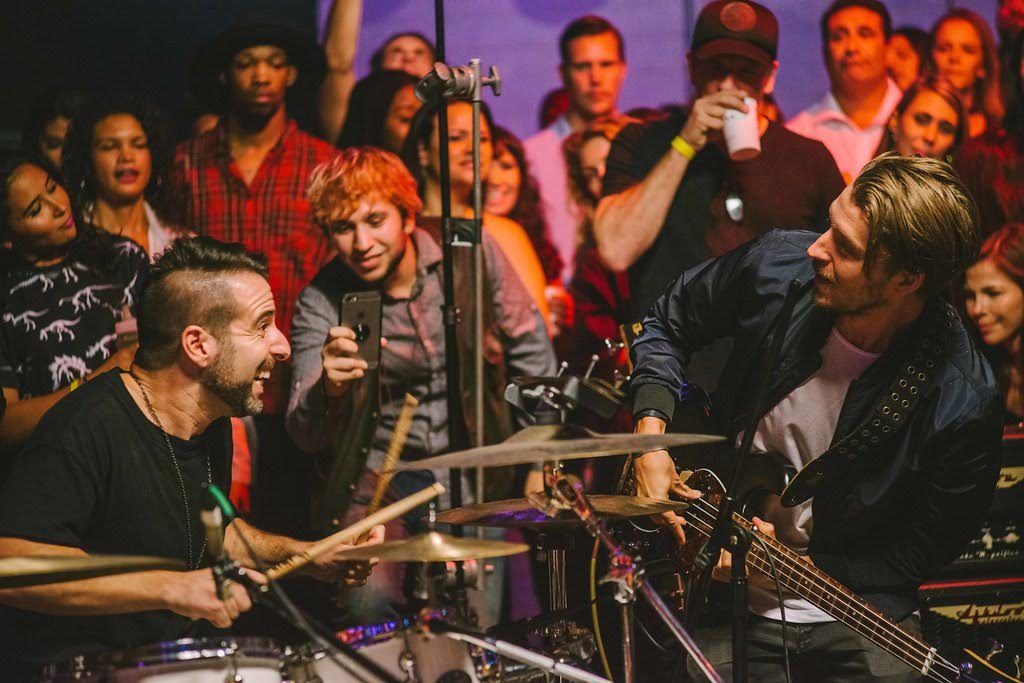 Last month I found myself on the Sunset Strip looking up at the Tower Records marquee and a long line of people standing outside the building.
Now, for LA natives this seems odd considering Tower Records shut down this location back in 2006. The people standing in line weren't just average music fans, though. These were some of the best musicians in the world attending a jam ("JammJam"), put on by Jammcard, in the now empty Tower Records building which Gibson has since acquired. The sign was refurbished for the 2015 opening of the documentary All Things Must Pass, but the building had remained mostly empty and unused.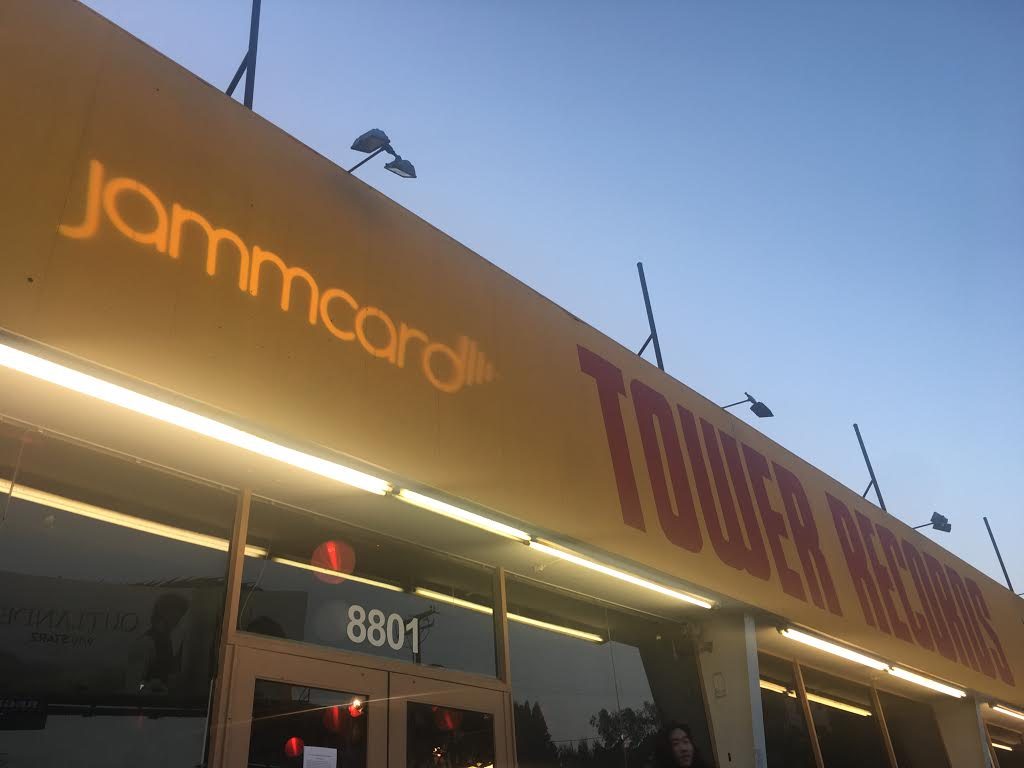 The JammJam was organized by Elmo Lovano as a way to bring together incredible musicians and get the word out about his company, Jammcard.
The previous JammJams were all hosted at Elmo's Hollywood Hills house and brought together the whose who of Los Angeles musicians. But eventually the neighbors got frustrated with the blocked traffic on their street and the late-night music, so Elmo had to find an alternate location.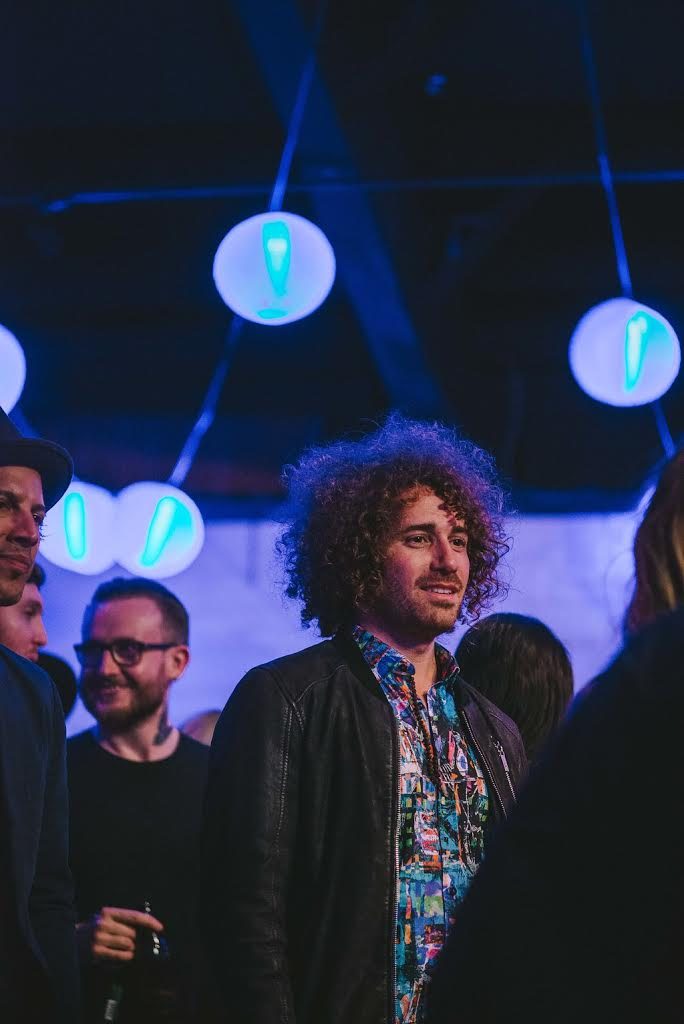 Elmo Lovano has been organizing musician get-togethers and jams for over a decade around LA. In the mid 2000s he ran the "Camerata" night at Cinespace every Sunday night where 300 people attended every week. Elmo is a drummer who, in his early years, was in both DIY and major label bands (his DIY project sold 100,000 albums independently in the early 2000s). Home grown in LA, Elmo knows the scene and the players in town. After his bands broke up he began to take freelance work. He has drummed with Christina Perri, Skrillex, Miley Cyrus, Kilo Kish and Juliette Lewis on their tours and recordings. He's also MD'd (music directed) some projects where he hired all the players.
Up until now, there really hasn't been a centralized database where the best musicians in the world can find each other, network and get hired for top level gigs. The way you got a big gig was by being referred or knowing "the guy" in town. Up until now, it really was all about who you know.
Elmo Lovano started Jammcard to be the music professional's network.
"There's no Craig's List for pros," he lamented to me at his Hollywood Hills home – which doubles as the Jammcard offices.
"Our goal is to build a meaningful community of the top talent" – Elmo Lovano, founder, Jammcard
Elmo has already created this network in under a year.
The players on Jammcard have played with everyone from Bruno Mars, Lady Gaga, Ariana Grande, Kendrick Lamar and Beyonce to Keith Urban, Rascal Flatts, Meghan Trainor, Katy Perry, John Mayer, Ryan Adams, The Mars Volta, Moby, and Chance the Rapper. To name a tiny fraction. Just scrolling through the "featured members" section in app, the credits of the player profiles listed are basically the whose who of the Grammys from the past decade.
Elmo told me that Jammcard is now how the biggest tours in the world are finding their players.
And it's becoming a way where completely unknown players can showcase themselves to potentially get hired. Like how Actors Access or LA Casting function for actors, Jammcard can function for musicians. An MD can filter players by Skills, Genre, Gear, Gender and Location. Their Jammcard profiles populate the search and the MD could go through each profile, watch their videos, browser their photos and read their profile, and if they like what they see, message that player, in-app, to setup an audition.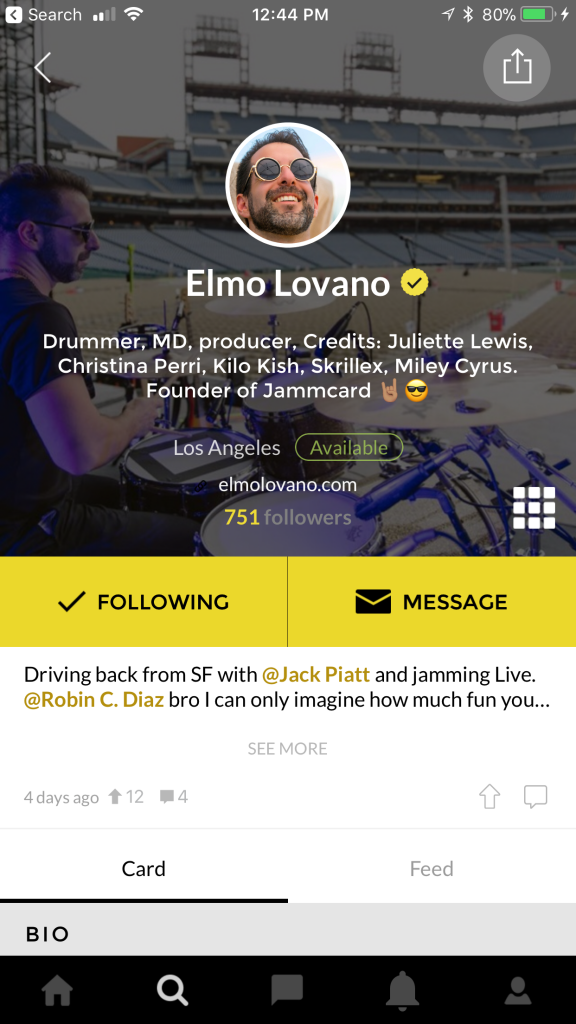 Currently Jammcard is invite only, however there is an application process.
Anyone can apply and there is someone on staff who goes through every application. Yes, Jammcard asks for past credits and tours but if you have none you can simply link to videos of you playing. If you're good, you're in.
"I'm not trying to have all the musicians in the world. I'm trying to have the best musicians in the world." -Elmo Lovano, founder, Jammcard
The app is more than just a place to host a profile. It's social. It's the LinkedIn for professional, freelance musicians. Members can message each other. Up vote (Reddit style) other members' songs and videos. And there's a Newsfeed displaying all other member's recent activity and posts.
Most members on the network currently tour stadiums, arenas, and theaters, however the day they get back from tour they need a gig.
Fun fact, a couple years ago I was playing the (180 cap) Hotel Cafe and my drummer for the night, Nate Lotz, was playing the Staples Center the very next night with Halsey. It's just how it goes in LA.
"My goal is to increase the quality of life for music professionals"
Currently Jammcard is only available to musicians in LA and is app-only (no Desktop version). And currently, there is no automated way to secure gigs in-app, ala Gig Masters or GigSalad, but that may come down the line. Elmo was very clear, though, that he did not want to move in a direction that charged musicians. I asked how he saw the eventual monetization of Jammcard:
"Everything we are going to do is for the benefit of the musician. We're not trying to milk the musician. Ever. I do not mind charging the labels. I do not mind charging gear manufacturers. My goal is to never charge the musician."
Jammcard is more than just the app. Elmo's main focus is to "increase the quality of life for music professionals."
The app is the starting point.
Jammcard also runs the web series "How I Got The Gig" where Elmo interviews players, asking them to tell the story of how they got to play with their superstar employers. Past guests have included Miles Mosley on Ms. Lauryn Hill, David Ryan Harris on John Mayer, Victoria Theodore on Beyonce and Stevie Wonder, Nita Strauss on Alice Cooper, Rico Nichols on Kendrick Lamar, Josh Devine on One Direction and Morris Hayes on Prince. The Grammys recently licensed the series.
The Jammcard movement is just beginning. It is already the go-to app for music professionals. But Elmo would like to see it become a hub to help musicians' lives from every angle.
Where the musicians union falls short, Elmo hopes Jammcard can pick up the slack.
"The musicians union doesn't really do anything for me or my peers. I've had some of the top musicians in the world come to me say they're always chasing money. You do a major label session and it's 3 months later and they still haven't gotten paid yet and the single is out."
Currently, 20% of the users open the app every day. Jammcard has already raised $1.1M from 17 angel investors. Elmo is not interested in VC money. "I look at VC funding as major labels and I'm DIY till I die."
It's hard to overstate the joy Elmo exudes no matter what time or day or where you find him.
He is the brightest person in any room. He has a constant, genuine smile beaming from his face whether he's drumming in an arena or speaking with you one on one. A true extrovert, he works the room at every JammJam, making everyone feel welcomed, appreciated and valued.
They say a company is only as good as its leader. Jammcard has, no doubt, a prosperous future ahead.
Check out Jammcard: http://jammcard.com/