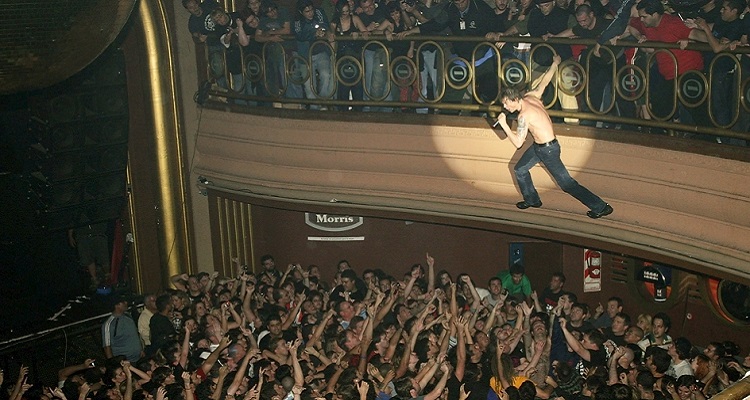 Stage-diving: part of every awesome performance, or a lawsuit waiting to happen?
As an artist, you've probably been there.
Sweat on your arms and forehead.  Music maxed out on the speakers.  Hundreds (if not thousands) of cheering fans screaming at the top of their lungs, egging you on.
So, what do you do?  You dive off the stage.
Now, stage-diving can end in one of either three ways:
First.  Fans will happily catch you.  You'll spend several minutes moving on atop adoring fans who will spend the rest of their lives saying that they caught you.
Second.  You end up on countless YouTube videos under the headline "stage-diving fail."  Harry Styles, and most recently, Post Malone, fall into this category.
Third.  You end up hurting yourself, and even worse, someone else.  Then, you get sued for millions.  Even worse, you may not even know it.
Just ask Jordan Buckley.
Make sure you warn your fans before leaping off the stage.
Tonya Ross attended a recent Every Time I Die concert at the Crofoot Ballroom in Pontiac, Michigan.  According to Ross, guitarist Jordan Buckley suddenly jumped off the stage and onto her head without warning.
Speaking with a local ABC affiliate, she claims to have suffered "catastrophic injuries" from the stage dive.
Ross went to her physician the next day who told her that she had "suffered a concussion and neck fracture."  She'll now need to attend "ongoing physical therapy and medical appointments."
Ross then filed a lawsuit against Buckley.  He apparently found out about the lawsuit on social media.
The report doesn't specify whether Tonya Ross will pursue legal action against the Crofoot Ballroom.
Echoing Steve Aoki
Enter popular DJ Steve Aoki, who absolutely loves stage-diving.  He's dived into the crowd from the rafters, which includes lighting scaffolding and speaker tops, among other things.  Oftentimes, he dives into the crowd with an inflatable raft.
Back in 2012, Steve Aoki landed on Brittany Hickman at a performance at the Hard Rock Café in San Diego.  He allegedly broke her neck and knocked her unconscious after landing on her head.
Hickman then filed a $10 million lawsuit against the DJ and the venue.
A California jury sided with Aoki and the Hard Rock Café last year.  They had argued that the liability rested solely on Hickman, who should've known that the manic DJ loves stage-diving at his shows.  Guess Aoki had much better lawyers.
Prior to the jury's decision, however, Aoki issued an apology to Hickman.  His lawyers had negotiated an undisclosed settlement with her outside of court.
So, should music venues outright ban stage-diving?
Several years ago, Vice spoke with several bands about whether artists should leap off the stage at performances.  Some bands wholeheartedly disagreed.  Sean Bonnette from the Andrew Jackson Jihad said,
"My general opinion is that it's barbaric, dangerous, and selfish."
Worriers' Lauren Denitzio agreed.  She added that not everyone loves to receive a strong kick to the head when attending a performance.
"I generally think that stage-diving is not okay because it eliminates the space at shows for people who are not physically able to hold up a stage-diver, or who would generally like to avoid being kicked in the face."
Drawing some middle ground between outright banning stage-diving and allowing it, Saves The Day's Chris Conley said,
"Bands absolutely have a responsibility to make sure people are safe at their shows.  But in general, we all owe it to one another to be aware of safety and to not be a complete dick."
In the argument against stage-diving, Paint It Black's Dan Yemin had the best line.  Bands should always focus on the safety of their fans.  If not, why do they even perform at all?
"Whether or not bands are responsible for the safety of their audience is a question that each musician has to answer for themselves.  But you'd have to ask yourself: if your audience's safety isn't a priority for you, what the hell are you building?"
---
Image by Libertinus Yomango (CC by 2.0)