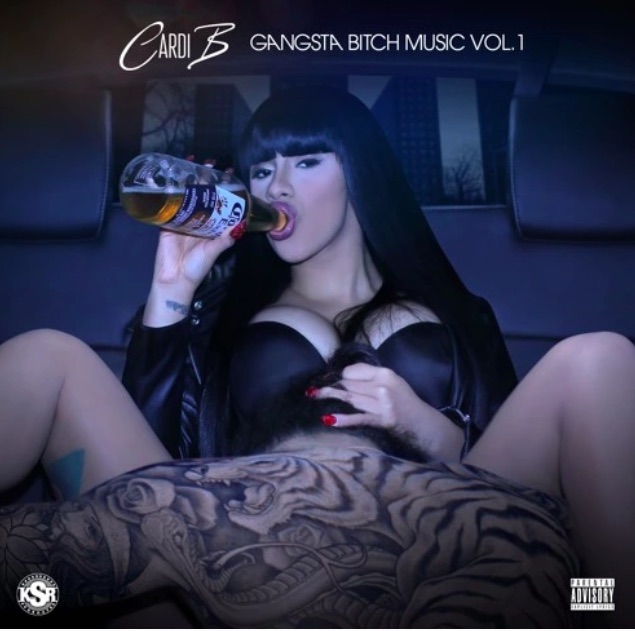 The answer to that question is now the subject of a $5 million lawsuit against rapper Cardi B.
This is definitely one of the strangest lawsuits to surface in the music industry.  And that's saying something.
So here's what we know so far.  The litigation is coming from model Kevin Brophy, who alleges that he was photoshopped into a less-than-complimentary position on the cover of Cardi B's Gangsta Bitch Music Vol. 1 (see above).
Long story short: Brophy's going ballistic after apparently being presented with the above cover photo by his 5 year-old son.  Which of course introduced a myriad of on-the-spot problems for this flummoxed parent.
Brophy's friend was also taken aback.  After dancing around the subject of fast-rising female rappers, the cover was shockingly revealed.
Deeply unamused at the photoshopping, Brophy apparently lawyered up and is seeking $5 million in damages for the unauthorized cut n' paste.
Brophy says nobody contacted him for the use of his back.  And given the context, he says the damages are extreme.
Brophy's face is not in the photo — the observer will note that he is facing something more pressing than a camera lens.  But the litigant asserts that the tattoo artistry matches his back perfectly.  Specifically, the unique interplay between the snake and lion is unequivocally him, Brophy states.
Now, this story was first presented by TMZ.  But it now looks like there's more to this story than even they imagined.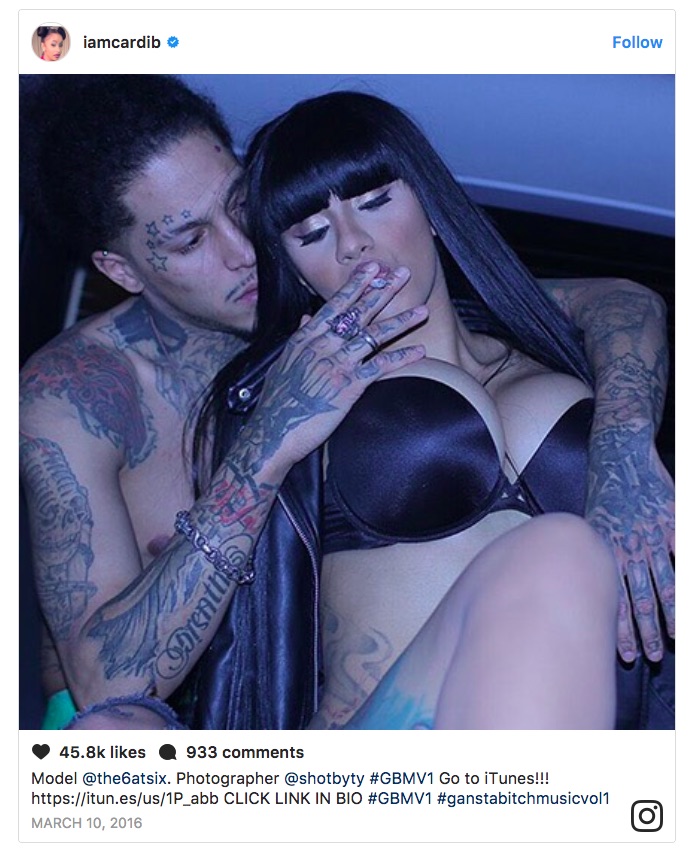 Is this a case of a mistaken cunnilinguist?
Now, Canadian comedian The6atSix says he's the real cunnilinguist!  The Toronto-based Instagram personality certainly doesn't looked photoshopped in the above photo.
And that's his back — not Brophy's — according to 6.
+ 'Cash Me Outside' Girl Signing Marks The Official Split of the Music Industry
Accordingly, The6atSix blasted Brophy a 'fraud,' while broiling the model for making false accusations.  "Whoever this f—kin bum ass 'Kevin Brophy' is needs to find another way to finesse food for his kids," the Cardi collaborator stated.
"This n—a is a FRAUD and I'm not sue'n cardi for s—t. "
All of which raises two distinct possibilities.
(1) Cardi B somehow replaced The6atSix's back with another guy's back with similar artwork at the last second,
or;
(2) Kevin Brophy is completely wrong.  And a bum ass.
Stay tuned.