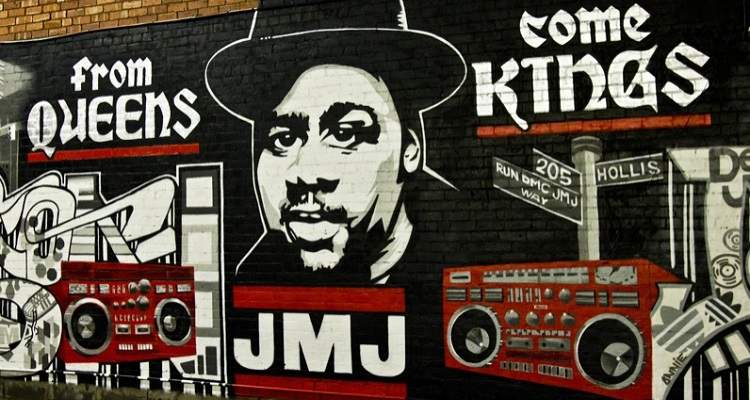 Gunned down in plain sight.  Yet Jam Master Jay's killers remain unknown. Any questions?
Update (August 17th, 2020): Federal prosecutors and NYPD officials have just named two suspects in Jam Master Jay's murder, a full 18 years after the rapper was gunned down.  More details here.
During the late afternoon on October 30th, 2002, Jam Master Jay went to his 24/7 recording studio in Queens. While waiting "for things to get started," the popular DJ (whose real name is Jason Mizell) spent time playing Madden 2002 with his friends.
An hour and a half later, after allegedly "embracing and/or [slapping] hands with his shooter(s)," Jay lay dead.  He died after receiving a bullet to the back of his head.
Fifteen years later, and without any leads, it appears that Jay's killers have gotten away with murder.
Multiple witnesses, but no one comes forward.
Jam Master Jay wasn't alone the night that he was killed in his studio.  Randy Allen, Jay's longtime friend, and Uriel "Tony" Rincon were there when the shooting occurred. Jay's assistant, Lydia High, had also "buzzed [the assailants] into the studio," proving that this wasn't a random act.  Yet, none have come forward to identify the shooter(s).
Fifteen years after the shooting, New York City police detectives told the Associated Press that the "killing of the artist… has gone cold."
Speaking on the anniversary of the rapper's murder, Jam Master Jay's older sister, Bonita Jones, said,
"We know it's an anniversary, but we don't like to talk about it much anymore."
Yet, does the NYPD know who killed Jam Master Jay?
Days before the Associated Press report, former NYPD detective Derrick Parker claimed to know who killed Jam Master Jay.  Speaking with DJ Vlad, the twenty year veteran said,
"I would say that case out of any of the big three [Biggie, Tupac and Jay], that case is close to being somewhat solved.  Hopefully soon, I hope."
Parker also hinted that a drug deal may have led to Jay's murder.  At the time, the popular DJ was reportedly "drowned in debt."  Ronald "Tinard" Washington, an associate, "may have served as a lookout" before the shooting took place.
So, why has the case gone cold?
Parker explained that it's due to a lack of  "witness cooperation," "corroboration of evidence" and "the [unwillingness] of the D.A.'s office at that time to go forward with the prosecution of who was involved."
Some in Queens, however, still hold out hope that someone may come forward.  Jeremy "JL" Lam, a family friend, told the Associated Press,
"It's not resolved to the legal eye, but the street always talks."
A lasting legacy.
In Queens, it remains difficult to forget the tragedy.  A mural of the late DJ "looms over the hallway" of 24/7 Studio.  You'll also find a plaque on a closet door with "JMJ" record label insignia.
One performer told the Associated Press,
"He's right there, so there's no getting away from it."
Jay's cousin, Ryan Thompson, however, said that witnesses may never come forward as they "could go to jail as accomplices."
---
Image by the euskadi 11 (CC by 2.0)