No bottom home button.  Bezel-less screen.  And of course, no 3.5mm jack.  Get ready for a slightly different Spotify experience on the iPhone X.
This isn't from inside Spotify (or Apple).  The illustration comes from digital designer Mamoru Kijima (email him if you want some kick-ass design work).  And it's probably a pretty close estimation of what your future Spotify experience will look like.
Here's another profile shot.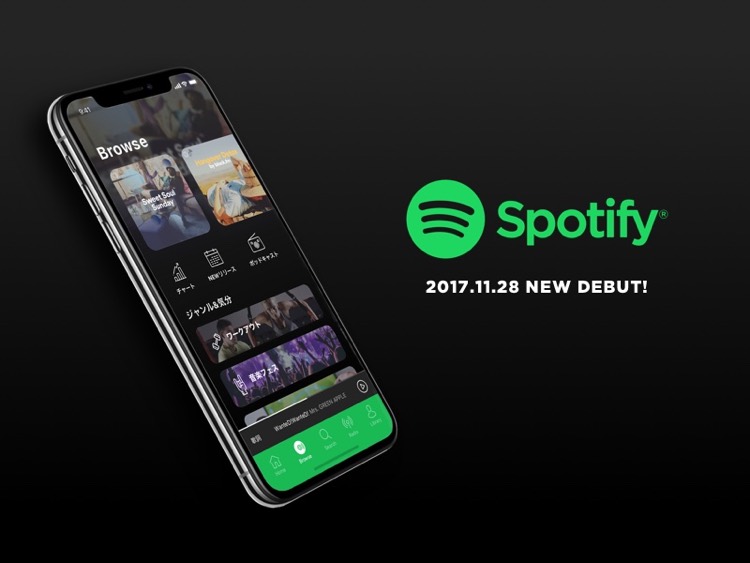 The iPhone X is considered a massive step forward for Apple.  But the basic touchscreen interface will remain the same, making a major Spotify UI overhaul unlikely.  But that doesn't mean that Spotify isn't using the opportunity to introduce some dramatic updates, and accelerate its uptake among higher-end users.
And if you can afford the iPhone X, you're considered a 'higher-end user'.
Of course, Apple Music will also have a svelte update for the X.  Additionally, Apple Music will have a serious advantage over Spotify, especially when it comes to pre-release testing.
At last check, Apple Music was crossing 30 million paying subscribers.
Meanwhile, it looks like Apple is experiencing heavy demand for  its $1,000-topping device.  Just moments after pre-orders went live, Apple reported a serious supply shortage.  The iPhone X is apparently back-ordered for weeks, with shares of X suppliers getting a huge bump.
Currently, Apple is experiencing a huge iPhone sales dip, thanks to lackluster iPhone 8 sales.  In fact, discounted iPhone 7s are outselling 8s, while bigger buyers await the X's debut.  So maybe wedging the iPhone 8 in-between was a tactical error, though most expect Apple to come roaring back.
+ The iPhone 7 Was Selling Better Than the iPhone 8. So Apple Started Discontinuing the iPhone 7.
Spotify currently boasts 60 million paying subscribers — and rising.  A splashy iPhone X placement could add momentum ahead of its hotly-anticipated IPO, with billions waiting on the sidelines.