Chris Brown's got a ploy that's going to seriously embarrass Billboard.
Just how reliable are Billboard's charts?  That question surfaced earlier this year when Tyler The Creator blasted Billboard on Twitter.
Here's the quick background.  In July, Meek Mill and Tyler The Creator competed for the top spot on the Billboard 200.  A day after Billboard projected that Meek Mill's Wins & Losses would land at #1, Jay Z and TIDAL suddenly made the album available to download for free.
In a now-deleted tweet, Tyler The Creator lambasted the move.  He also underscored the hidden problem behind the Billboard charts.
"DAMN TIDAL GOT ALBUMS PLAYING BEFORE A PAYWALL WHICH MAKES ME THINK N——S CAN HAVE BOTS SPIKING UP PLAYS FOR BILLBOARD ON FRIDAY HMM."
In a surprise twist, Lana del Rey landed at No. 1, beating out both Meek Mill and Tyler the Creator.
In addition, Billboard would later clarify that free streams "count towards the Billboard 200 since it changed to a consumption model."
Yet, instead of providing a satisfying answer, Billboard's vague statement led to even more questions.  Could Meek Mill, Jay Z and TIDAL have made Wins & Losses available to download in a not-so-subtle way to earn additional plays?  Can any artist and major label release their albums for free in an attempt to game the charts?
According to Billboard, their charts are 100% reliable, of course.  Why would anyone suspect artists of cheating such a reliable system from a reputable company?  Yet, a new move by Chris Brown shows that the company's sales charts are anything but.
Chris Brown is about the embarrass the Billboard Charts.
Several days ago, Chris Brown took to social media to promote his newest album, Heartbreak on a Full Moon.
But, here's the thing about the album: first, it has 45 tracks.  An odd choice.  Second, in a clear attempt to game the Billboard 200, Brown gave his followers very detailed instructions on how to stream the album.
"We only have 3 days tracking after release for its debut on the Billboard 200, so no messing around.

— Buy it on iTunes and tweet/IG the link and a screenshot of your receipt after you have.  If you haven't purchased the album on iTunes, create a FREE Spotify or Apple Music account.

— DO NOT listen to the albums on iTunes. It does NOTHING for Chris' album sales/streams.

— Create a FREE Spotify or Apple Music account for 30 days, so if you are not buying the album on iTunes, help UNTIL you do.  You can cancel the account IF YOU WANT TO once your trial expires.   I suggest everyone make a 30-day free account and just streams, streams, and streams multiple times and leave the album on repeat. We only have 3 days to make up for a full tracking week.

– Tweet/IG the Spotify/iTunes Apple Music links to all of your social media timelines.

— On Nov 3rd, buy extra.  If you can, buy multiple copies, if you are buying one. DO NOT BUY MULTIPLE COPIES ON ONE RECEIPT, ONE RECEIPT IS ONE SALE.  Put the other copies in the front of the whole section. We aren't playing nice here, we are here to get Chris Brown the recognition and success he deserves.

— On the day of the release, when you are tweeting about the album, include BuyHBOAFMOniTunes or just #HBOAFM to gain online attention so we can get it trending, too."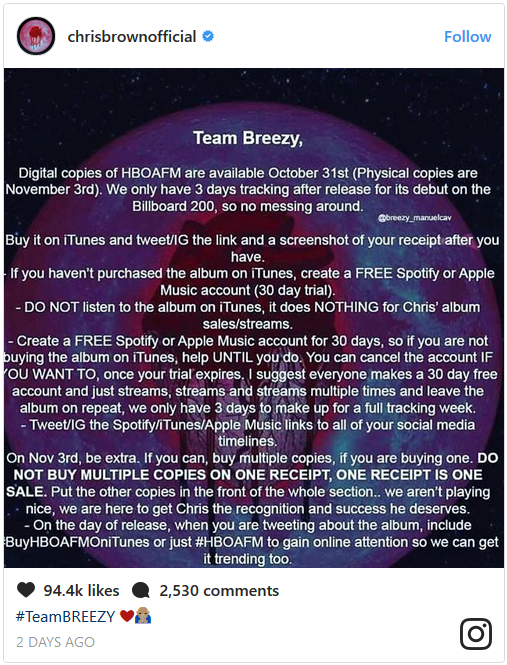 But, why would Chris Brown release a 45-track album?
Simple.  First, the rapper has over 40.5 million followers on Instagram.
Second, according to Billboard, 1,500 song streams equal one album sale.  For a sale to register, a ten song album would require 150 complete listens.  For one Heartbreak on a Full Moon sale to count on Billboard, it would require 33.3 complete listens.
If Chris Brown manages to get all of his 40.5 million followers to stream the album, it may top the Billboard 200.
That is, if Billboard chooses to acknowledge the streams.
Will it work?
Following the Meek Mill/Jay Z/TIDAL v. Tyler the Creator debacle, Billboard released a statement on free streams.  It clarified that no, bots don't count into official streaming counts.  But free streams do.
"All [streams] put through an intense vetting process by Nielsen Music, which works closely with each streaming service to assure there are safeguards in place to guard against automated streams and/or excessive streaming from singular IP addresses."
At the same time, it acknowledged that with music streaming, sales charts would face difficult challenges.  Yet, it promised that charts would adapt.
"When [we] adjusted the Billboard 200 to a consumption-based ranking, we knew as an industry that we were moving into uncharted territory and would be facing new and unique scenarios as streaming continued to grow in influence.  We have continuously adapted to that evolving marketplace and retail landscape to create new parameters and rules."
But, this doesn't completely address the problem behind Heartbreak on a Full Moon and streaming calculations.
A catch-22 for Billboard.
In a lengthy piece over at Forbes, writer Lauren deLisa Coleman attempted to examine the problem behind streaming calculations.
Antonis Karalis, Product Architect and Co-Founder of HPCmusic, explained how streaming platforms provide accurate numbers.
"So here's how it works.  Streaming providers use data mining to tackle streaming play as well as to count manipulation incidents.  Data mining and regression allow data scientists to track, store and visualize all the streams on the music catalog.  Then they use statistical processes for estimating the relationships among different variables like users' behavior, social trends about the artists, sound characteristics of the file and several other macro and micro trends."
According to Karalis, tech experts work around the clock to "create and refine a model that will allow them" to see who would manipulate their systems.  He believes that engineers have created a nearly infallible system.
"These models are really accurate.  Even without AI (artificial intelligence), the confidence level that the industry operates on identifying manipulation is above 90%, which is more than acceptable.  On the bleeding-edge of technology, when AI gets in the mix, the confidence interval (CI) goes through the roof."
In addition, Billboard and Nielsen Music refuted the notion that bots could game sales charts.
"[The company] works very closely with each data provider to ensure both the accuracy and legitimacy of the streaming volumes being reported.  A system of safeguards exists to identify and exclude any irregular and excessive streaming patterns."
Yet, the company's coveted "safeguards" only work to root out bots.  Even then, bots evolve all the time to mimic real human behavior.
President and CTO of The Veloz Group, Jordan Mendler, told Coleman how "dishonest behavior could [easily] go undetected."
"It would be fairly easy to manipulate the system simply by emulating the behavior of a real user.  One could study the behavior of a real person streaming music and develop software to mimic that behavior.  For example, one might emulate an Android device by using an automation platform to search for music, play it, praise it and otherwise just move it around in the playlist."
Chris Brown didn't enlist the help of bots (as far as we know).
He asked his 40.5 million fans to knowingly game the Billboard 200.  So what "safeguards" exist to deny real human plays?
Digital Music News' own Paul Resnikoff tackled this very real issue.  Speaking with Coleman, he said,
"But the bigger issue I think with the Billboard charts — that artists like Meek Mill and Tyler the Creator, etc. are highlighting — is that all of these fancy algorithms for calculating what the 'biggest album' is are really arbitrary.  The measurement is tricky, and in addition, the album means less and less to the music industry every day, even though used to be the gold standard and metric for measuring success.   Now, converting streams and singles into this legacy 'album' is really a stretch, and leads to all sorts of distortions.

"For the most part, we're just trusting all these facts and figures put out by streaming services."
In short, if Chris Brown's clear attempt to the game the system works, would Billboard have to "adapt" to these "new parameters and rules" set by the rapper?  If Heartbreak on a Full Moon lands on the charts, will other artists and labels follow suit?
Will Spotify and Apple Music also count the "30-day free trials" towards their growing user base calculations?
An even more important question: will it even matter?
---
Image by Eva Rinaldi (CC by 2.0)