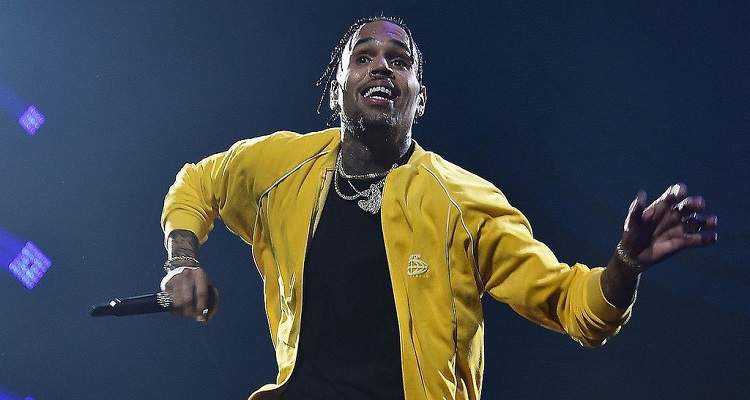 You tell millions of fans they have three days to game the charts.  Then, you get upset when Billboard upholds the three day rule.  So, why is Chris Brown so upset?
Several days ago, in an attempt to game the Billboard 200, Chris Brown posted a message on Instagram detailing how to listen to his new 45-track album.  This included telling his fans to stream the album on auto-play to rack up plays.
If successful, Heartbreak on a Full Moon would've changed the music industry entirely.  Artists and major labels would've quickly released longer albums to top the Billboard 200.
If the move failed, people would quickly forget about Chris Brown's feeble attempt to game sales charts.
Unfortunately for Brown, it appears that the latter has happened.
A potential game changer.
Here on Digital Music News, we've covered the Billboard 200's inherent weaknesses.  Despite reassurances by Nielsen Music and HPCMusic, bots can still game the system, for example.
President and CTO of The Veloz Group Jordan Mendler explained how sales charts could be manipulated almost effortlessly.
"It would be fairly easy to manipulate the system simply by emulating the behavior of a real user.  One could study the behavior of a real person streaming music and develop software to mimic that behavior.  For example, one might emulate an Android device by using an automation platform to search for music, play it, praise it and otherwise just move it around in the playlist."
Chris Brown didn't employ bots (as far as we know).  To land at the top spot on the Billboard 200, he enlisted the help of his 40.5 million followers on Instagram.
Brown instructed fans to purchase several copies of Heartbreak on a Full Moon.  He also told fans to create free Spotify and Apple Music accounts to stream the album and rack up album plays.  In addition, he asked fans to spam their own followers with links to the album.
Although admitting that fans would game the system, an unapologetic Chris Brown wrote that the move was necessary.
"We aren't playing nice here, we are here to get Chris Brown the recognition and success he deserves."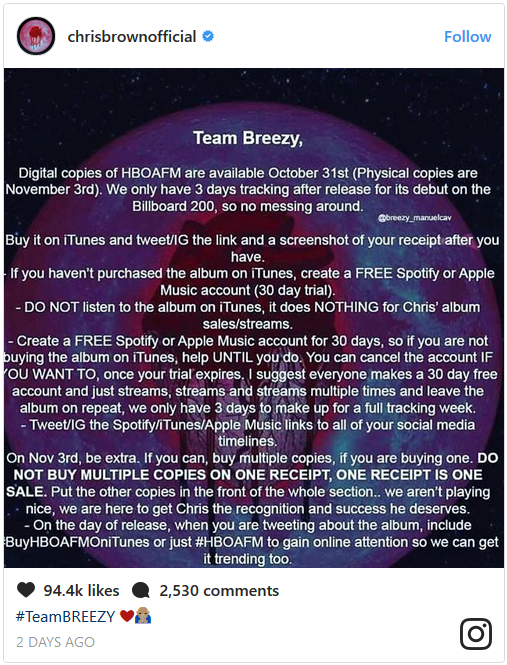 Had the method worked, Heartbreak on a Full Moon would've exposed the Billboard 200's fatal flaws to the world.
It didn't.
Failing spectacularly.
Yesterday, Chris Brown took to Instagram to share news about Heartbreak on a Full Moon.
Because the album dropped on Tuesday, October 31st, he'll only receive credit for three days of sales in its debut week.
The r&b singer, apparently disheartened and furious, wrote,
"So I'm hearing that I will only be credited for 3 days of sales for my first week. DON'T UNDERSTAND how that is… Just like the 9 platinum plaques RIAA just dropped out of the sky this year (not including the 3 that I just received for HOAFM singles)… F—K IT, I'm thankful for the support."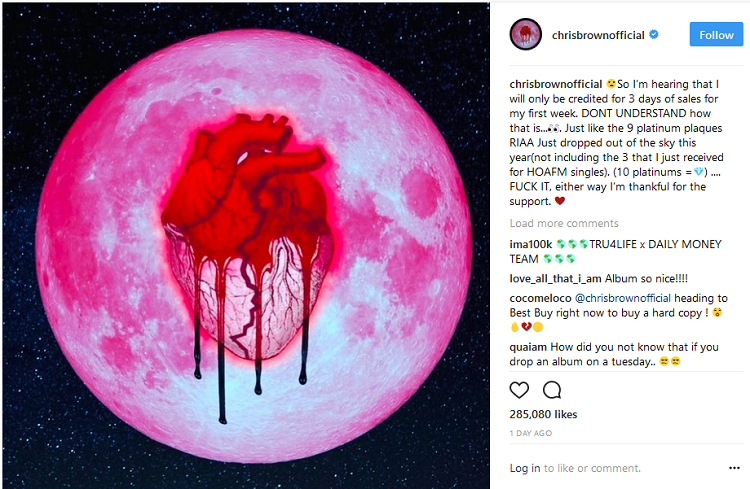 Yet, the troubled singer openly contradicted his previous statement.
Several days ago, after providing detailed instructions on how to purchase/stream his album, Brown wrote the following:
"We only have 3 days tracking after release for its debut on the Billboard 200, so no messing around."
So, what exactly is he angry about?  Maybe because of current sales projections.
According to Billboard, Heartbreak on a Full Moon may land at the No. 4 spot next week.  Despite his massive social following, the album may only move 45,000 units.  Kelly Clarkson's Meaning of Life will take the top spot.
That may explain the singer's Heartbreak.  Oh, and the terrible reviews as well.
---
Featured image by adrian mustredo (CC by 2.0)