The cheap seats aren't even selling.  And the arenas are half full.  Is it over?  Jay-Z is now facing lackluster demand and sagging ticket prices on his '4:44' tour.
Update: Jay-Z has threatened legal action against Digital Music News over this article.  Here's the latest on that.
Jay-Z is accustomed to multi-platinum albums and sold-out shows.  But this time around, fans didn't even know where to find 4:44.  And they seem equally uninterested in seeing the rapper live.
As the 4:44 circus train leaves the station, fans are leaking some moribund details.  Tickets are largely going unsold, with bargain basement deals surfacing.
That includes a shockingly-low $6 seat in Anaheim (see above).
And maybe that's the first of many.  On that same date, $11 tickets were plentiful.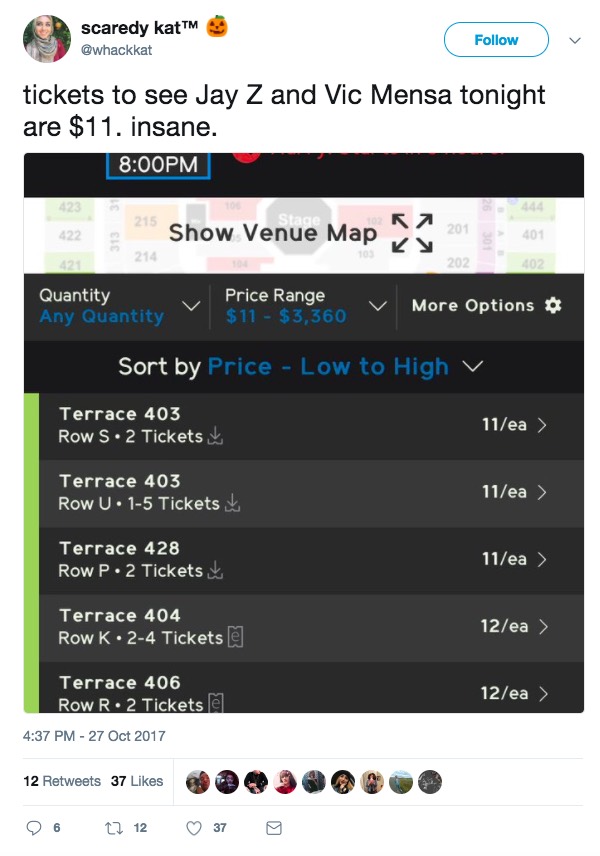 Other dates are woefully undersold.
A quick look at Ticketmaster shows a massive number of unsold seats in markets like Denver, Dallas, and Los Angeles.
A Dallas show scheduled for November 7th offers a stunning look at the situation.  Just days ahead of the gig, most sections have plenty of tickets available.  That includes lower-priced, $34 nosebleeds, which are plentiful.
Updated (November 5th): Jay-Z has cancelled a scheduled performance in Fresno, as tickets drop below $10 in numerous cities.
But higher-priced tickets approaching $200 are also plentiful, suggesting that bigger spenders are saving for other gigs.  Or, looking to score a last-minute bargain.
A December show in Los Angeles at the Forum is also struggling to attract fans.  Even Jay-Z's hometown Brooklyn is hurting, with thousands of unsold seats at the Barclay Center.  Both dates are only several weeks away.
+ Jay-Z Tells Spotify Where to Stuff His New Album
The lackluster tour follows a questionable streaming strategy around 4:44.
Instead of a broad release, Jay-Z insisted on limiting 4:44 to TIDAL and Sprint subscribers.  He purposefully withheld the release from Spotify, a move that may have crushed awareness and interest.
Somehow, 4:44 grabbed a #1 spot on the Billboard charts on 262,000 'album equivalent' units.  Before that, it quickly earned a platinum certification from the RIAA.  But that was based on 'free' album downloads to existing Sprint subscribers.  In other words, Sprint bought the albums, not actual fans.
+ Jay Z's 4:44 Platinum Status: The Beginning of The End for TIDAL
All of which made for great headlines and a shiny platinum plaque.  But it won't be enough to fill 4:44 shows.
More broadly, Jay Z's war against Spotify may be proving disastrous.  TIDAL remains completely niche, despite massive backing from Sprint.
All of which seems to be making the 4:44 album and tour completely niche as well.  No matter what the headlines say.
---