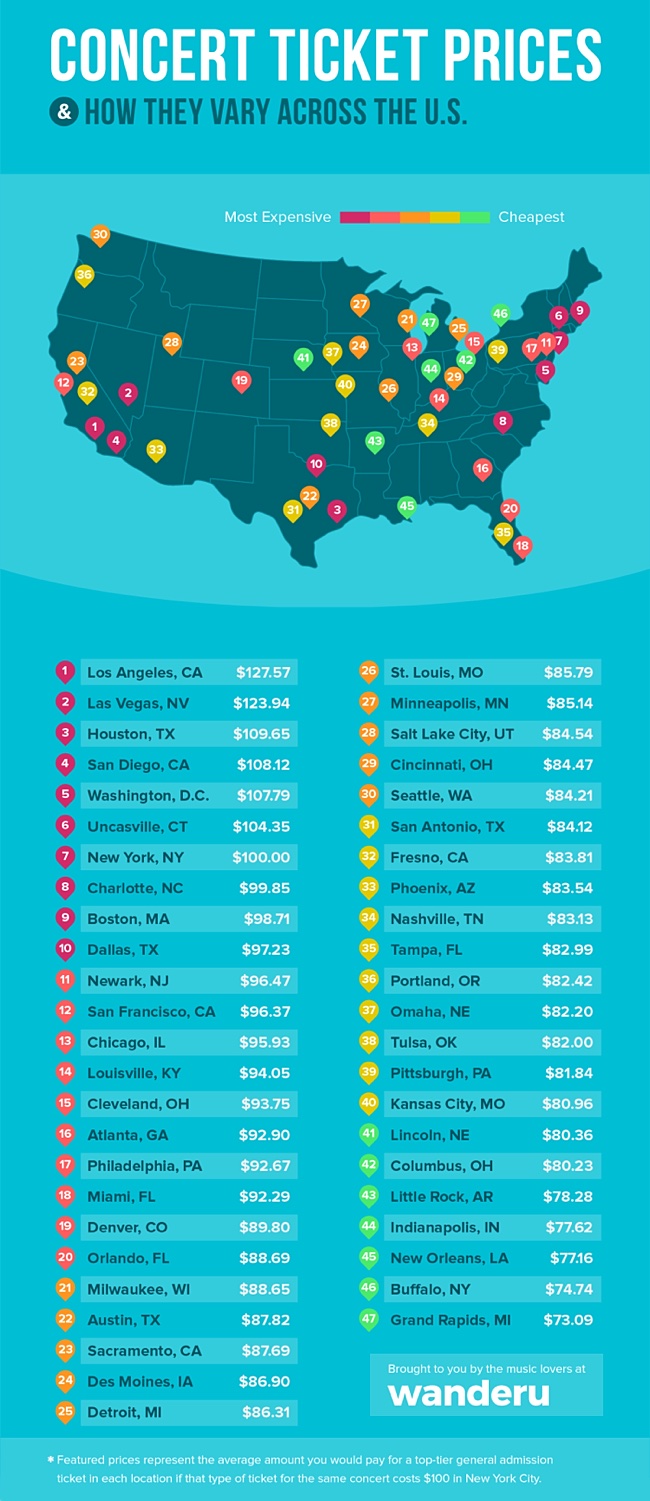 The price of concert tickets can vary wildly depending on the city, according to exhaustive data from 13 major tours.
How much more are you paying for a concert ticket in your city?  Or, how much are you saving?
That all depends on a number of factors, though higher-priced cities tend to feature higher-priced tickets.  According to thousands of concert ticket prices analyzed by Wanderu, variations can easily exceed 75% — for the same level seat.  And when it comes to VIP or hard-to-buy concert tickets, those differences can become extreme.
Here's how Wanderu collected their information.  Basically, the company picked 13 major tours, with most of the dates happening in 2017.  Also, they selected artist shows (instead of festivals), with audiences of more than 10,000 per show.
Here's a list of the shows they ended up analyzing:
Bruno Mars – 24K Magic World Tour
Ed Sheeran – ÷ Tour
Imagine Dragons – Evolve World Tour
Janet Jackson – State of the World Tour
Katy Perry – Witness: The Tour
Kendrick Lamar – The Damn Tour
The Killers – Wonderful Wonderful World Tour
Lady Gaga – Joanne World Tour
Lorde – Melodrama World Tour
Shakira – El Dorado World Tour
Shania Twain – Shania Now Tour
Tim McGraw & Faith Hill – Soul2Soul: The World Tour
The Weeknd – Starboy: Legend of the Fall Tour
In terms of the benchmarking, Wanderu analyzed the highest-priced general admission seat for every show.  That way, they had a common comparison point.  Everything was done on Ticketmaster, and special deals, VIP packages, and other add-ons were not included.
Basically, Wanderu made a $100 ticket in New York the peg.
That's actually a pretty decent price for a show, depending on the headliner(s).  But music fans routinely pay that much to see a marquee act.  And they pay even more than that in cities like Las Vegas and Los Angeles.  Those are the two most expensive cities in the US for concerts, according to the data set.
There are also considerable variations between cities in specific regions of the US.  Here's a quick breakdown of the differences.
I. The Northeast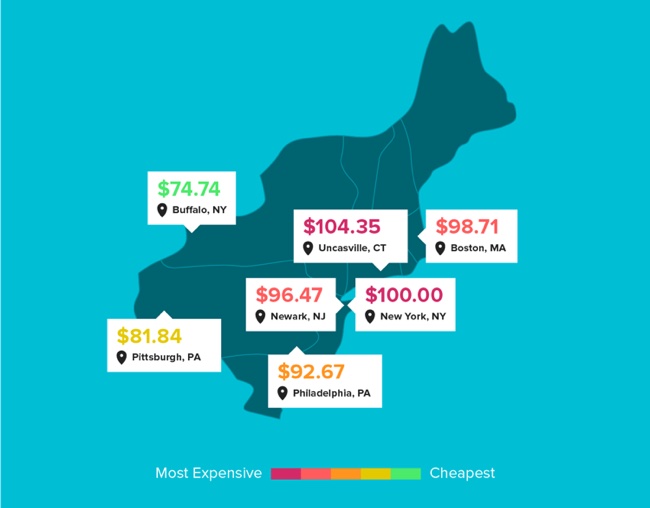 II. The Midwest.
III. Southwest
IV. West Coast