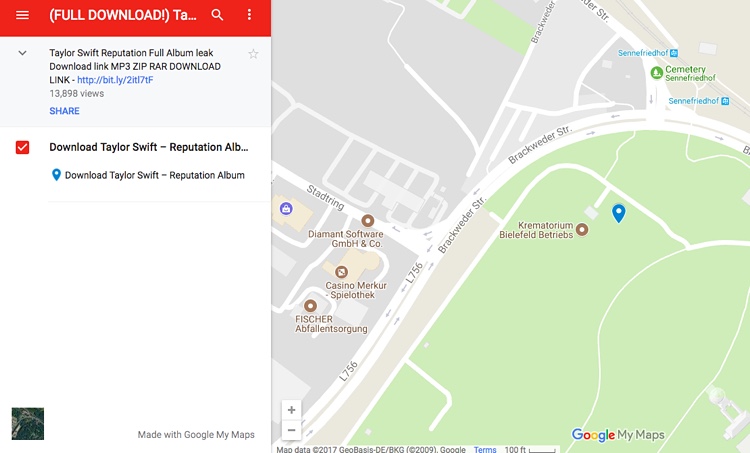 Why is a pirated MP3 of Taylor Swift's latest album located in Germany?  Welcome to the latest trend in music piracy: Google Maps.
It didn't take a genius to figure out that Taylor Swift's latest album would face increased piracy.  But it took an evil genius to start hiding free MP3s of the album on Google Maps.
Accordingly, copies of the album, Reputation, are getting scattered across the virtual globe.
Swift limited the release of Reputation to CDs and downloads — at least for the first week — thereby boosting demand for free MP3s and unlicensed streams.  But Taylor's team is undoubtedly combatting illegal torrenting and other pirate channels, all of which is forcing pirates to get a bit more creative.
So here's how this little mapping trick works.  The Google Map embed boosts the album visibility within Google Search.  All of which boosts visibility to the link posted to Google Maps.  Any questions?
In this case, the Google Map bit.ly link goes to albumgrab.com, which offers a tranche of popular albums and MP3s.
This particular link has already been viewed more than 13,000 times, according to Google's count.  We're not sure how many people have clicked the link, but clickthrough ratios are probably high given the intent of users landing on this page.
Albumgrab.com gets about a million pageviews a month, according to SimilarWeb.
This Google Map loophole will probably be shut down by the time you read this article.  But until Google shuts down this loophole for good, Taylor's label will probably be locked in a resource-consuming game of cat-and-mouse.
But it's not just Google Maps.
Earlier, we found Frank Ocean's album trading on Google Drive.  The open share existed for days before the uploader got busted.
Speaking of which: it looks like Drive also presents a problem for Swift's anti-piracy team.  In fact, we found a video on YouTube pointing to Google Drive folder containing a zip for Reputation.
It's all in the Google family!
Separately, pirated album mp3s are oozing across the web, making this problem impossible to contain.  There was even a Twitter account dedicated to pointing fans to pirated locations.
The Twitter traffic control was shut down for abuse this morning, but highlights the extreme difficulties that artists face when attempting to restrict content.
---