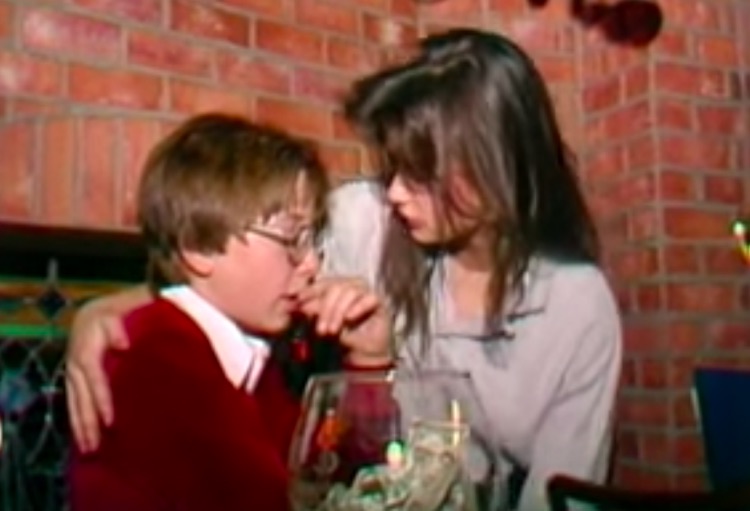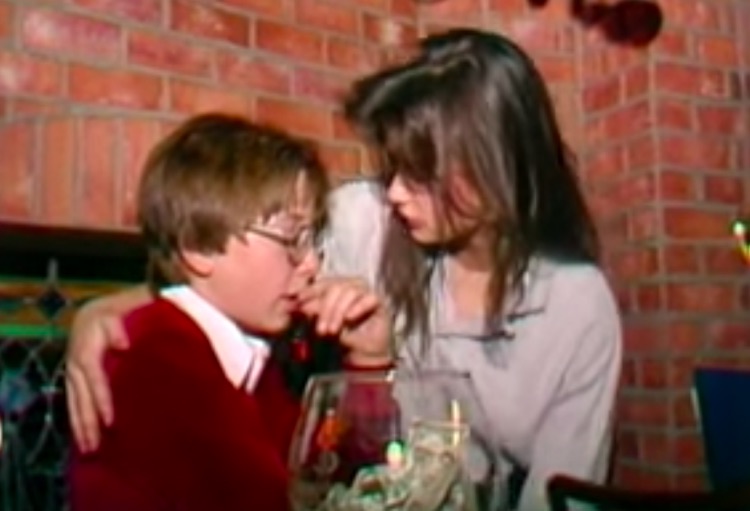 Demi Moore now faces allegations of sexually assaulting a 15 year-old boy — with video footage to support the claims.
Is passionately french-kissing a 15 year-old boy — multiple times — okay?  Not according to a growing chorus of people outraged by a discomforting video.
The footage dates back to 1982, when Demi Moore was 19 years of age.  The event was a birthday party for Philip Tanzini, a co-star of Demi Moore on General Hospital at the time.
Tanzini was turning 15 at the party, meaning he was less than one day removed from the age of 14.  All of which makes this video involving a married Demi Moore disconcerting to many.
The footage itself was shot by ET.  It's currently on YouTube, where it already has 6.5 million views (though we're guessing it will soon be removed).
In total, there are three passionate kisses between Demi Moore and Philip Tanzini.  The first kiss starts at 1:22; the second at 1:49, and the third begins at 4:36.
Take a look.
Demi Moore appears to be totally drunk in the video, though of course that doesn't constitute a legal excuse.
Tanzini does not appear under the influence, and frankly, looks like he's clearly enjoying the multiple advances.
Moore was married at the time to Freddy Moore.   But in the video, Moore joked that she loved Tanzini.  Or, we think she was joking.  "I love him dearly. He's one of my most favorite people," Moore declared.
"He's the only one I love."
Philip has declined to comment on the exchange.  In the moment, he made light of Moore's married status.  "We're going to get married by the way," the upbeat Tanzini joked (or at least we think he was joking).
"Don't let her husband find out."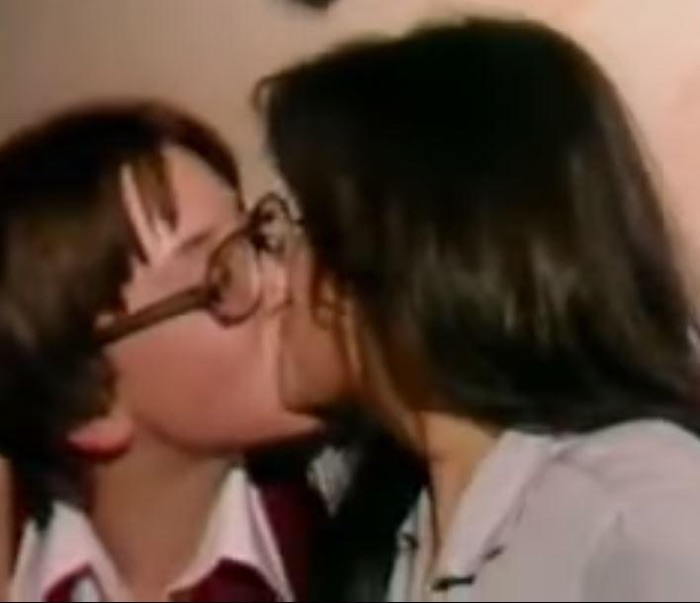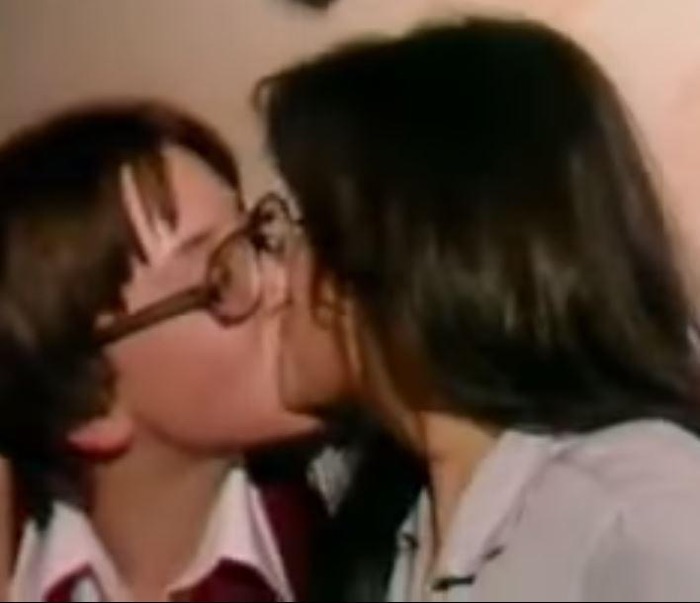 The video was actually uploaded onto YouTube in 2012.  But it's getting fresh attention in the wake of numerous sexual abuse scandals.
The Moore incident may draw comparisons to Kevin Spacey.  Spacey was initially accused of sexually assaulting an underage actor while drunk.  Spacey did not deny the allegations, and other accusations include groping and inappropriate sexual advances followed.
Online, a growing number of people are accusing Moore of similar sexual assault and/or abuse.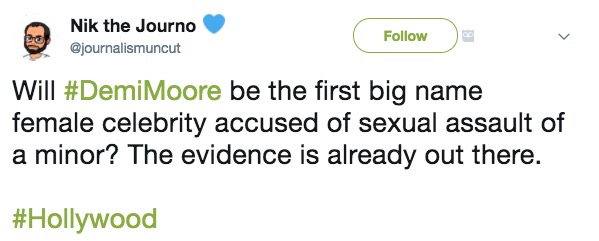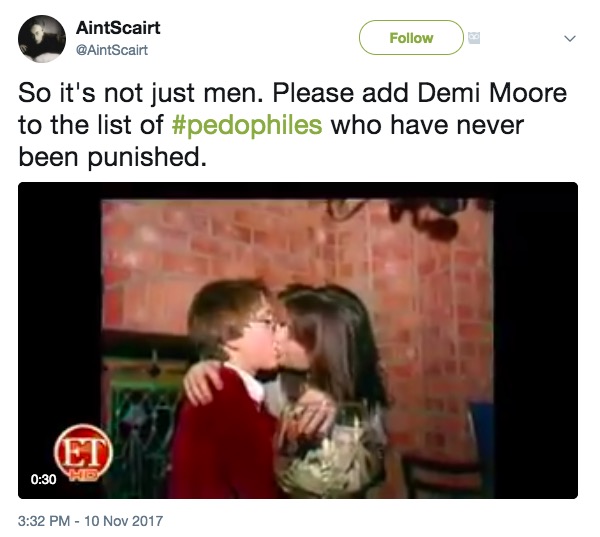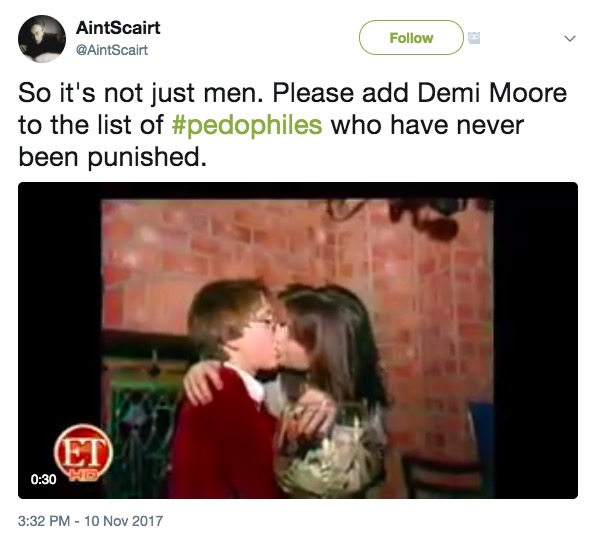 Some went further with their accusations, accusing the actress of pedophilia.  Those are extremely serious accusations, though Moore is clearly a legal adult passionately kissing an underage boy in the video.
There's also a statute of limitations in play, given the date of the incident.
Tanzini is now over 50, and appears totally uninterested in the attention.  Tanzini seemed delighted in 1982, and totally quiet in 2017, unlike accusers of celebrities like Spacey or Louis C.K.
More as this develops.
---