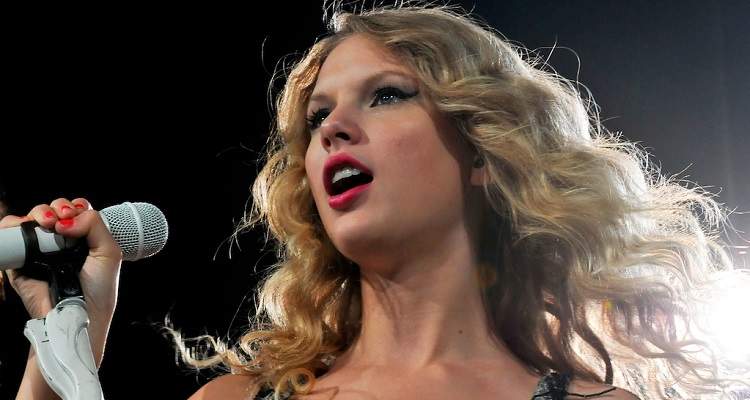 Taylor Swift's Reputation proves that not every artist needs streaming to be successful.  Spotify says that's hurting Swift and other artists.
For years, Taylor Swift has kept her albums off popular streaming platforms like Spotify and Apple Music.  Reversing her stance on streaming, Spotify made Swift's back catalog available on the platform last June.  Now, seemingly backtracking once again, the singer is withholding her latest album, Reputation, from streaming for at least a week.
So, how has that decision affected her sales?  Barely, if at all, according to Billboard.
Tracking first day sales of the album, Reputation moved 700,000 units in the US on its first day.  The album could sell well over 1 million copies in its first week.  Multiple sources added that Reputation could earn the singer "her largest sales week yet."
But, did you know that the decision to keep the album off streaming platforms has actually boosted piracy?  That's according to Spotify Global Head of Services, Troy Carter.
A push away from streaming and towards piracy.
Speaking at the Internet Association's Virtuous Circle Summit on Monday about Swift's newest album, Carter said,
"A lot of it is going to be pirated.  It kind of sets the industry back a little bit."
He may have a point.  Looking at torrent index metasearch engine Torrentz2, multiple torrents of Taylor Swift's Reputation have a combined total of 1,648 seeders.  The torrents currently have a combined total of 573 leechers illegally downloading Reputation.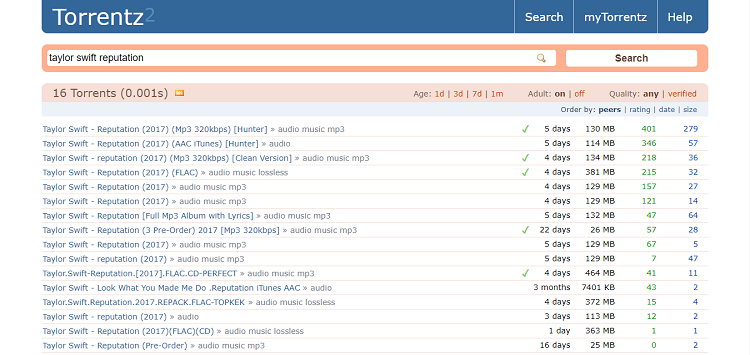 On the other hand, R.E.M.'s newest album, the anniversary re-issue of Automatic for the People, only has 77 seeders with 17 leechers.  Unlike Reputation, you can stream Automatic for the People on Spotify.
Both albums were released on the same day.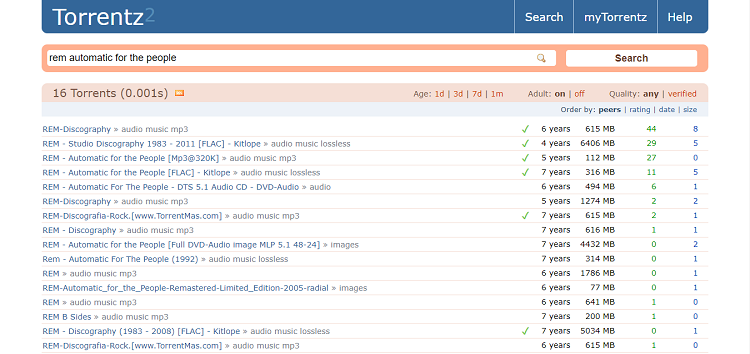 + Get Your Free MP3 Download of Taylor Swift's 'Reputation' — On Google Maps
Complimenting the singer's savvy business decision, Carter added that he understood the singer's reasoning behind keeping Reputation off streaming platforms.
"Taylor is super smart.  We are not mad at her for the decision she made."
In addition, Carter admitted that the music industry has unfairly harmed music fans in the past.  People who only want to hear one or two tracks would have to purchase "highly priced albums."
"We screwed over consumers for years."
Carter also discussed how music exclusives on other streaming platforms (i.e., Apple Music) have set back the industry.
"It's bad for consumers, bad for artists, bad for the music business."
He also took the time to criticize the modern-day radio industry for ignoring music fans.
"Radio has become this place that is so fear-driven and research driven, and advertising driven, that they forgot about the consumer.  They only want to play songs that are already hits."
Forgetting about the consumer, argued Carter, would ultimately lead younger generations away from radio and towards streaming platforms like Spotify and YouTube.
While the music industry has grown thanks to streaming, Carter cautioned against celebrating streaming's success too early.  According to Variety, platforms like Spotify are "probably many years away from profitability."
"The music industry is celebrating on the one-yard line right now.  That scares me."
---
Featured image by Penn State (CC by 2.0)