Starting December 1st, music fans can listen to Neil Young's entire digital catalog in the highest quality available.
To promote his upcoming album, The Visitor, Neil Young will make his entire catalog available on his website for free.  The website, dubbed the Neil Young Archives, will open on December 1st.
On his Facebook page, Neil Young promised that listeners can stream the songs in "the highest quality."
"Hi, there,

December 1st will be a big day for me.  The Visitor will [come] to your town.  I will [go] to my town.  You will be able to hear me and see me.  My archive will open on that same day, a place you can visit and experience every song I have ever released in the highest quality your machine will allow.

Lots of Love,

neil"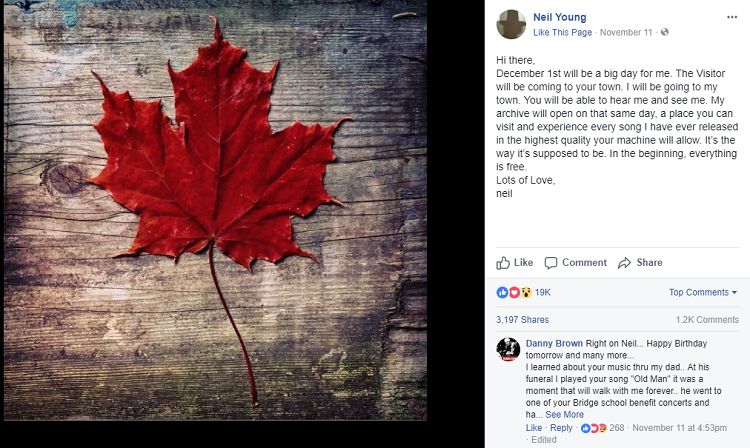 On a note on the website, Young added that he built the website "for myself as much as for everyone else."  To offer "uncompressed master recordings," the website will use Xstream Music high resolution streaming by OraStream.
On the Neil Young Archives, a timeline will detail "when and how the music was made."  Young explained,
"Every single, recorded track or album I have produced is represented."
In addition, music fans will find cards with the contents of each album, artwork, and credits.  The website will also contain a filing cabinet to "to present… songs chronologically, with their corresponding media, memorabilia, press clips and more."
The archives will date back to 1963, the date of Young's first recording in Canada.
Currently, the website has intermittent stability worldwide.  Users in the US can easily access the site to find an "Opening Soon" sign on the front page, along with a note.  However, in other countries, an error message appears that says that the connection to the site has "timed out."  It remains unclear if music fans around the world can access the site, or only users in the United States.
---
Featured image by Takahiro Kyono (CC by 2.0)