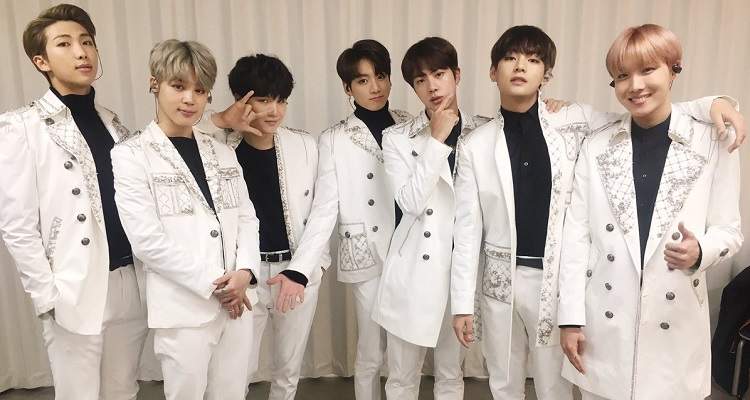 Despite shattering records with their latest album and tearing up the US, the Grammys have snubbed up-and-coming Kpop group BTS.  But, should they — or the group's fans — even care?
Just one month ago, the internet was ablaze with the following news.  According to allkpop, several music critics discussed one Kpop group that had a chance of earning a Grammy this year: BTS.
A Grammy nomination for the popular Kpop group makes sense.  Two months ago, BTS's newest album, Love Yourself: Her, secured a No. 1 debut on Billboard's World Albums chart.  The album moved 18,000 units.  For the week ending December 9, BTS maintains the No. 2 spot.  The group also debuted on the Billboard Hot 100 with their single, 'DNA.'
Just several days ago, and with the help of their dedicated fans, dubbed "ARMY," BTS broke a world record.  The Kpop group broke the Guinness World Record for the most Twitter engagements.
With a chance at a nomination, ARMYs quickly mobilized support of the group.  A petition on change.org asked the Grammy Foundation to invite BTS to the 61st Grammy Awards.  Currently, the petition has 12,797 signatures.
+ BTS Has 'Zero Chance' of Winning a Grammy In 2018, Insiders Say
In fact, a Grammy nomination appeared all-but-certain this year.  One month ago, the Grammy Awards wrote a glowing article on BTS.
Earlier today, the Recording Academy released their nominations for the 2018 Grammy Awards.
Childish Gambino, Jay Z, Luis Fonsi, Lorde, Bruno Mars, and SZA received multiple nods.  Jay-Z led the nominations list with 8 nods for his highly (un)successful album, 4:44.
BTS didn't receive a single mention.
Technically, the group's latest album was released 10 days past the Grammys official cut-off release date.  But BTS is one of the hottest new groups, not to mention a major export for Korea.  And why is the Grammy 2018 cut-off release date on September 30th, 2017, anyway?
Should a Grammy nomination matter for BTS?
Probably not.
BTS wasn't the only group snubbed.  Ed Sheeran set a Spotify record with Divide.  With his single, 'Rockstar,' Post Malone broke Apple Music's single week streaming record.  Voters didn't care.  Just as with the popular Kpop group, both failed to receive a single nomination.  Maybe there were technical reasons for those disqualifications, as well.
Voters also snubbed Lady Gaga, Katy Perry, Kesha, The Weeknd, Miley Cyrus, Taylor Swift, and Demi Lovato.
To put it quite simply, a Grammy nomination doesn't make-or-break a career.  Just ask Taylor Swift.  Despite infuriating Grammy judges with her latest album, Reputation, the album remains very successful on the Billboard charts.
In fact, several influential artists in the US have sat out the Grammys in recent years.
Last year, Frank Ocean didn't hold back any punches in showing his disdain for the awards show.  In a lengthy post on Tumblr, he blasted the Grammy's failure to "represent…people who come from where I come from."
"Believe the people.  Believe the ones who'd rather watch select performances from your program on YouTube the day after because your show puts them to sleep.  Use the old gramophone to actually listen, bro, I'm one of the best alive.  And if you're up for a discussion about the cultural bias and general nerve damage the show you produce suffers from then I'm all for it."
Underscoring the fraught relationship between hip-hop and the Grammys, Canadian Drake rapper Drake didn't submit his album for consideration.  Despite winning two Grammys this year for "Hotline Bling," he didn't show up to receive the award.  In an interview with DJ Semtex, Drake explained,
"I could give two f—ks 'bout where the Grammys go."
Drake and Frank Ocean don't care about the Grammys.  With a recent appearance at this year's American Music Awards, it's doubtful that BTS will care.  Or their legion of fans helping push up the group's sales in the long run.
---
Featured image by Jann Shi (CC by 2.0)