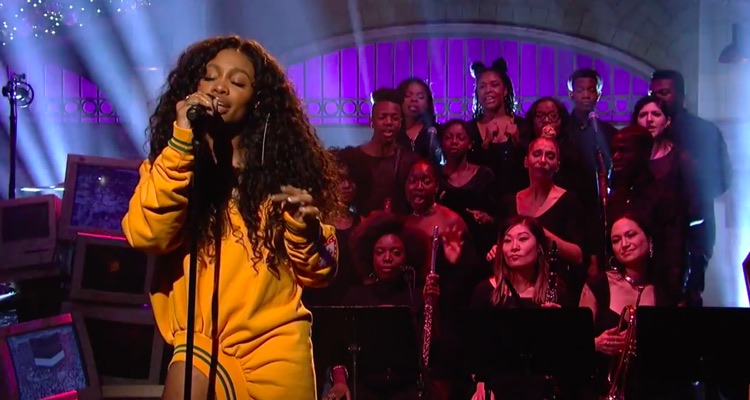 Solána Imani Rowe, aka SZA, delivered a smashing SNL performance over the weekend.  It may be the best one this year.
The wind section needed a little work.  But the choir was smashing — and so was Solána Imani Rowe, aka SZA.  The year's hottest r&b singer not only crushed her Saturday Night Live debut, she outperformed established superstars in the process.  That includes earlier performances by the likes of Sam Smith, Jay-Z, Taylor Swift, U2, and Miley Cyrus.
The five-time Grammy-nominated SZA performed two tracks from her critically-acclaimed album, CTRL.  The set started with an emotional 'Weekend,' and continued with a belting of 'Love Galore' (sans Travis Scott).
Throughout, SZA threw the kitchen sink at this one, flooring the studio audience with a stacked musical backdrop.  Both songs were enough to wow audiences, and massively expand the singer's audience over the weekend.
Here's SZA's performance of 'Weekend'.
And after that engaging performance, audiences were treated to this gem.
Almost immediately after those performances, 'SZA' became a top-trending keyword on Google.  Indeed, millions of new fans are now checking out this brand-new singer over the weekend.  It's basically lighter fluid on a bonfire, and part of a unbelievable year for the r&b singer.
Turns out good ol' broadcast television can deliver a big thud.  But the momentum on this artist has been surging all year.  Earlier, the singer was floored with five different Grammy nominations.  That includes 'Best New Artist,' along with Best R&B Performance and Best R&B Song.
+ Drake Officially Disqualified from the Grammys In 2018, Sources Say
Other artists, including Drake, have pooh-poohed the Grammys and declined to participate.  But that's because he's already huge.  For upstarts like SZA, Grammy love translates into a huge career boost.
The Grammys are happening January 28th, 2018.  Here's the full list of nominees.
+ A Grammy Nominated Artist Shares His Streaming Music Royalty Statements….
Next up?  On Monday, SZA takes the stage at a sold-out Irving Plaza in New York.  That's just a few miles from her hometown of Maplewood, New Jersey — but light years away from where this singer got started.