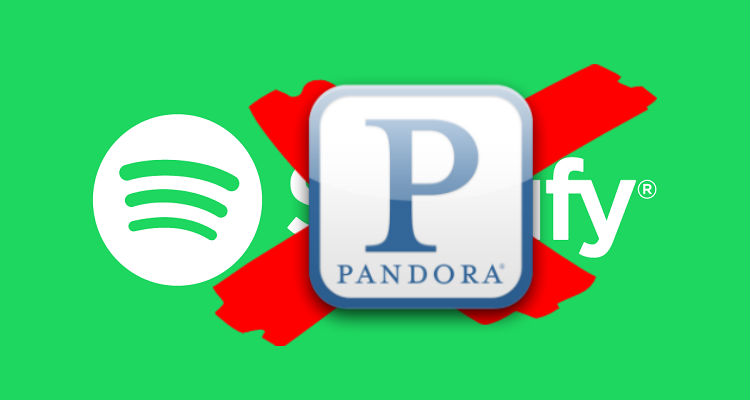 To push users towards a premium subscription, Pandora Radio takes a page out of Spotify's book.
So, the end of the year has come.  You've lost several high-profile executives.  After failing to turn things around, your CEO and co-founder stepped down.  You've also lost more than 850,000 listeners each passing month.
You've had to mark down 4th quarter forecasts by $30 million.
Analysts and investment banks have lost faith.  Several weeks ago, your stock reached an all-time low of $4.49.  You constantly see headlines begging investors to sell, sell, and sell.  Yet, you refuse to change your business model.  People want old-style radio listening, right?
Right?
Pandora Radio hasn't fared so well this year.  Now, as the company enters into 2018, its CEO has a new idea.
Why not take what market leader Spotify has done right, and slap a Pandora label on it?
Taking a cue from market leader Spotify.
Starting today, listeners on Pandora Radio's ad-supported tier can select and listen to songs of their choice.  For every video ad that they watch on the platform, they can "initially… hear at least two songs."
Speaking with the Wall Street Journal, a source said that the company will test "different mixes of advertising and music."  With the change in its ad-supported radio service, Pandora Radio hopes to "give nonpaying listeners a taste of" their Premium on-demand tier.
Those who listen to its Plus offering, the company's $4.99-a-month ad-free offering, "will have the same option."
The move comes as the company frantically attempts to stabilize its plummeting subscriber numbers.
It also faces deteriorating advertising revenue as investors wait for "ad tech investments" to kick in.  Several years ago, Pandora Radio purchased Ticketfly for $450 million.  The company dumped their acquisition for $200 million last June.
In a statement, CEO Roger Lynch noted that Pandora users want "to play specific songs, albums or playlists."
"[This new option] will drive listeners to Pandora and drive awareness for Premium, while also creating new opportunities for artists, labels, publishers, and advertisers."
Spotify currently offers an ad-supported version of its premium service.  After watching a 15-to-30-second video ad, listeners can enjoy uninterrupted music for 30 minutes.  The platform currently has 140 million monthly active listeners, with well over 60 million subscriptions.
Pandora Radio last reported 73 million monthly active users.  With the change in its ad-supported service, the company hopes to push users towards a Premium subscription.
On Pandora Radio, listeners will now "interact with a direct link or searches for music."  Then, they'll see an on-screen prompt to "opt into a video ad."
---