FCC chairman Ajit Pai shot a cheeky video about net neutrality on Thursday.  He now faces the possibility of multiple copyright infringement lawsuits and millions of dollars in damages.
Update: YouTube ripped down the video on Friday (December 15th), only to reinstate it over the weekend.  We're unclear why this occurred, though the FCC may have challenged the takedown with a 'fair use' defense for parody.  
One ill-conceived video could cost FCC chairman Ajit Pai a lot of money.  That is, potentially millions of dollars in damages involving multiple litigants.
This morning, at least one copyright owner vowed to launch a major lawsuit against Pai, the Federal Communications Commission, or both.  The video has already amassed millions of views across Facebook, YouTube, and other outlets.
Also potentially on the hook: The Daily Caller, the conservative publication that commissioned and published the video without any copyright clearances.
Exactly what Pai was thinking when he shot this video is another matter.
Instead of dampening criticism against the rollback, Pai's dry wit was perceived as extremely insulting to net neutrality proponents.  But the copyright oversight from the nation's telecommunications regulator is fairly shocking.
Honestly, it's hard to tell if this is an attempt at humor or a giant 'f—k you' to net neutrality proponents.  But the end result is an even angrier group of opponents.
Take a look at the clip, titled '"7 Things You Can Still Do On The Internet After Net Neutrality".
Enter Baauer, the DJ who created 'Harlem Shake' back in 2012.
That, of course, led to one of the biggest internet memes in history.  But Baauer (aka Harry Rodrigues) allowed that meme by allowing anyone to appropriate his song for their own 'Harlem Shake' versions.  People may not have realized it, but every single 'Harlem Shake' video involved a free copyright pass from Baauer.
But Baauer didn't license the track to Pai.  In fact, the FCC, Daily Caller, or Pai never sought permission.
That caught the attention of Diplo, who alerted Bauuer to the issue.  Accordingly, Bauuer is vowing to litigate.  "I'm taking action," Baauer tweeted.
"Whatever I can do to stop this loser."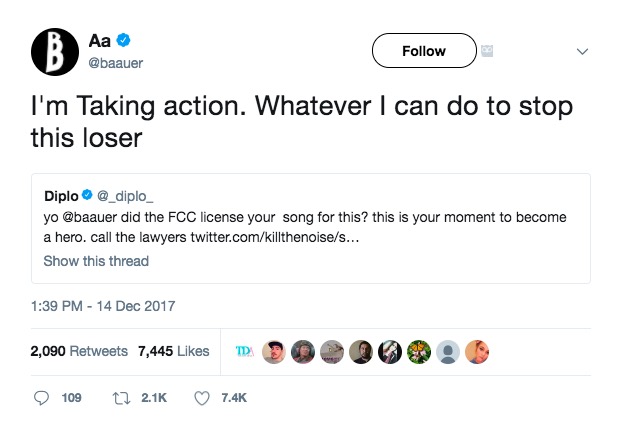 This doesn't seem like an errant tweet.  The DJ subsequently follow up on his tweet, issuing a more formal statement of litigation intent.  "The use of my song in this video obviously comes as a surprise to me as it was just brought to my attention," Baauer relayed in the statement.
"I want to be clear that it was used completely without my consent or council.  My team and I are currently exploring every single avenue available to get it taken down."
Update (Friday 11:30 am PT): Rodrigues has already issued a cease-and-desist against the video.  That has resulted in the removal of a YouTube video, though we're not seeing any other removals.  A refusal to comply with the cease-and-desist could compound damages and increase the likelihood of a penalty.
Separately, the video also uses iconic music from both Game of Thrones and the Star Wars franchises.
Given the lack of proper clearance on 'Harlem Shake,' it's also doubtful that Pai — or anyone else — sought permission on those clips either.  That introduces two more possible copyright infringement cases, with far more sophisticated and powerful litigants.
Both franchises are obviously worth immense amounts of money, with Star Wars holding billions of dollars in copyright IP.  HBO has a history of aggressively monitoring and litigating to protect its IP portfolio.
It's also unclear if Pai, the FCC, or the Daily Caller cleared the whistling soundtrack that runs throughout the video.   Again, seems like something the 'Federal Communications Commission' might clear — but hey.
Update: on Friday, YouTube removed the video based on a copyright claim from Baauer's label, Mad Decent Records.  The video was quickly reinstated over the weekend, however.  We're unclear why the reinstatement happened, though it's likely that the FCC and Ajit Pai countered with a fair use counterclaim.
Aside from the extreme infringement oversights, Pai is also under fire for including Martina Markota in the video.
Markota is notorious for fueling the 'Pizzagate' conspiracy theory during the 2016 presidential election.  The fabrication held that Hilary Clinton was part of a child abuse trafficking ring organized in the basement of a pizza parlor in Washington, DC.  That 'fake news' seemed harmless until a man opened fire in the pizza place, citing the conspiracy theory as motivation.  Markota did not back down from the ridiculous claims.
The Daily Caller — the publication that released the video— employs Markota.  All of which raises the distinct possibility that the Daily Caller may also face extreme copyright infringement claims.
Currently, the video remains online.  And there's been no statement from Ajit Pai or the FCC.
Just yesterday, Pai led a 3-2 FCC vote to dismantle Obama-era net neutrality provisions.  The vote occurred despite serious protests and polls indicating widespread support for net neutrality.
More as this develops.