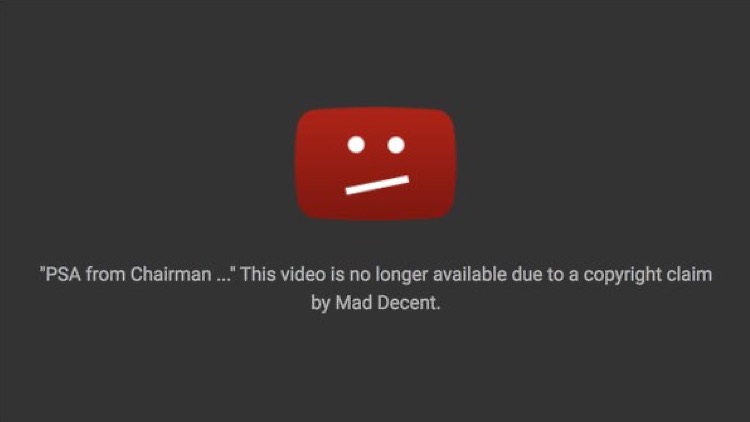 On Friday, YouTube removed an extremely controversial 'PSA' on net neutrality from FCC chairman Ajit Pai.  It was just as quickly reinstated.  So what happened?
Please note: This is a developing story.  We're awaiting comments from several people and organizations involved in this situation, so we'll update as soon as we know more.
YouTube has now reinstated an extremely controversial 'PSA' from FCC chairman Ajit Pai.  The video was abruptly removed on Friday following a copyright infringement claim by Mad Decent, label for DJ Baauer (more on that ahead).
The video was reinstated over the weekend.
YouTube did not offer a reason for the reinstatement.  The video was uploaded on Thursday, and quickly amassed millions of views.
The copyright infringement claim was issued roughly 24 hours after the video was released.
+ FCC Chairman Ajit Pai Faces Multiple Copyright Infringement Lawsuits — Starting With 'Harlem Shake'
The reason was that the FCC and its chairman, Ajit Pai, did not seek permission to use the track for 'Harlem Shake,' created by DJ Baauer.  Accordingly, Baauer vowed to take legal action against Pai, the FCC, and possibly the Daily Caller, which coordinated the video's release.
Why the reinstatement?
Most likely, the FCC, Ajit Pai, or the Daily Caller issued a 'counterclaim' to YouTube, probably on the grounds of 'fair use'.  Typically, works featuring commentary, parody, or criticism are protected by fair use under US Copyright law.
The defense is less rock solid than many imagine, though apparently good enough for YouTube's legal team.
Across numerous platforms, the video has now amassed millions of views, with at least three major copyrighted works employed.  That includes the 'Harlem Shake,' as well as the theme songs to both Star Wars and Game of Thrones.
For those just tuning in, here's the video in question.
Proponents of net neutrality called the video extremely condescending.
Many viewed the clip as a big 'f—k you' from a sneering Trump hack, and expressed as much in thousands of YouTube comments.  An appearance alongside 'Pizzagate' conspiracy theorist Martina Markota didn't help, with Pai now tainted as a proponent of the heavily-debunked story.
Overall, the video has amassed more than 202,000 down votes, with just 8,000 approving of the clip.
That's fewer than 4% showing approval, and an overwhelming 96% expressing deep dislike.
The 'fair use' defense could close the matter — regardless of what copyright owners demand.
Under US law, copyright infringement carries steep penalties.  Specifically, one instance of infringement can cost $150,000.  Multiply that times millions of views, and potential damages theoretically enter the billions.  Further multiply that times infringing uses of the additional Star Wars and Game of Thrones themes, and the numbers become laughingly astronomical.
In this case, we're assuming a fair use counterclaim, which probably applies here.  There's actually debate over what constitutes 'parody,' and judges oftentimes rule over gray areas.  Indeed, Pai's 'parody' is closer to condescension, though other tests for 'commentary' would probably pass.
A federal judge might also determine the video to be 'cringeworthy,' but that's not illegal of US law.
Another possibility is that Ajit Pai himself demanded a reinstatement — because he's the US Government.  After all, suing a federal agency on anything is quite tricky, with Pai potentially disregarding claims entirely.
We're currently awaiting information from Mad Decent, the FCC, and the Daily Caller's Neil Patel.
More as this develops.