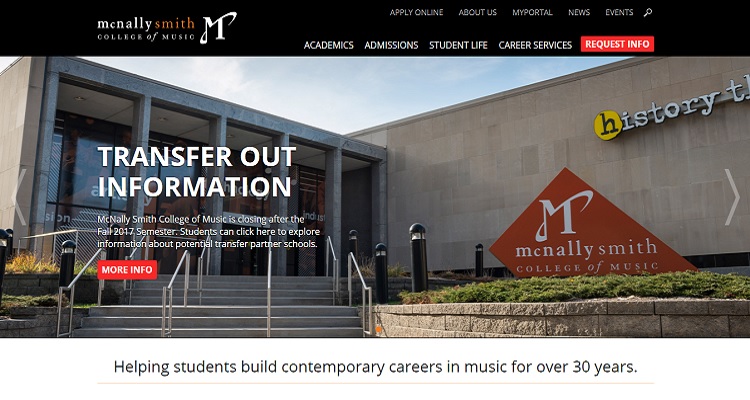 McNally Smith College of Music officially shut down Wednesday morning.
All your life, you've been surrounded by music.  You absolutely love it.  Thankfully, you're young, and would like to attend a quality music school that connects you to the music industry.  You've heard about McNally Smith College of Music in Minnesota.  The reputable school helps form music professionals, connecting them to their inner voice and to new worlds of possibility.
Or, at least it used to.
McNally Smith College of Music has announced that it would close its doors Wednesday.
On a statement on its website, the music school states,
"McNally Smith College of Music is closing after the Fall 2017 semester."
The surprise closure has left faculty without pay and students frantically looking for other options.
McNally could no longer afford to remain open.
In an e-mail obtained by Minnesota Public Radio (MPR), an NPR member station, board chair Jack McNally said that financial problems and dwindling enrollment had forced the school to shut down at the end of this semester.
The e-mail had also asked faculty and staff members to "consider finishing the term and issue grades as usual."  This would ensure that students would graduate on time and that other students would receive semester credits.
McNally wrote,
"We fully understand the awkwardness and unfairness of this request."
He had also asked departing staff to notify a supervisor if they wouldn't issue grades.
In a separate e-mail, Harry Chalmers, the school's president, wrote,
"It is with deep regret that we are writing you to inform you that McNally Smith College of Music must discontinue all course offerings at the end of Fall 2017… We sincerely wish you all the best and are deeply sorry for this highly disappointing situation for all of us."
Students and staff immediately lashed out at the school on social media. On Twitter, one student wrote,
"So we got an email (AN EMAIL!) today saying that McNally Smith College of Music is SHUTTING DOWN after this semester.  No prior notice.  Teachers and staff let go and hundreds of students left in limbo.  My heart is broken.  This is just not right."
On the school's Facebook page, one student wrote,
"I was 3 credits away from graduating and they decided to just close with absolutely no notice.  I've always had issues with different departments not communicating properly but this is just ridiculous.  I highly doubt I will be able to transfer all of these credits to take a single class that was only offered at this school.  I'm going to be forced to start almost from scratch."
After hearing the news, one parent felt heartbroken and angry.  Pamela Jessen Arington wrote that the school had asked students to prepay next semester's tuition.
Calling the move "unethical," she wrote that McNally staff failed to answer their phones.  The school also didn't respond to her e-mails.
In addition, the school's closure leaves international students stranded. Andrea Fonseca, a Costa Rican citizen, told MPR,
"We had flights booked, all of us, we had flights booked for the holidays.  We all wanted to go see our families and their friends.  And the international representative of the school said she's afraid that we go on those planes because we're probably not going to get let back in."
On its website, McNally Smith College of Music provided students with instructions on how to transfer out.  It listed options to transfer to in-state and out-of-state schools. Yet, on its accredition page, the school stated,
"Credits earned at the institution may not transfer to all other institutions."
To help out struggling faculty members and staff, several alumni will raise money through a concert.  They also created a GoFundMe page to receive donations.  The fundraising event will take place tonight at Gluek's Restaurant and Bar in Minneapolis.  Former students Adam Levy and Erin Schwab will perform.
Speaking upon the school's lasting legacy, event organizer Elyse Bernard said,
"Everybody at McNally is out of a job, and it's the holiday season.  The school also did so much for the city of St. Paul, so it's a real loss."
---
Featured image by McNally Smith College of Music