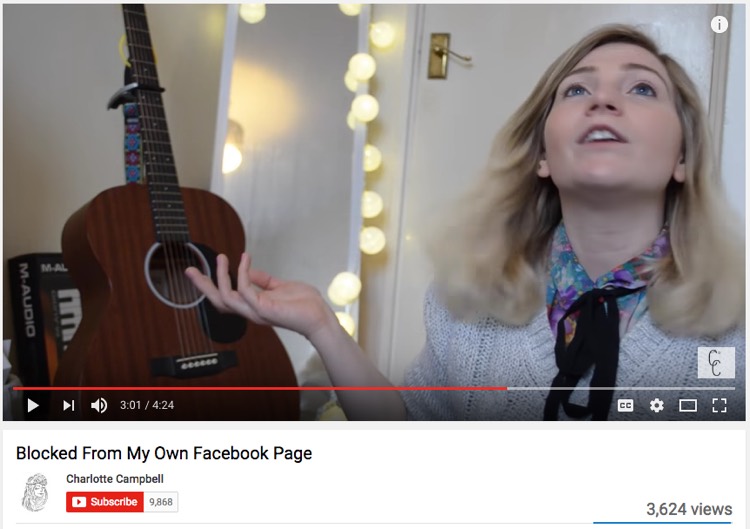 Facebook won't be ripping down music videos anymore — at least if they involve songs owned by Universal Music Group.
If there was one deal that needed to get done in 2017, this was it.
According to an email from Universal Music Group, Facebook has just signed a deal to license the music giant's entire catalog.  Which means that starting immediately, UMG will stop ripping down videos involving their catalog from the social network.
Roughly speaking, UMG and its publishing subsidiary, Universal Music Publishing Group (UMPG), control one-third of music recording revenues in the world.  Which means there's a pretty good chance your cover video will include one of their works.
Or, one of your videos will include a UMG artist — upfront, or in the background.
+ March 23, 2017: Warning: Universal Music Is Ripping Down ALL Facebook Cover Videos
Which also explains why Facebook has been a war zone for the past few years.
Basically, UMPG declared war against Facebook by demanding takedowns of videos using their copyright.  Facebook complied by both ripping down videos and penalizing accounts, often to unsuspecting users.
Those confused users then started blaming the artists, who they thought were behind the rip-downs.  In one ugly scenario, Ed Sheeran demanded that a cover of his song be restored.  Sheeran also apologized to the pissed-off fan, blaming the incident on his label.
+ March 13, 2017: Ed Sheeran Desperately Trying to Repair Fan Relationships as Facebook Rips Down Cover Videos
Now, those extremely messy situations are history.  At least for situations involving UMG.
Here's everything we know about the deal so far:
It's a multi-year, global licensing agreement involving UMG's entire catalog.
The deal means that Facebook will stop ripping down cover videos for violating UMG copyrights.
The deal also covers uses on Instagram, Oculus, and even Messenger.
Both parties signaled a broader music partnership ahead.
We're not sure what the dollar terms are (share details if you have them to [email protected]).
Facebook says it will be working with UMG to develop 'music-based products' in the future.  Universal Music Group echoed that sentiment, noting that "the agreement is intended to serve as a foundation for a strategic partnership roadmap that will deliver new music-based experiences online."
A huge player at the negotiating table was Tamara Hrivnak, Head of Music Business Development and Partnerships at the social networking giant.  "There is a magnetic relationship between music and community building," Hrivnak said.  "So we're excited to bring that to life on Facebook, Instagram, Oculus and Messenger in partnership with UMG.
The deal paves the way for similar contracts involving Warner Music Group and Sony Music Entertainment.
In typical fashion, UMG has forged the first deal.  That will inform deals involving the other two majors, both of whom may haggle over their own details.  In fact, it can take months to cement relationships with all three majors, though Universal was creating the greatest user experience disruption — so that was a giant squeaky wheel for Facebook to grease.
Indie labels, represented by Merlin, often comprise the negotiating power of a 'fourth major'.
And of course, all of this raises the possibility of a Facebook-hosted streaming music service.  Sounds exciting, though we haven't really heard anything substantive in that direction.  So far, Facebook's streaming solution has come through an integrated partnership with Spotify.
More details as we learn them!
---
Got a tip? Send it to [email protected].  Anonymity protected.