Thousands of unsold seats across dozens of venues.  No sellouts.  Pissed-off fans and obscenely high ticket prices.  Welcome to Taylor Swift's 'Reputation' Tour.
It was a cocky game plan that may be blowing up in Taylor Swift's face.  After choking inventory and demanding sky-high ticket prices, it now looks like die-hard 'Swifties' aren't biting.
And neither are their parents.
According to a quick search this morning, not one of Taylor Swift's upcoming 'Reputation' tour dates is sold out.  In total, the singer has scheduled 33 dates in the North America in 2018.  Most of those venues have massive inventory, with entire sections sometimes completely unsold.
The gaping availability suggests a serious miscalculation of what Swift fans were willing to pay.  Late last year, team Taylor initiated a bullish sales strategy that involved extremely-high ticket prices and lots of hoops for fans to jump through.  That was part of a plan to outsmart scalpers, who typically buy low and sell high — that is, unless the tickets are too expensive to begin with.
Sounded like a smart idea.  But now, massive levels of unsold inventory suggest that ticket prices should have been lower.  By extremely stark contrast, Taylor Swift's last tour was sold out within minutes.  'Reputation' tour tickets have been on sale since December 13th.
The result also suggests a serious misfire on Swift's 'Verified Fan' program.
That program gave priority access to certain Taylor Swift fans.  But first, those fans were required to build up points — oftentimes by purchasing Taylor Swift products.  That included purchases of Swift's latest album, which theoretically gave fans priority access.
Once tickets actually went on sale, however, that prioritization seemed spotty.  Some 'prioritized' fans got lucky, but many others were left waiting.  Most were given 'special access' to high-priced tickets, while others were forced into the general sales bucket a few days later.
Of course, none of that went over well with fans — or their parents.  The end result may be that Taylor's fans are saying 'no thanks'.
The result: half-filled stadiums (or worse).
The amount of empty seats is actually pretty shocking in some venues.  Here's what one of two dates scheduled for Gillette Stadium in Foxborough, Massachusetts looked like on Tuesday morning (Foxborough is just outside of Boston; it's where the Patriots play).
Nearly every section has endless availability.  And high-priced, front-of-stage seats are moving slowly.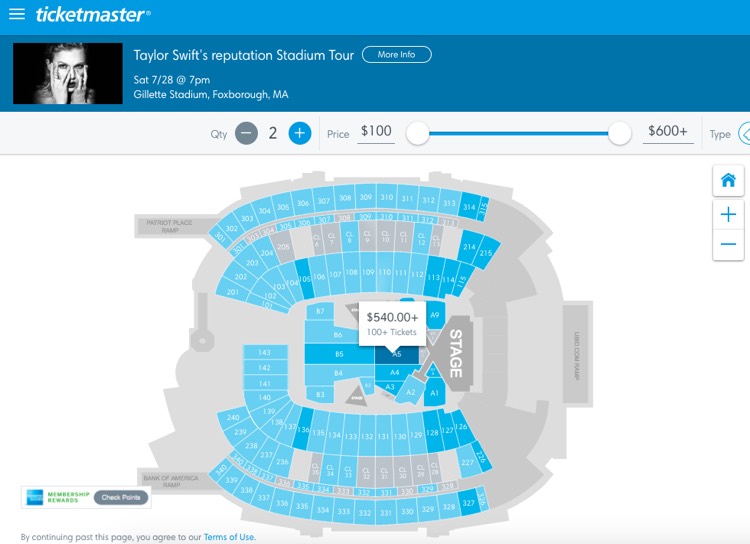 A similar situation exists in other major cities.
Here's what the first of a two-date stint in Chicago looks like.  Most sections are available, with thousands of open seats and high prices.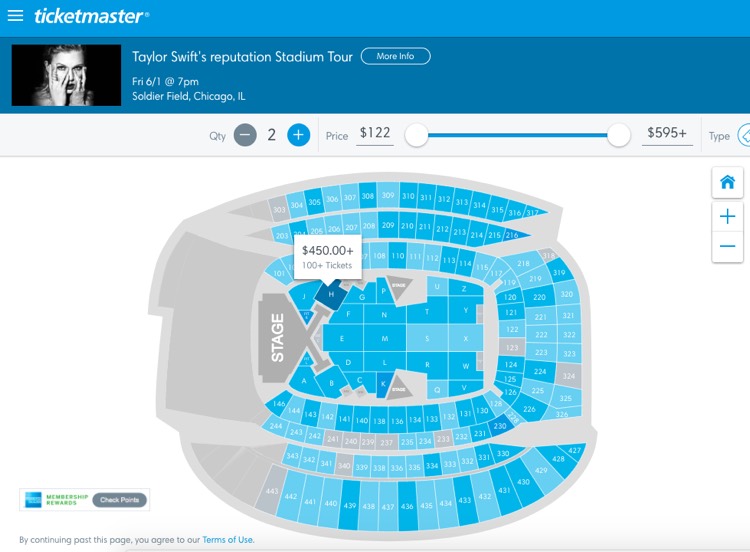 Even the marquee Rose Bowl in Pasadena is showing huge unsold sections.  Swift is planning two, back-to-back dates in the coveted stadium, where high-priced tickets usually go quickly.
Not this time: here's what one of the shows currently looks like.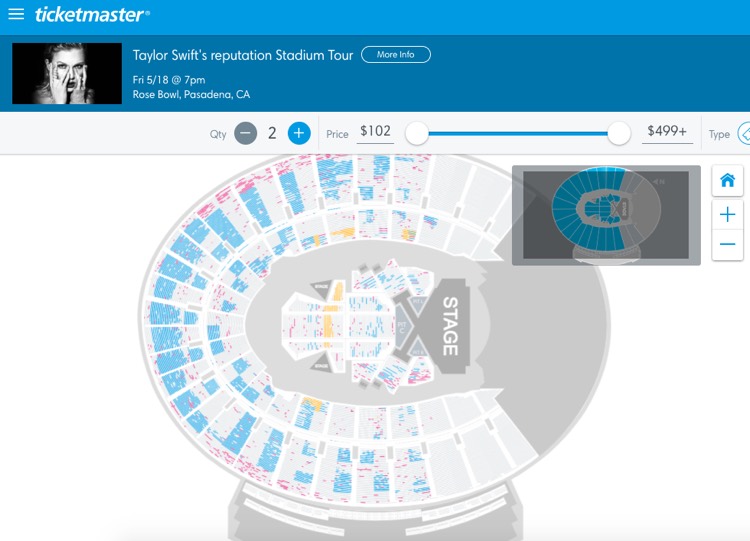 Earlier, Taylor Swift's team was popping the champagne on a massive success.
After intense blowback from 'Swifties' over the 'Verified Fan' program, 'Team Taylor' has remained cocky and resolute.  In comments to Billboard, several Swift stakeholders have pointed to a slow-sell strategy that involves high-priced tickets.  "We'd like to sell the last ticket to her concert when she takes the stage each night," Ticketmaster executive VP and head of music David Marcus said.
"We're not trying to sell all of her tickets in one minute; we're trying to figure out how to sell tickets in a more modern way."
Now, the big question is whether that ambitious game plan is working.  Or, creating a giant flop.