"In 2018, the Internet is united in defense of #NetNeutrality. As for the FCC, we will see you in court."
— Netflix, in a message posted on Twitter, Friday, Jan. 5th
Some of the largest tech behemoths in the world are preparing for a major legal fight to protect net neutrality.  In a joint announcement issued Friday, January 5th, more than 40 internet companies vowed to litigate aggressive against the Federal Communications Commission (FCC), which officially terminated net neutrality protections on Thursday (see the 539-page rollback order here).
The list of companies includes Facebook, Google, Netflix, and Amazon, a group representing billions in legal firepower.  And they're not alone: the joint legal effort is being led by the Internet Association (IA), a group that represents more than 40 different tech-related companies.
+ Comcast, Cox, Frontier All Raising Internet Access Rates for 2018
IA members also include Airbnb, Spotify, Dropbox, PayPal, Pandora, Uber, Yelp, and many others (here's a list of members).
"The FCC has defied the will of a bipartisan majority of Americans," said Michael Beckerman, CEO of the Internet Alliance.  "The new rules fail to preserve a free and open internet."
"IA intends to act as an intervenor in a judicial action against this order and, along with our member companies, will continue our push to restore strong, enforceable net neutrality protections through a legislative solution."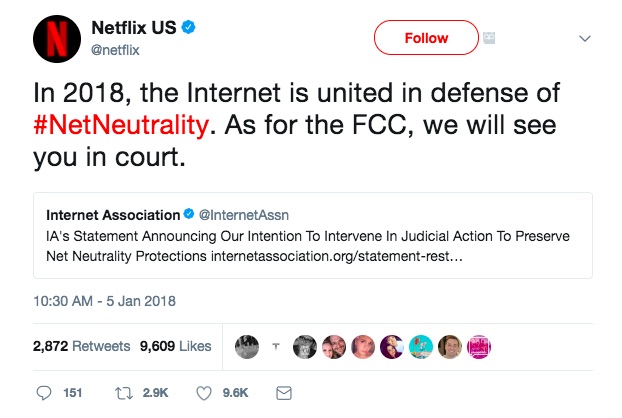 IA member companies, including Netflix, have been publicizing the intent.  "In 2018, the Internet is united in defense of #NetNeutrality ," the company tweeted this morning.
"As for the FCC, we will see you in court."
Others are also joining the fight, including Public Knowledge, Free Press, and e-commerce heavyweight Etsy.
Additional companies have 50 days to join the action, a timeframe that will likely attract an even larger group of co-litigants.
Separately, Etsy has promised to wage its own lawsuit.  "Etsy is continuing to fight for a free and open Internet; that's why we intend to challenge Chairman Pai's order in the courts," the company told Gizmodo.
+ Comcast Substantially Increases 2018 Rates, Says Customers 'Getting More for Their Money'
"We believe it's crucial for decision makers to hear directly from our sellers – the millions of creative entrepreneurs impacted by this decision – to really understand what's at stake in this debate. Ultimately, we believe the needs and concerns of millions of micro-businesses must trump those of a few giant cable companies."
At this stage, it's unclear when the legal action will begin.  Or, where.
That delay will give the FCC ample time to begin dismantling Obama-era net neutrality provisions, as well as fortify its legal defense.  But ahead of those defenses, Pai confidently predicted that the FCC will survive any legal challenge.
The lawsuit also concedes the difficulty of forging a legislative solution.  At present, both chambers of Congress are Republican controlled, making it nearly impossible to pass pro-neutrality legislation.
In fact, it appears that the opposite is happening: immediately after the FCC's net neutrality rollback, House Republican Marsha Blackburn introduced  H.R. 4682, the 'Open Internet Preservation Act,' which effectively banned states from initiating their own net neutrality laws.
Tellingly, Blackburn thanked Pai for 'doing his job' while introducing the legislation.
+ Congress Wants to Make It Illegal for States to Protect Net Neutrality
The action represents a serious change from mega-companies like Facebook, Google, and Amazon.  Instead of noisy protests against legislation like SOPA, companies like Google largely remained quiet on net neutrality.  Accordingly, this lawsuit signals a significant shift from that approach.
---