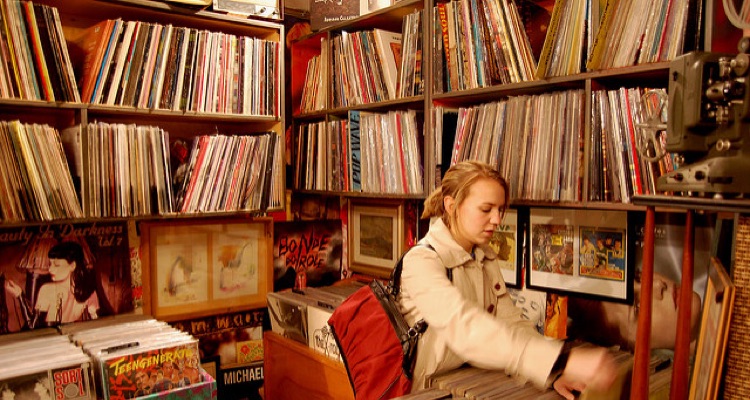 12 years ago, vinyl records were an afterthought.  Now, they're a brand-new industry.
Music industry moguls and audio experts alike never saw this coming.  But somewhere in the late 90s, audiophiles, die-hard music fans, and baby boomers felt like something was missing.  Several years later, they were suddenly buying the nostalgic format.
And the past 12 years have shown a surge in the sales of vinyl records.  And according to just-released 2017 data, this isn't slowing down.  Per figures from Nielsen Music, 14.32 million vinyl records were sold in 2017, an increase of 9 percent from the previous year.
That represents 8.5 percent of all album sales in 2017, a 6.5 percent gain from 2016.
Vinyl records accounted for 14.3 percent of all physical format sales in 2017, also according to Nielsen.  That's a brand-new record, at least for the modern music industry.
(There was also a 35% increase in cassette sales last year.  But more on that later.)
Indie stores spurred the revival, but major retailers are also one of the reasons for the increasing sales. Barnes & Noble, Amazon, and Urban Outfitters are major players in this surge.   But an army of hundreds of independent record stores collectively built Record Store Day, which is kind of like Christmas in vinyl retailing.
As for the breakdowns: 67 percent of vinyl records sold in 2017 were Rock.  There were 77 different titles that sold over 20,000 copies in the same year. The Beatles' Sgt. Pepper's Lonely Hearts Club Band was the top-selling vinyl album in 2017, with Michael Jackson's Thriller placing tenth.  Those are perennial big-sellers, though more titles are expected to hit the market this year.
And with that, here are the top 10 best-selling album sales from last year in the US.
The Beatles, Sgt. Pepper's Lonely Hearts Club Band (72,000 units)
The Beatles, Abbey Road (66,000)
Soundtrack: Guardians Of The Galaxy: Awesome Mix Vol. 1 (62,000)
Ed Sheeran, Divide (62,000)
Amy Winehouse, Back To Black (58,000)
Prince, Purple Rain (58,000)
Bob Marley & The Wailers, Legend (56,000)
Pink Floyd, Dark Side Of The Moon (54,000)
Soundtrack: La La Land (49,000)
Michael Jackson, Thriller (49,000)
---