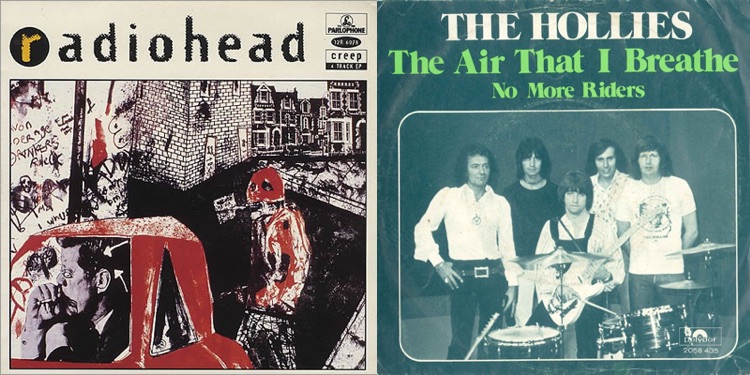 Last week, we found out that Radiohead was suing Lana Del Rey over allegedly plagiarizing their classic song, 'Creep'.  Now, it turns out that 'Creep' itself might be a total rip-off of a song from the early 1970s.
If you're just tuning in, welcome to the latest copyright face-off in the music industry.  This time, Radiohead has accused Lana Del Rey of stealing their song, 'Creep,' on her recently-released 'Get Free'.  The track is from Del Rey's latest album, Lust for Life.
I'm not a musicologist, though Lana Del Rey's track sounds pretty similar to 'Creep'.  Actually, it seems almost like a carbon-copy in certain sections.  There's enough commonality that Radiohead is now aggressively threatening a lawsuit.
Take a listen to the two tracks.
First, here's 'Creep':
And here's Lana del Rey's just-released 'Get Free':
Lana del Rey responded to Radiohead's attorneys and told them that 'Creep' wasn't an inspiration for 'Get Free' (though of course she's familiar with the iconic song).
But here's where copyright cases can get tricky.  Even if Lana Del Rey wasn't consciously thinking about 'Creep' while writing 'Get Free,' she could still be liable for infringement.  That's exactly what happened to George Harrison, who was found guilty of plagiarizing the Chiffons' 'He's So Fine,' even though he wasn't thinking of the song when he wrote, 'My Sweet Lord'.
But Harrison admitted that the song might have been dancing in his subconsciousness when he wrote 'My Sweet Lord'.  Accordingly, he lost the copyright case, leaving a questionable precedent in its wake.  That has given pitbull lawyers all the ammunition they need to chase down supposed copyright violations — though this claim isn't so far-fetched.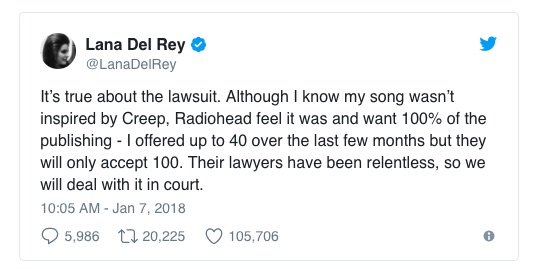 Accordingly, Lana Del Rey offered to hand Radiohead 40% of her publishing on 'Get Free,' just to settle the matter.  But Radiohead refused that offer, which means the pair will be squaring off in court.
But who's the real plagiarist, anyway?
Maybe the answer is Radiohead.  Take a listen to this track from the Hollies, recorded in 1972 (the track subsequently became a hit in 1974).
Now, take another listen to 'Creep'.
We're not the first to see the similarity.
In fact, Radiohead was originally threatened with an aggressive lawsuit from Hollies authors Albert Hammond and Mike Hazlewood.  That was back in the 90s.
The result?  Both Hammond and Hazlewood received a writer's credit on 'Creep'.  Which means they earn a percentage of every publishing dollar generated by 'Creep' (and that's a lot of dollars).
Technically, an out-of-court settlement doesn't mean that Radiohead is guilty.  But oftentimes, a settlement is forged to quickly resolve a matter and avoid a damning judgment.  Basically, Radiohead was pushed into a corner — and given the similarity between 'Creep' and 'The Air That I Breathe,' there's a strong chance it was blatantly copied.
All of which raises the question: should the Hollies be suing Lana Del Rey instead of Radiohead?  Indeed, maybe Radiohead shouldn't be suing at all — especially since it's completely unclear if they actually wrote 'Creep' in the first place.