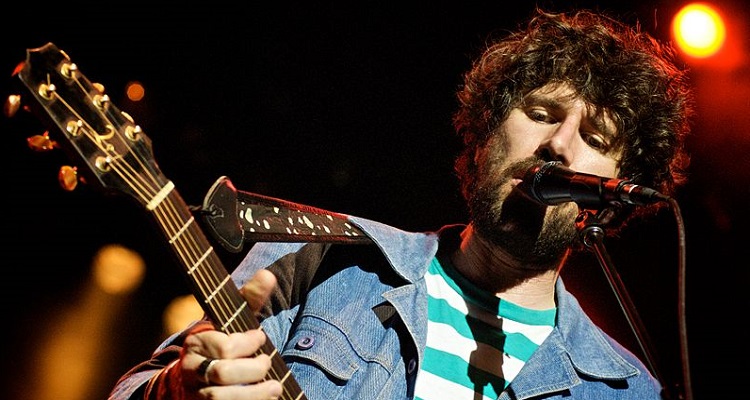 Indie artist or self-published songwriter?  Here's how to get paid for your songs on Facebook, Instagram, and Oculus.
In an attempt to avoid copyright issues on its platform, Facebook has entered into major deals with music labels and publishers.
First, the social network signed a major pact with Universal Music Publishing Group (UMPG) and its parent, UMG.  UMPG had previously declared war against Facebook by demanding that the platform remove videos featuring any of its songs.
Then, days later, the social network inked a licensing agreement with Sony/ATV, Irving Azoff's GMR, and Kobalt.  Accordingly, users on Facebook, Instagram, and Oculus have far less to worry about when uploading videos with copyrighted music.
In a major win for independent artists, Facebook also signed a deal with SESAC's HFA/Rumblefish.  This deal gives publishers the opportunity to enter into a direct licensing agreement with the platform.  This includes independent artists who deliver title registrations to the HFA.
So, as an artist or songwriter, how can you start entering into a direct licensing agreement with Facebook?
Simple.  Over the weekend, TuneRegistry emailed DMN the following steps.
TuneRegistry supplied us with the critical information for this post.  They're not the only way to get this done, but we'll use them for this tutorial (and why not try them out).
You'll only have until March 12th, 2018 to opt-in.
First, self-published songwriters will have to create an HFA Online Account for Facebook publishing royalties.
Once you have an account, simply log in.  This account will also apply for royalties on Spotify, Apple, Napster, The Orchard, and 7Digital, among other services.
You can find out more information here.
Second, review the license agreement.
Click to view the Facebook agreement and opt in.  You can access the Agreement Portal here.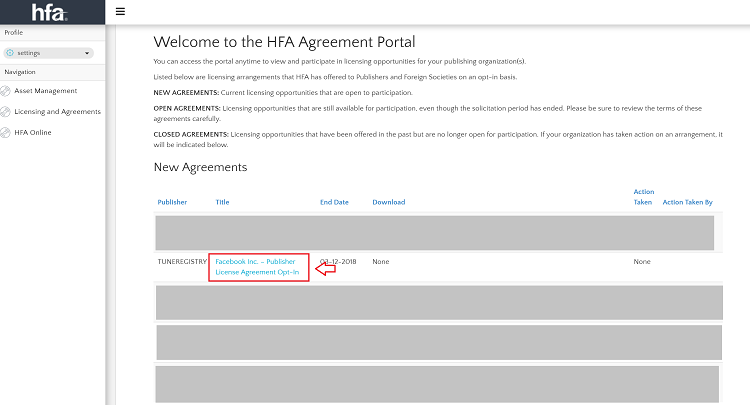 Third, once you've accepted the offer, you'll have a direct license between Facebook and yourself (or your company).
As explained earlier, you'll need an HFA Online Account.  You won't need to be affiliated with HFA to participate.
Fourth, start adding songs to your catalog.
TuneRegistry is one way to do this.
Fifth, add your HFA publisher number to the publisher Contact record in your TuneRegistry account.
Self-published songwriters will have to create a company contact record on the Contact module beforehand.
Sixth, add your songs with all co-writers, publishers, and splits entered beforehand.
Head to the Registrations module.  Click "Start" on U.S. Song Registrations.  This will register your songs with Harry Fox Agency.  Your song registration will also go to ASCAP, BMI, SESAC, Crunch Digital, and Music Reports Inc.  This ensures that all US PROs and rights administrators receive your song for other licensing and royalty obligations.  You can then save the Registration Record as a PDF or print a copy.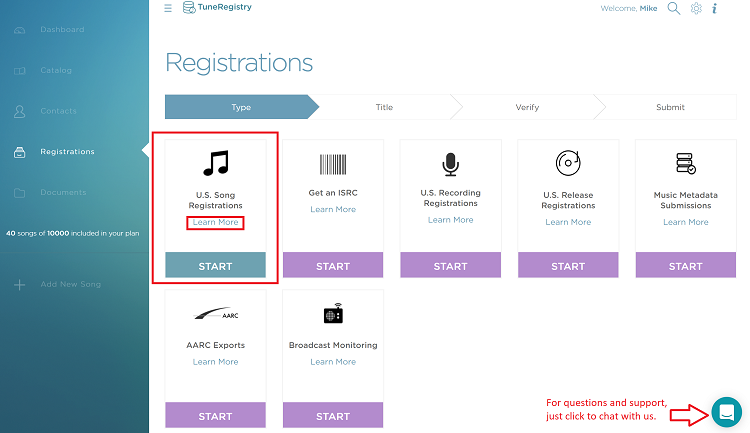 Finally, confirm and submit your registration.
You can check the status in the Registrations tracking window.
That's about it!  Following these steps (or some variation on another platform) will ensure that artists and rightsholders get paid for songs on Facebook, Instagram, and Oculus.
For more information, you can check out TuneRegistry here.
---
Featured image by Super Furry Animals (CC by 2.0)