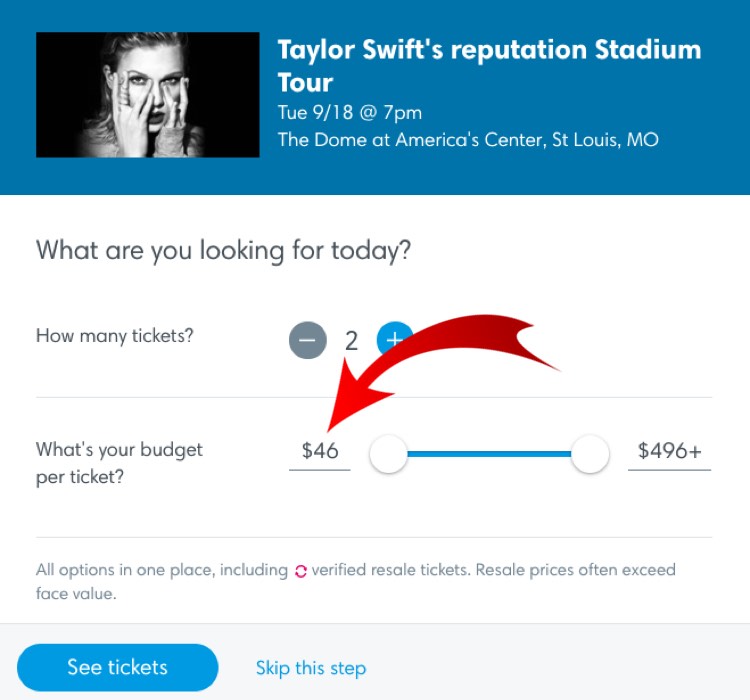 Taylor Swift's 'cheap seats' are actually becoming affordable in a number of US cities.  And there are thousands of seats available in most venues.
Months after going on sale, tickets for Taylor Swift's upcoming 'Reputation Tour' are becoming surprisingly affordable.  And, remain unbelievably available.
According to a quick scan of Ticketmaster's website this (Tuesday) morning, prices have dropped below $50 in a number of major American markets.  And there's wide open availability at most upcoming shows, with nearly every section still open.
+ A Detailed Explanation on Why Taylor Swift's Reputation Tour Is a Total Disaster
And these aren't podunk towns.  Instead, buyers in markets like Seattle, St. Louis, Boston/New England, and Cleveland are being treated to some unexpected price drops.  Prices in other cities appear to be steadily dropping as well — based on our spot checks over the past few weeks.
Here's a quick sampling of the 'deals' we found on Ticketmaster.
St. Louis (Sept. 18th): $46.50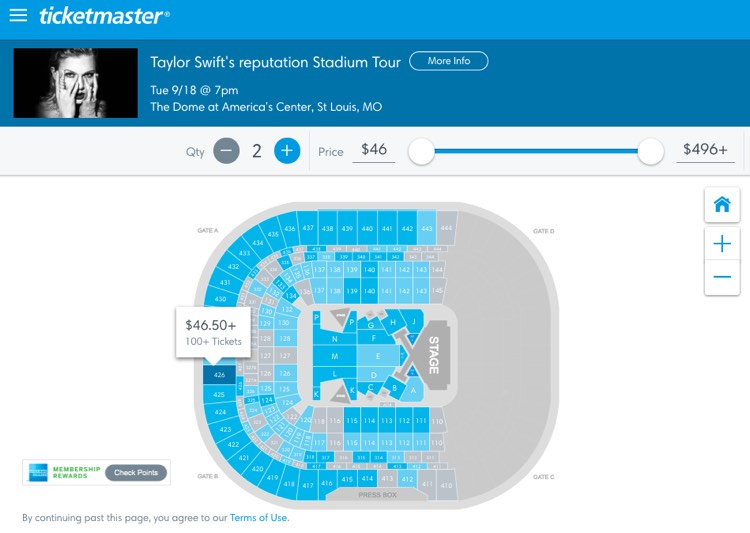 Seattle (May 22nd): $45.50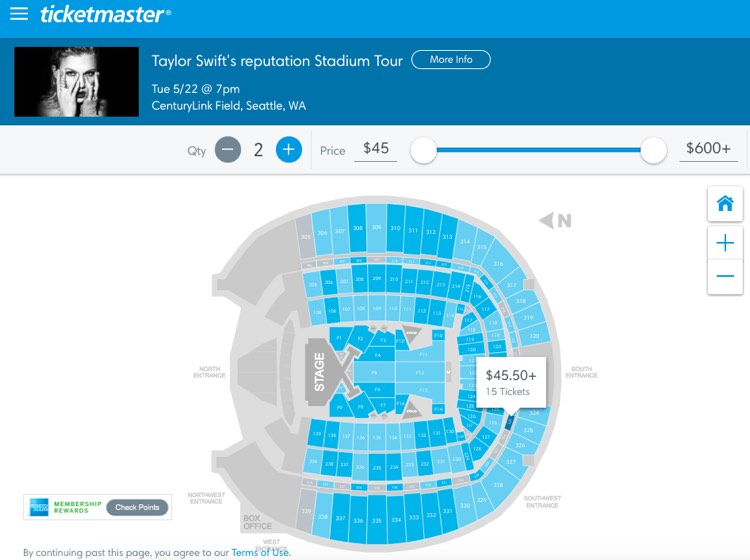 Cleveland (July 17th):  $45.50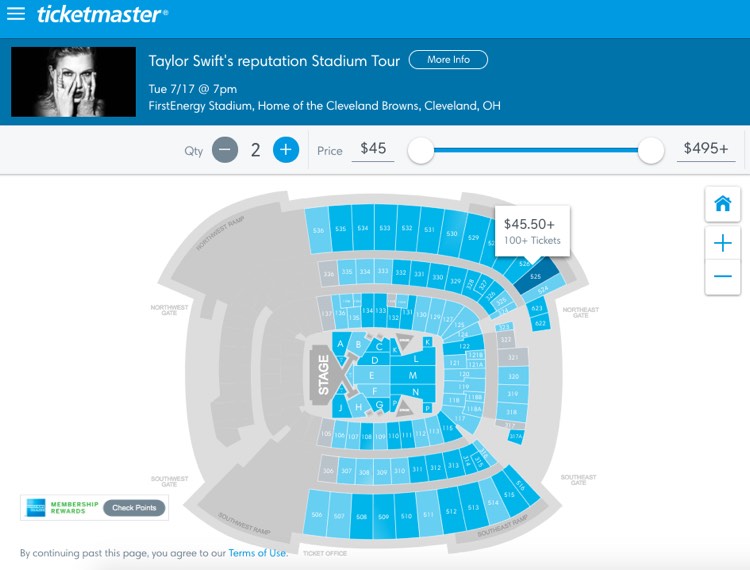 Detroit (August 28th): $46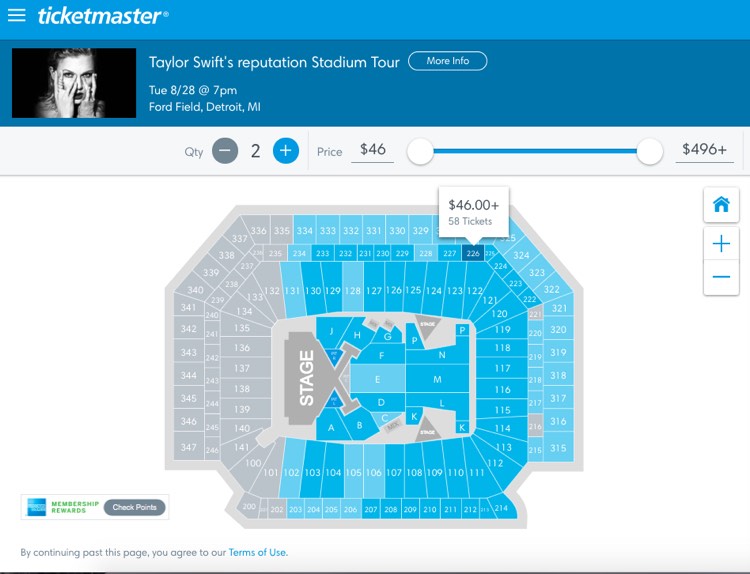 Foxborough, MA (Boston/New England) (July 26th): $49.50
Tampa, FL (Aug. 14th): $47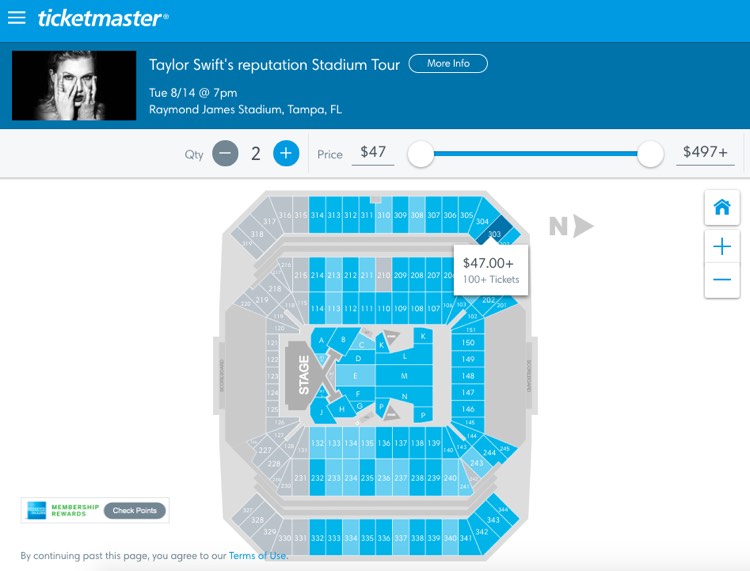 Arlington, TX (October 5th): $49.50
Other markets are more expensive, though oftentimes, not by much.
In fact, we found several cities with tickets between $50 and $60, all of which suggests a broader slide ahead.
Those wishing to purchase premium seats will still pay a handsome markup, however.  That includes upfront, front row, or special box seats, which sometimes cross $1,000 in popular markets.  Still, these premium seats look widely available — also suggesting a drop ahead.
In fact, most would-be ticket buyers would be well advised to wait, simply because better deals are likely ahead.
Interestingly, these lower-priced tickets aren't getting scooped up and resold on StubHub.  That could be a seriously bad sign, and an indication of unexpectedly weak demand.
The development follows a controversial approach by Swift's team.  Instead of selling a giant pile of tickets upfront, Swift & Co. decided to initially release a smaller batch of tickets to dedicated fans.  Those 'Verified Fans' tickets were designed to reward fans for buying merchandise, albums and other items, though many complained that tickets were ultimately unavailable.
Fans who engaged in Swift's online content, including videos, were also 'rewarded' (or not).
Meanwhile, Ticketmaster and Swift look intent to deny aftermarket ticket resellers from major profits.
That includes platforms like StubHub, which make healthy margins on marked-up, aftermarket sales.  Part of the strategic plan to minimize StubHub's profits includes the aforementioned timed releases of batches of tickets.  But it also includes higher initial prices, a strategy designed to allow Ticketmaster to capture more of a ticket's real market value.
One huge downside to that strategy is that tickets can remain on the market for longer periods of time.  And in the case of Taylor Swift, it means that few (or, none) of the upcoming venues get sold out.  That cools excitement, and certainly lowers the sizzle around the artist.
But it may also be training Swift's fans to fish for the best bargains — for months on end.  All of which could be spelling lower demand — and lower-than-expected prices.
---