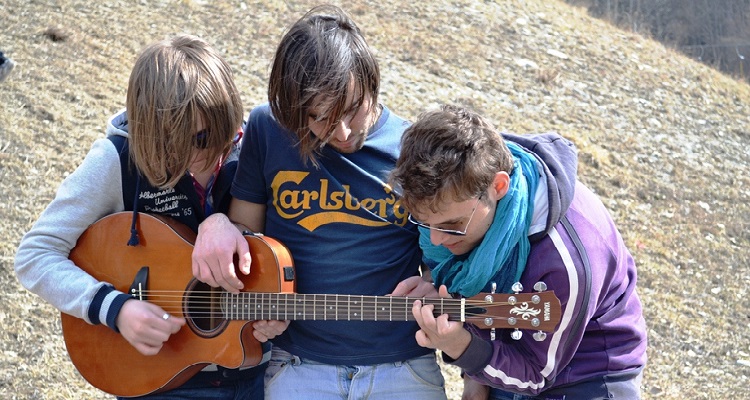 Your younger self is telling your older self what to listen to.
So, when exactly do people form their lifelong musical tastes?  18?  21?  35?  63?
Writing for the New York Times, Seth Stephens-Davidowitz decided to find the answer to that question.
For his project, streaming music platform leader Spotify gave him data on how often men and women listened to chart-topping songs between 1960 and 2000.  Radiohead's 'Creep,' for example, ranked as the 168th most-popular song among 38-year-old men.  These men were 14 when the first song came out in 1993.
According to Stephens-Davidowitz, the song didn't chart for people born 10 years before its release nor after.
The most important period in forming lifelong musical tastes for men comes between ages 13 to 16.  Women formed their tastes slightly earlier than men, roughly between ages 11 to 14.  Analyzing Spotify's data, Stephens-Davidowitz found that older women's favorite songs typically came out when they were 13.
Don't expect your musical preferences to change much after your teens.
Stephens-Davidowitz also noticed a peculiar trend once men and women reached their early 20s.  During this period, new songs were only half as influential.  Entering into adulthood, the choices people made only reinforced musical biases formed during their teens.  This remains consistent when looking what which songs adults would stream, for example, or which concerts they'd likely attend.
Analyzing the tastes of older audiences, Stephens-Davidowitz also found a noticeable generation gap.  Roy Orbison's 'Oh, Pretty Woman' remained fairly popular for women aged 69.  The song came out in 1964 when they were 11 years old.  Looking at men aged 63, they preferred to stream Van Morrison's 1970 hit, 'Crazy Love.'  When the song came out, this same male audience was 16 years old.
Yet, at aged 72, men preferred streaming Ray Charles' "I Can't Stop Loving You."  38-year-olds, however, enjoy Savage Garden's 'Truly Madly Deeply.'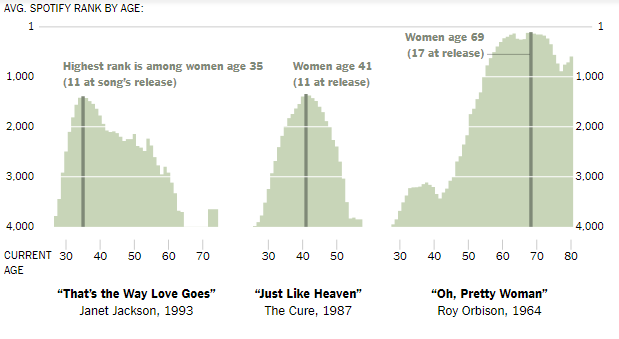 Near the end of his report, Stephens-Davidowitz admits that his study may not completely explain all of our musical preferences.
He can't explain, for example, why he remains obsessed with Bob Dylan, Leonard Cohen, or Paul Simon.  These songs came out before his birth.  Stephens-Davidowitz also loves Bruce Springsteen's 'Born to Run,' a song he found unpopular among his fellow 35-year-old peers.
He also joked that he now knows what songs to stream during Valentine's Day.  For 30-year olds, put on Beyonce's 'Crazy in Love.'  45-year-olds will most likely enjoy Van Halen's 'When It's Love.'  Those in their 60s will love Marvin Gaye 'Let's Get It On.'
---
Featured image by chiesADIbei(CC by 2.0)