Kpop boy band SHINee recently lost their lead singer, Jonghyun, to suicide.  The group decided to continue touring — without pretending everything was okay.
Kpop is a very highly competitive field, and there's increasing concern about its effects on young performers. Boy bands typically train for years before they can step into a stage.  And once they make it, the pressures of relentless touring, fan communication, and recording can lead to disastrous burnout, depression, or worse.
SHINee, formed in 2008,  is one of the most successful K-pop boy bands.  The five member group of SHINee included Onew, Key, Minho, Jonghyun, and Taemin, though that number has been sadly pared down to four.
It was in December of last year that Kpop fans woke up with some really bad news.  SHINee's lead vocalist, Kim Jong-hyun (aka 'Jonghyun'), had taken his life.  A coal briquette found burning inside a frying pan in his apartment confirmed the suicide.  A long battle with depression had taken a toll on the Kpop idol.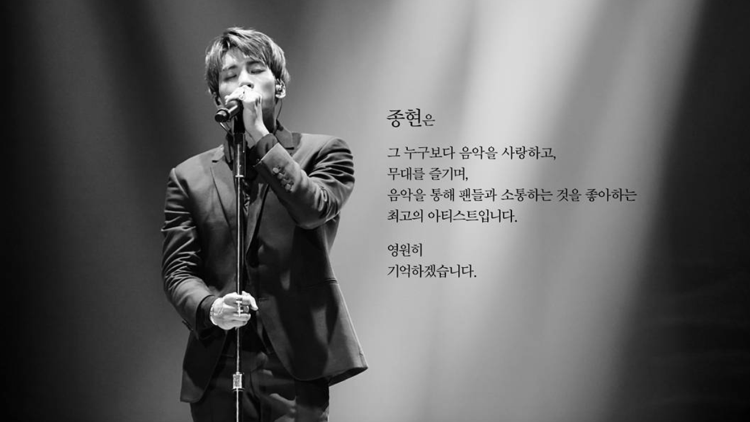 A final letter revealed by Dear Cloud's Nine9 after Jonghyun' s death further confirmed the suicide.  Jonghyun talked about his deep, dark thoughts, and requested that his final words be uploaded after his death.
+ The Top 100 Kpop Artists In the World
SHINee continued with their series of concerts in Japan after their loss.
But instead of terminating their tour, the boy band successfully completed their dates — as a foursome — including a recent date in Osaka, Japan.  It was an extremely moving concert.  The group dedicated the show to their late member, with red roses pinned to their shirts during the performance.
The group walked off the stage after leaving the roses on Jonghyun's mic stand.  SHINee told their thousands of fans in the concert that they will always be 'forever 5'.
Updated: a fan at the show has told us (below) that the group members placed their roses on their own stands, instead of putting them all on Jonghyung's.  One single rose was left on Jonghyung's mic stand, and all four remaining members exited the stage with roses on their stands as well.
Minho offered a heartfelt remembrance: "To be honest, I was very afraid today," the SHINee member relayed.  "But I was able to overcome it because I wasn't alone but with you guys.  I will continue to happily promote, thinking that five of us are on stage together.  I ask that you guys remember Jonghyun forever. He's a precious existence that cannot be described in words."
Key expressed his love and sadness when he looked up at the sky and said "I Love You" in English.
---