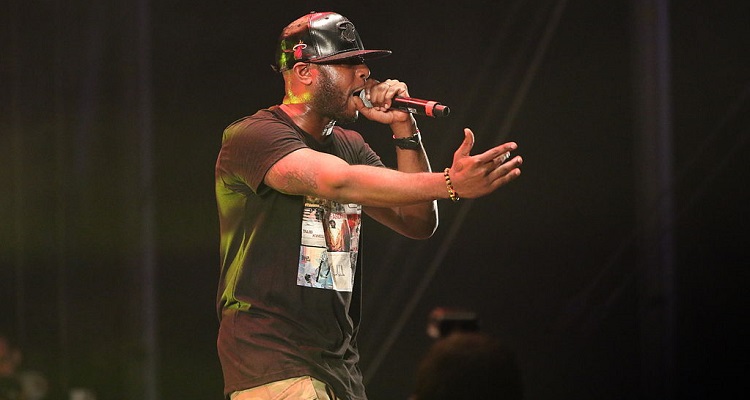 As an artist, what do you do when you find out your next scheduled venue has previously booked a neo-Nazi group?  Do as Talib Kweli did.  Just say No.
Is Norwegian black metal band TAAKE racist?  Well, let's take a quick look.
Frontman Hoest once performed with a swastika roughly drawn on his chest.  Then, in a direct criticism of the Muslim faith, the group's single, 'Orkan,' proudly featured the following lyrics.
"To Hell with Muhammad and Muhammadans  /  Unforgiving customs  /  For it's wailing in post-war times."
The group has, of course, defended itself from criticisms of xenophobia.  Speaking about prominently featuring the swastika symbol at a performance in Germany, Hoest said,
"TAAKE is not a political Nazi band, etc.  We certainly didn't expect the current threat reactions, as everyone should know by now that our whole concept is built upon provocation and anything evil- and death-related."
Speaking about the controversial track's lyrics, Hoest said,
"Our view, in the name of freedom of expression, is that it is shameful to adhere to Christianity or Islam."
Note that 'Orkan' didn't feature any lyrics slamming Christianity.
In a recent interview with Metal Insider, TAAKE's frontman once again fought back against claims that they were neo-Nazis.
"Presenting us as 'Neo Nazi,' 'openly racist,' 'wearing swastikas,' etc., are just plain lies.  And 'Islamophobic?'  A phobia is an irrational mental illness.  So quite the contrary, religion is an irrational mental illness."
Most people, including popular hip-hop artist, Talib Kweli haven't bought TAAKE's statements.  Now, after famed Kansas City venue Riot Room booked TAAKE, Kweli has canceled his upcoming performance.
In a statement lambasting the venue, the hip-hop artist said,
"I find it appalling that the Riot Room refuses to apologize for booking this band.  I wouldn't feel safe bringing my team, family, and fans into a venue that is sympathetic to white nationalism, so I've canceled the show."
The statement followed an earlier tweet where he likened the Norwegian group to Nazis.
Kweli added that the Riot Room attempted to dissuade the rapper from canceling his performance.  The venue, however, didn't apologize.
"The response I received was that the venue did not want to choose sides between a band that sympathizes with racism and bigotry and me.  I think it's time to choose a side.  I find it appalling that the Riot Room refuses to apologize for booking this band."
Kweli would've performed at the popular venue later today.  TAAKE will perform there on March 31st.
TAAKE's manager, Bjørnar Erevik, has previously dismissed the group's alleged ties to the white supremacist movement.  In an interview with Newsweek, he said,
"Many of these claims are just ludicrous.  They are not into that kind of stuff at all."
Manhattan venue (Le) Poisson Rouge has already canceled TAAKE's March 24th performance.  The group is scheduled to perform at different venues across the United States this year.
Complaining about an organized effort to defame the group as a white-power band, Erevik added,
"It's complete bulls—t.  From the guys in the band, I don't think they vote for anything that's on the right side of the center of Norwegian politics."
---
Featured image by Steven Pisano (CC by 2.0)