What if phones were simpler, cheaper, and didn't have a thousand apps to distract you?  Actually, that's exactly what phones used to be like — and Nokia is now selling tens of millions of them.
Over the weekend, a surprising name resurfaced at the Mobile World Congress (MWC) in Barcelona: Nokia.  And this nostalgic brand was serving up devices that came out in the late 90s.
Usually, the MWC conference is a focal point for the latest Android smartphone releases, with the latest in beveled glass, hi-res displays, and multimedia exploits to dazzle attendees.  Except this time, one of the most interesting devices was actually created in 1997.
It's Nokia's classic 8110, made famous in The Matrix.   But the phone was also used by millions of people back in the pre-smartphone era, when thing like sliders and ringtones were cutting edge.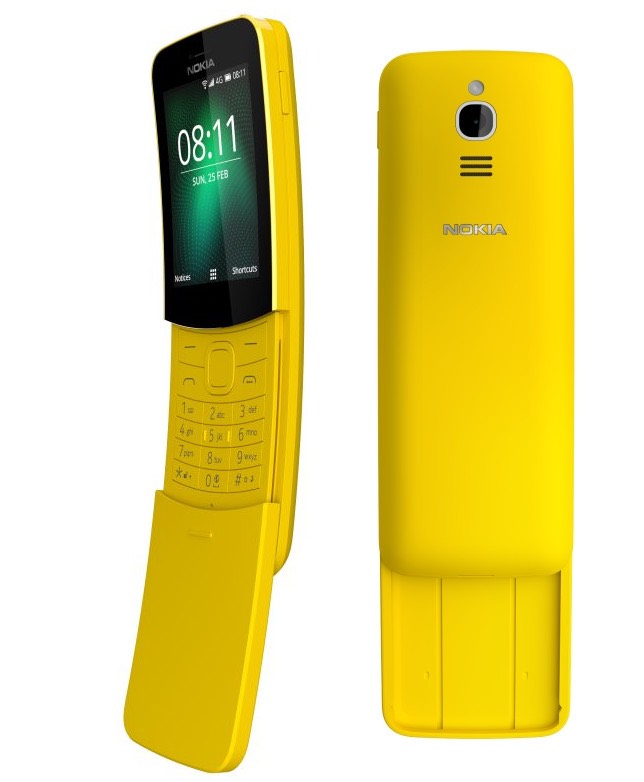 But the Nokia 8110 isn't just a nostalgia play.  You see, people are actually buying feature phones again — because they like them better.
Basically, a 'feature phone' is the industry name for a now-limited, simpler device that does the basics: phone calls, text messaging, basic games, MP3 playback, etc.  And it turns out people really like the simplicity.  They may even be craving it: last year, Nokia re-introduced its 3310, another classic 'feature phone' that sold 70 million units.
In fact, Nokia is now the market leader in stripped-down feature phones.  Once upon a time, Nokia was a leader in this market, when feature phones were the most advanced form of mobile telephony.  Now, all of that expertise is being repurposed with great success, thanks to a growing number of people that are feeling overloaded by smartphones.
"There is a huge population of feature phone loyalists," Juho Sarvikas, CPO of HMD Global, which owns Nokia, told TechCrunch. "We see a lot of potential in innovating in the feature phone space, not a simple redesign of the [older] 2G experience."
Sarvikas also revealed that the company sold 70 million devices overall in 2017.
Nokia is now completely operated by a HMD Global, which acquired the name after with exactly this strategy in mind.
But that strategy involves more than just re-releasing old models.  Instead, HMD has upgraded the innards to meet current network connectivity technology and other basics of modern times.  Accordingly, the 2018 version 8110 is 4G, and offers a limited number of apps like Google Maps, Facebook and Twitter.  None of those things existed in 1997.
But the 8110 doesn't support hundred of thousands of other apps, including a number of music-focused apps like Spotify and Apple Music.  On the gaming side, you'll find simple apps like Snake, but nothing too complicated.
Of course, that stripped-down functionality introduces a lot of benefits.
Like, battery life.  According HMD, the 8110 has a battery that can last on standby for 17 days, with 9 full days of talk time.   Which means you can forget to charge the 8110 (and 3310) for days on end if you'd like.
It also gives users greater headspace, which means a greater 'charge' for other things.
And the greatest benefit?  Price!  The 8110 will retail for $97, befitting its original, 1997 release date.
So what does this mean for future smartphone sales?
Already, consumers are backlashing against high-priced devices like the iPhone X, with $1,000 + price tags 'no bueno'.  Still, Nokia wasn't deluded into thinking feature phones were going to replace smartphones anytime soon.  Instead, the company is seeing lots of opportunity around lower-stress second phones, or 'vacation phones' as one executive put it.
That could be bad news for apps like Spotify and Apple Music, not to mention other streaming apps.  Though strangely, a feature phone revival could fuel a 'retro' movement back to MP3s.  Maybe it's digital's strange answer to vinyl.
---