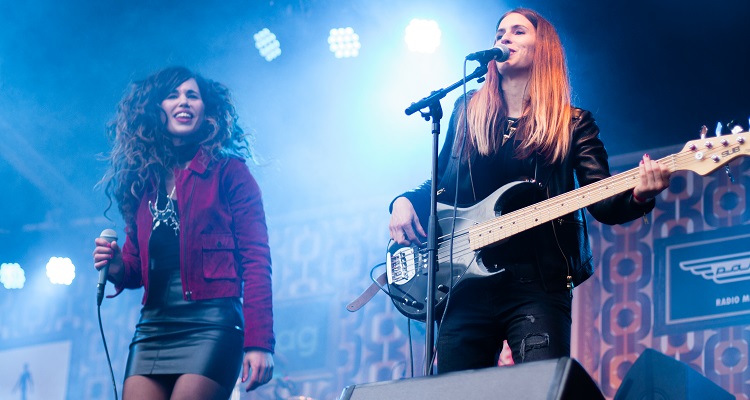 There's more than meets the eye in Smirnoff's new "global gender equality" campaign with Spotify.
As part of its "Equalizing Music" global campaign, vodka brand Smirnoff has announced a partnership with Spotify.  The global campaign will promote equality for female musicians around the world on the streaming music platform.
According to Spotify, not a single woman or female group appeared in its 2017 top 10 most-streamed tracks list.  To remedy this problem, the streaming music platform will launch the 'Smirnoff Equalizer,' an API that will actively promote female musicians.
The Smirnoff Equalizer will first analyze Spotify users' listening habits, providing fans with a gender percentage breakdown.  Users will see the number of male versus female artists that have been played over the past six months.  The Smirnoff Equalizer will then give users a balanced playlist that represents both genders equally.
It will also provide a personalized slider where users can increase the number of female artists in the playlist.  We're not sure if the slider goes the other way (towards more male artists), or what happens with 'mixed gender' groups.
Speaking about the new API, Neil Shah, Smirnoff's Global Brand Manager said that his company wants music fans to discover talented female artists.  This, he believes, will generate a better overall listening experience on Spotify.
"The Smirnoff Equalizer not only drives awareness, but also allows Spotify users to take direct action by increasing the number of tracks from women artists in their playlists."
But, what's really behind the new campaign?
Spotify and Smirnoff's new partnership comes during a tumultuous period in the music industry.  Two months ago, Neil Portnow, President of the Recording Industry, set off a firestorm immediately after the Grammy Awards.
Speaking on the low representation of women in music, he suggested that women had to "step up."  Female artists and their managers, along with top male and female executives in the music industry, quickly condemned the comments.  In fact, Portnow almost lost his job.
At first, Smirnoff's partnership with Spotify appears to only promote gender equality in the music industry.  According to Marketing Dive, however, the vodka brand may have launched the API just to draw in female drinkers.  Turns out that's an increasingly lucrative demographic.
Smirnoff's initiative coincides with a new report showing that women have started drinking more.
JAMA Psychiatry, a monthly, peer-reviewed medical journal, found that this is especially true for older women and minorities.  Accordingly, Johnnie Walker recently launched Jane Walker, a female version of its traditional Striding Man logo.  Jane Walker will appear on limited edition Black Label products.
Smirnoff's campaign will also help raise brand awareness among Spotify's younger audience.  Marketing Dive believes that getting more people to listen to female artists will help younger consumers rally behind Smirnoff.  Female musicians, in turn, will get paid, have the chance to increase their fan bases, and may have more opportunities to perform.
The vodka brand launched the Smirnoff Equalizer campaign at an event in New York City.  There, the company introduced limited edition "Phenomenal You" N. 21 vodka bottles.  It will give 100 bottles to "phenomenal women around the world."  At the promotional event, attendees were invited to create personalized videos of themselves looking into mirrors.  They could then add what made them phenomenal.
---
Featured image by PXHere (CC0)