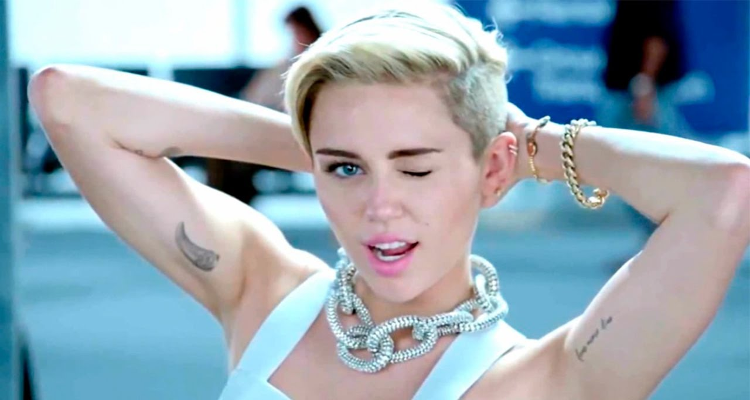 Miley Cyrus is in hot water for copyright infringement —but was she really stealing?
Pop superstar Miley Cyrus now being sued for copyright infringement — with damages potentially hitting $300 million.  That is, for one lyric in her hit single, "We Can't Stop".  The song is from her fourth studio album, Bangerz, released in 2013.
The lawsuit is coming from Michael May, better known as Flourgon, a Jamaican dancehall artist.  Flourgon had several Jamaican hit singles in the late 1980s and 1990s, and remains an active performer today.
May alleges that Cyrus ripped off his catch-phase, 'We Run Things,' which is actually the name of a song written by May.  In "We Can't Stop," Cyrus repeats the lyric 'we run things' in the chorus.
So let's compare the lyrics, shall we?
"We run things/Things don't run we" are the lyrics of Miley's single.
In May's track, the lyrics are: "We run things/Things no run we."
With that similarity, Flourgon is suing Miley, her label Sony Music and her team of songwriters for roughly $300 million.  The writers on the track  are Theron Thomas, Timothy Thomas, and Mike Williams.  Cyrus' manager, Larry Rudolph, is also being named in the suit.
Flourgon claims that he was granted a copyright on "We Run Things" by the U.S. Copyright Office, and that Cyrus' song "owes the basis of its chart-topping popularity to and its highly-lucrative success to plaintiff May's protected, unique, creative and original content."
In addition, Flourgon also wants Cyrus to cease performing the song, and to stop all future sales of the track.
+ Confused by Music Copyright? Here Are 5 Things You Definitely Need to Know
Here's Cyrus' "We Can't Stop":
And here's Flourgon's song:
Obviously, Cyrus' track performed better commercially.
The single peaked at number two on the Billboard Hot 100.  It also tied Cyrus' earlier track "Party in the U.S.A." which was her highest-peaking single at the time.
But regardless of the relative successes of the tracks, the core question is whether Cyrus stole Flourgon's tagline.  Or, if that phrase was commonly used and part of Jamaican/dancehall parlance by 2013 — and therefore, fair game.