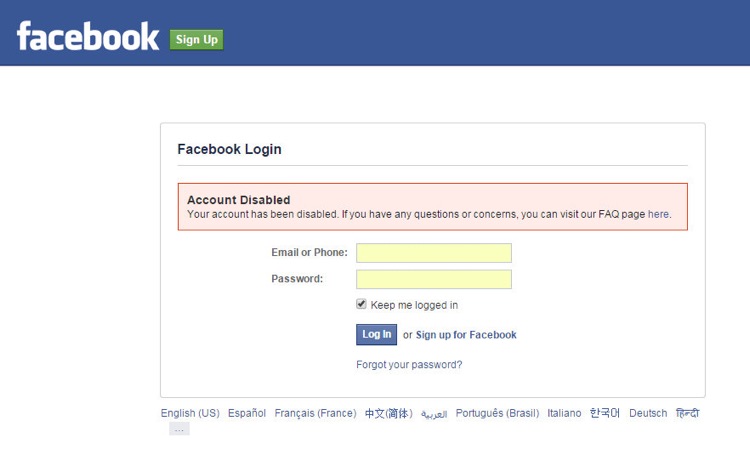 My entire Facebook page was permanently banned after uploading three cover songs.  Even after Facebook signed licensing deals permitting them.
The following comes from Sarah Fischer, a German singer-songwriter based in Stuttgart.  She sings with her sister Julia in a group called Sajul.  
"After three unintended copyright infringements (C.I.s) on Facebook against Universal Music, I'm never again allowed to have a Facebook account (that's what Facebook told me).
Here's a short summary of my 'Facebook story'.
You can click any of the links to see the detailed email correspondences that I've posted on my site (some are in German, so use Google Translate).
They didn't tell me which video they deleted. 
After writing to Facebook, they just told me that it was a copyright infringement against Universal Music and that I should write to them.  I couldn't really find out what the problem was, or which video was an issue, so I deleted all videos involving Universal artists on Facebook as a precaution.
As a punishment, I couldn't write messages or comment/post for 3 days.
I didn't delete that song because at that time, Google told me that Adele was not an artist from Universal.  I checked all our videos (again) and found no (more) Universal artists.  Also, I didn't find additional information online that could help me.
As a punishment I couldn't write messages or comment/post for 3 days.
P!nk is not an artist at Universal.  But what I didn't know back then is that it's about where the writers are from — not the artists.  So, to avoid more trouble, I instantly deleted all cover videos on all of my Facebook pages.
When I wanted to log in,  there was a pop-up telling me that as a punishment, I couldn't write messages or comment/post for 3 days.
One day later, I wanted to log in and there was a new pop-up saying that my account had been deactivated.
I tried to contact Facebook about a "million" times and didn't get any answers.
Because the copyright infringements were against Universal Music, I also tried to contact them.
After some unsuccessful tries, I actually got an e-mail from a Senior Director of Music Licensing and had a telephone conversation the next day.  The result was: Universal couldn't help me.  I'd have to try again to contact Facebook.
So that's what I did, but I didn't really get any answers.  So I created a new account, but they also deactivated that one.  After some more e-mails, they told me that I'll be never again allowed to have an account.
A few weeks after getting this e-mail, I decided to try having a fake account.
Here's my complete correspondence with Universal Music Germany.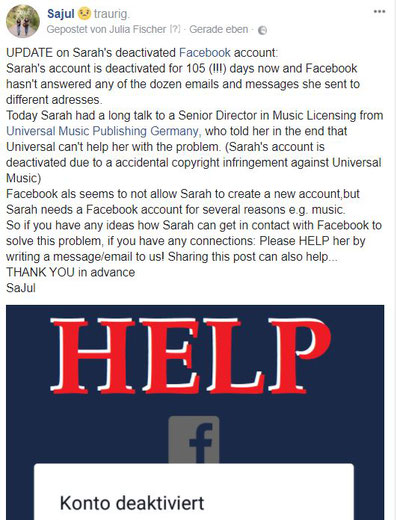 These are the biggest problems that have resulted from having a banned account:
As a result of being permanently locked out of the world's largest social network:
I have no contact details from friends all over the world
I've lost my own fansite because I was the only admin
My band's fansite has no admin now, only one editor (didn't find a solution to get the editor admin rights))
I can't find a lift (blablacar etc. doesn't work for the stretch I have to drive home)
I'm not getting the news of all of the sites I've subscribed to
Now (some months after the deactivation of my account), it's completely legal to upload cover videos on Facebook and Instagram.  That's because of deals involving Universal Music, Warner Music, ICE, and others rights owners.  So, time to reinstate my Page, right?
+ Facebook Will Stop Ripping Down Music Videos — Effective Immediately
Nope.  Unfortunately, I still can't get it reinstated.  It looks like my Facebook Page is banned forever.
But here's a funny fact.  Instagram is actually still connected to my deactivated Facebook account.  It keeps telling me to go into my Facebook profile and to add/invite all my friends to Instagram.  So at least I know that years of my personal data, connections, messages and updates are sitting on Facebook's servers somewhere — what could possibly go wrong?
---