According to a new report released by the RIAA, vinyl records and CD sales have collectively beat out digital downloads.
Once upon a time, the prognosticators predicted the death of physical music in favor of digital.  But that's not exactly how this thing is playing out.
Vinyl records are still enjoying a newfound resurgence in the US, though their overall numbers remain niche.  CD sales continue to nosedive towards zero.  That physical combination was enough to beat out digital downloads, once the fastest-growing format.
In its 2017 Year-End Report, the Recording Industry Association of America noted that revenues from streaming music platforms accounted for almost two-thirds of all US music industry revenue last year.
Revenue from paid subscriptions led the way as the biggest growth driver for the industry.  Year-over-year, subscriptions grew 63%, surpassing $4 billion and comprising 47% of the total market.  Signaling a shift away from these services, revenues from ad-supported streaming only grew 35%, totaling $659 million.
The RIAA noted that the number may be higher due to "unreported streams on YouTube," the most widely used service in the US.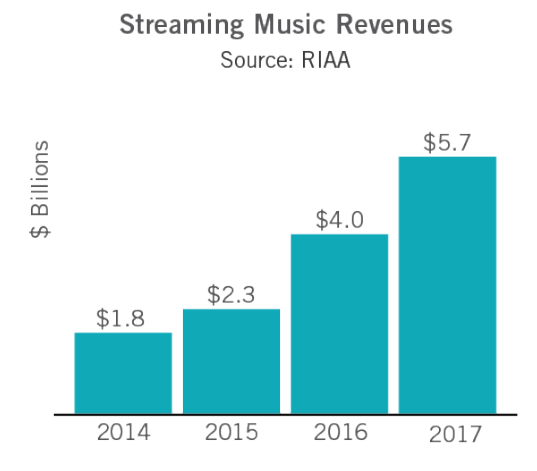 In total, revenues from streaming music platforms made up 65% of the US music industry's total 2017 revenue.
This includes revenue from "limited-tier paid subscriptions," like Amazon's $4/month single smart speaker plan.  According to The Verge, these subscriptions represented 14% of the subscription market last year, up 3% over 2016.  Revenue skyrocketed 125% to $592 million last year, up from 2016's $263 million.

Signaling that it's far from its "death," total revenues from digital and customized radio services reached $914 million, down only 5% over 2016.
Showing that consumers have started to move away from the format, digital downloads experienced a sharp decline in 2017.  Revenue fell 25% to $1.3 billion.  It only made up 15% of the music industry's total revenue in the US last year.
For the first time since 2011, revenue from physical products exceeded those from digital downloads.
Actually, physical product shipments declined only 4% to $1.5 billion.  2017 marked a lower rate of decline than in recent years for the medium.
Vinyl record sales have helped.  The RIAA found that among the other physical products, vinyl revenues jumped 10% to $395 million.  CD shipments, however, fell 6% to $1.1 billion.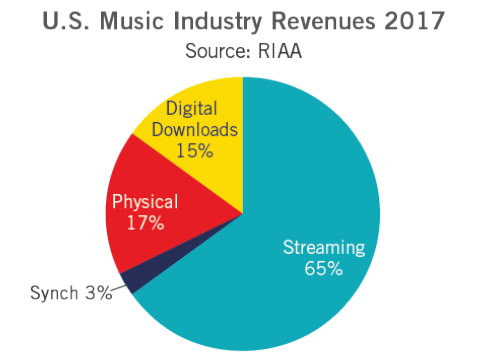 For more information, you can check out the full report here.
---
Featured image by PxHere (CC0)