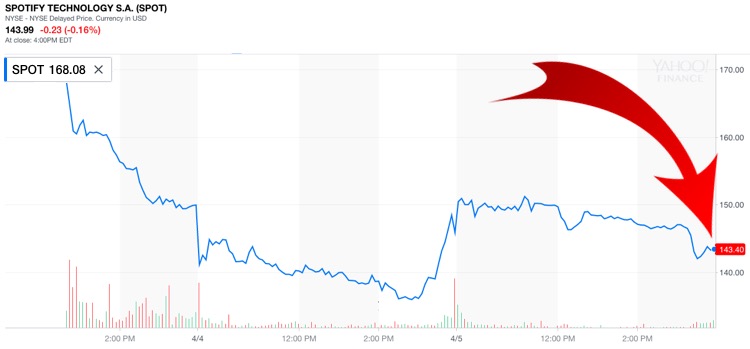 Trading on Spotify (SPOT) has been rocky since the stock's Tuesday debut at $168.  So what's this stock really worth?
Where, oh where, will shares of Spotify land?  So far, the roller coaster is rollicking downward, with shares dipping 14.3% after two days of trading.
Now, the question is whether there's downward pressure ahead.
On Tuesday, Spotify's 'non-IPO' was judged a smashing success, despite heavy selling before the closing bell.  That damage continued on Wednesday, as analysts and traders weighed the financial prospects of the blossoming company.  After fits-and-starts, Spotify remains a $25+ billion company, though the foundation for that valuation seem shaky.
The basic dilemma investors face is whether Spotify has a profitable, core position in the future music industry.  Or, if its future is marred by heavy competition, more than $3 billion in losses, and rising overhead from unfriendly major labels and stakeholders.  Just today, Apple announced it had 40 million paying subscribers, with zero ad-supported users to support.
But so far, the optimists seem to be winning.
Earlier, the New York Stock Exchange pegged Spotify's per-share valuation at around $145.  So maybe the initial hype bubble is just deflating a bit.
One development raising alarms is a dump-off by Sony Music Entertainment.  The major label, one of the largest stakeholders in Spotify, off-loaded roughly $250 million shares by the Tuesday bell.  That was sold on the way down, suggesting a panic play.
Others jumped shipped before the party started, including Swedish telcom Telia.   "The parties have concluded their successful strategic partnership," Telia announced.  Maybe that was a smart move — let's see.
Sony has since vowed to distribute its sell-off earnings to its artists and rights owners.
Skeptical onlookers are wondering if that will happen — and if it does, what a distribution would actually look like.
We haven't heard much from other major shareholders like Universal Music Group, Warner Music Group, or Merlin.  So far, it looks like the major recording groups are holding onto their shares — though a scary Bitcoin-style downturn could change all that.
Interestingly, Spotify is actually more valuable than all four of those label groups — combined.
That introduces some interesting plays ahead, including an outright acquisition of a major label or publishing group.  That would dramatically lower Spotify's licensing costs, especially if more than one label was acquired.
Once upon a time, Apple was rumored to be considering a purchase of EMI, a move that would have dramatically altered its licensing overhead.  That turned out not to be Apple's core, with UMG ultimately absorbing the label.
---