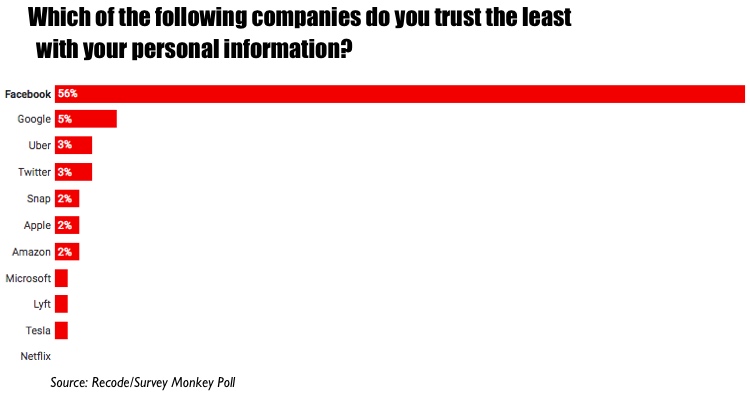 Surprise: Facebook has some very serious trust issues.
Facebook's data-poaching, election-swaying violations are creating some serious problems with people.  That's obvious, though the social network has now become a sole bogeyman for data-privacy complaints.
In a recent poll conducted by Recode, people were asked which company they trusted the least with their personal data.  Facebook was chosen 56% of the time, with 20% of people choosing 'none of the above' and 4% not voting.  Google, in second place, received a distant 5%.
That's a difference of more than 11x, or 1,120%.
That may not be fair, given that Google is also a vicious vacuum cleaner of personal data. But that hasn't registered so much with people, especially following Facebook's Cambridge Analytica scandal.
The survey was conducted among 2,772 U.S. adults earlier this month.
Now, the question is what happens next.  When the Cambridge Analytica scandal first broke, angry users started deleting their accounts — and urging others to do the same.   High-profile exits included Tesla and Will Ferrell, among many others.
But those accounts aren't really getting deleted.
In fact, none of the data you 'delete' on Facebook actually goes away.  Just yesterday, New York Times writer Brian Chen downloaded every piece of his personal data that the social network was storing.  The tranche included stats like deleted friends, communications, and even information on credit card purchases made in actual stores.
"Most basic information, like my birthday, could not be deleted," Chen wrote.  "More important, the pieces of data that I found objectionable, like the record of people I had unfriended, could not be removed from Facebook, either."
Exactly what financial toll this takes on Facebook is unclear at this stage.  Just recently, the social network was forced to cancel the release of its in-home smart speaker, based on huge privacy and trust issues with potential buyers.  Simply stated: nobody wants a Facebook speaker in their living room that can listen to your every word.
---