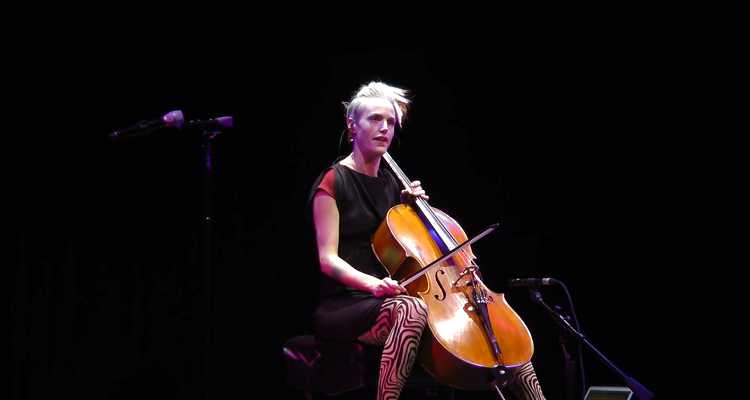 So, how much does Zoe Keating make from streaming?
Every now and then, Digital Music News covers what real artists make from streaming platforms.
One artist last year, for example, made just €403.27, or $470.47, on Spotify from 122,364 total plays.  Last June, after fans streamed another artist's songs 4.3 million times on the platform, TuneCore only sent a check for $5,078.  And, one more artist, after reading a separate piece on average per-stream payouts for 1 million plays, couldn't get paid despite hitting 100,000 streams.
Canadian-born cellist and composer Zoe Keating has her catalog available on multiple streaming music platforms.  The recipient of the 2009 Performing Arts Award, she recently reached out to Digital Music News to share her royalties.  Today, we'll rank the streaming platforms from the best to worst reported per-stream rates.
Using RouteNote as her distributor, Keating earned the most from Amazon Prime Music.  At a per-stream rate of $0.0663649, Keating earned $1,265.38 from 19,067 streams on the platform.
Microsoft's defunct Groove platform, labeled here Xbox Music, had the second highest per-stream rate at $0.0319997.  Keating scored $502.94 from 15,717 plays.  TIDAL, labeled here Wimp, paid $0.0162451 per stream.  She received $354.42 from 21,817 streams.
Deezer, Spotify, and Prime Music ranked as the streaming music platforms with the lowest per-stream rates.  Deezer paid out $0.0048416 per play.  After just 20,460 streams on the French-based music streaming platform, she earned $99.06.  Keating also made $0.0038015 per stream on Spotify.  After 1,154,513 total streams, she received $4,388.93.  Surprisingly enough, Amazon Music (most likely Music Unlimited) paid out much lower than Spotify and Prime Music.  At $0.0037711 per stream, Keating netted just $167.31 from 44,366 plays.

Using CD Baby as her music distributor, Zoe Keating received significantly lower rates.
At $0.018873 and $0.0118831, Amazon Premium and Tidal had the highest per-stream rates, respectively.  Napster's service, labeled here Rhapsody, also had a notably higher payout rate.  At $0.0090479 per stream, Keating scored $50.65 for just 5,598 plays.  Apple Music had a decent per-play rate of $0.0078276.  After 29 streams, she earned 23 cents.  Interestingly, Zoe Keating had a higher per-stream pay on Apple Music through her record label.  At $0.0098949, she earned $6,214 after 628,000 plays.
Along with YouTube, Spotify and Amazon Prime ranked as the services with the lowest per-stream rates once again.  At $0.0039 per stream, she earned $5,654.58 after 1,449,887 plays on Spotify.  Amazon Prime's per-play rate plummeted to just $0.0034152.   After 140,943 plays, she received just $479.81, much less than what she had earned through RouteNote.   YouTube paid her $2.47 for 865 plays at an unsurprising $0.028497 per-stream rate.  Relatively unknown internet radio service 8Tracks came in dead last with a per-stream rate of $0.0004045.  Keating earned $0.82 from 2,027 plays on the service.
Despite falling digital download rates, iTunes and Bandcamp downloads, along with Amazon MP3, proved a great source of income for Keating.
Proving the company's statement of skyrocketing income last year, Bandcamp paid significantly higher per download.  Keating earned $5,849.76 from just 879 downloads.  From 7,450 downloads on iTunes, she scored $14,600.  For 258 MP3 downloads on Amazon, she received $656.96.
Under performing rights income, Keating earned $36,929 from ASCAP.   She also netted $3,557 from Pandora via SoundExchange.  For advertising share via YouTube CMS, Keating scored $1,504.
You can check out the full report here.
---
Featured image by It's The Roop (YouTube screengrab)