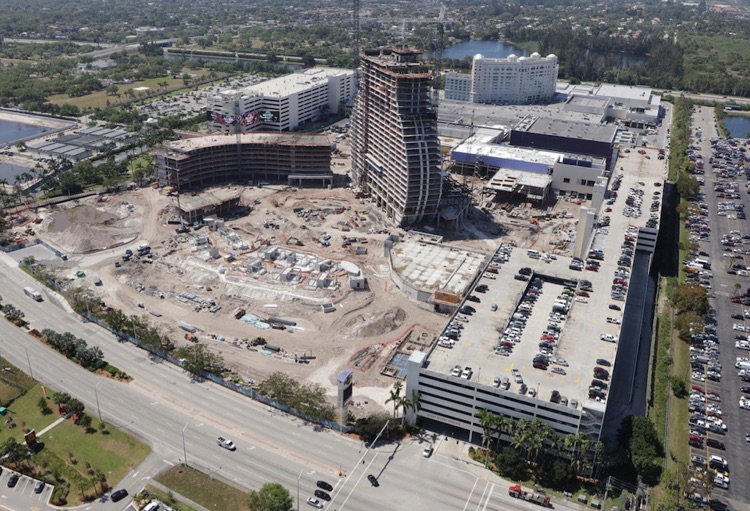 It's not enough to put musical memorabilia and lyrics on the walls. If you want to really capture the world's attention as a rock-themed hotel, you've got to up your guitar game.
That's exactly what's happening at Florida's Seminole Hard Rock Hotel & Casino, where architects are busy erecting a huge, guitar-shaped building.
There are plenty of enormous structures in the world, of course.  But few are shaped like the world's most popular string instrument. Among those that are, none come near to the 450-foot height of Hard Rock International's latest piece of real estate.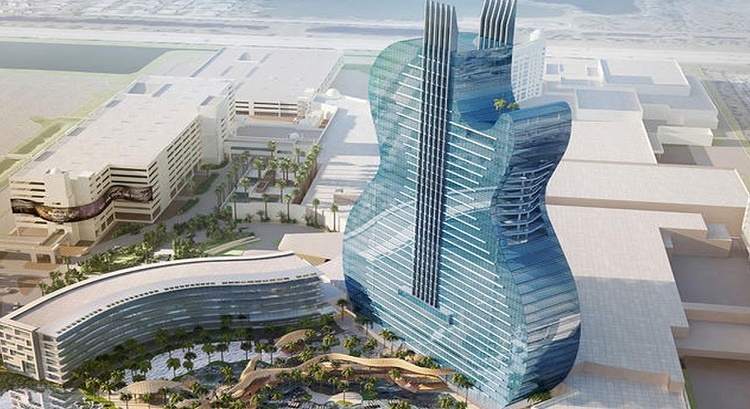 With completion scheduled for 2020, the building will feature 638 hotel rooms and suites. This will allow the world's sixth-largest hotel casino to more than double its capacity to around 1300 rooms. That's in addition to an extra 41,000 square foot mega-spa and 60,000 square feet of retail and restaurants.
The guitar shape is not just an exterior facade, either.
As Hard Rock International Chairman James Allen has explained, "it will be the first building in the world that's truly scale-designed as an authentic guitar."
The artistic design was the input of the Seminole Tribe, who are clearly determined to make an architectural statement.
"We could have easily just built some rectangular building," Allen said during a presentation to Florida Governor Rick Scott in 2016. "But the tribe is once again trying to create something that is iconic, that creates international tourism coming to Florida. We truly believe that the design alone will create additional tourism."
+ Guitar Center Faces Imminent Bankruptcy After 59 Years In Business
Impression-making aside, the project is set to generate an influx of employment. 14,585 construction jobs have already been created. Another estimated 19,450 jobs will be realized, 4,800 of which will be full-time gigs.
The project's unveiling in October 2017 was akin to that of a major hard rock event. Legendary rockers like Iron Maiden's Nicko McBrain and E Street's Steven Van Zandt led a mass-coordinated guitar-smashing ceremony as fireworks boomed in the background.
So what if Guitar Center and Gibson Guitars are facing bankruptcy?  So what if US guitar sales are in a ceaseless plummet?  The fact that someone is willing to immortalize the long-celebrated instrument in a $1.5 billion tower is a sign that all is not lost.
---