Taylor Swift's team says this is all part of a plan to maximize ticket prices and minimize scalping.  But is that strategy working out?
Team Taylor is already claiming record-setting sales ahead of its 'reputation' tour.  But a quick look at Swift's upcoming shows on ticketmaster.com reveals a potentially serious issue.
The tour's opening gig, at the University of Phoenix Stadium in Glendale, Arizona, has widespread seat availability according to Ticketmaster.  That sharply contradicts with a statement from Tom Sadler, president and CEO of the Arizona Sports and Tourism Authority, who told Billboard to expect a 'record-breaker' even though ' exact attendance and ticket sales information won't be available until after the show'.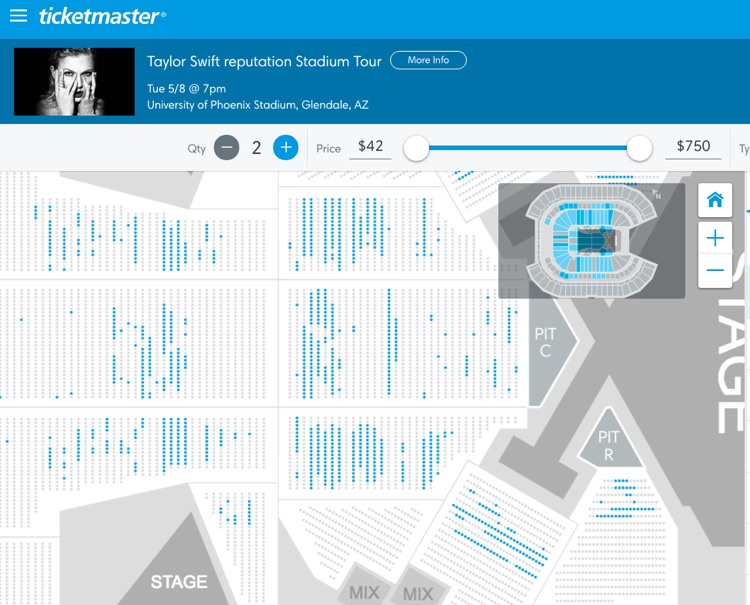 Throughout, Ticketmaster and its owner, Live Nation, have pointed to a strategy that involves high, more dynamic ticket pricing.  That strategy foregoes the upfront sellout, but is designed to keep money normally claimed by scalpers.  "We're not trying to sell all of her tickets in one minute; we're trying to figure out how to sell tickets in a more modern way," David Marcus, executive vp and head of music at Ticketmaster, told Billboard in January.
Sounds logical enough, though it's unclear if enough people are buying high.  The May 8th show is not only far from a sellout, but vast sections of the stadium remain open and unsold.  That can be seen above, while a zoom-in reveals serious availability in premium seats around the stage.
In some cases, entire rows of higher-priced tickets are entirely available for purchase.  A quick test involving the Phoenix date revealed that these seats can be readily purchased, so this doesn't look like a listing error.
These are very high-priced tickets.  And several hundred — if not more than 1,000 seats — remain unsold for a show that's just days away.  That suggests that either these tickets are about to be sold at high prices, or Taylor Swift's marketing team is spreading some serious misinformation.
The 'reputation' tour also features high-wattage superstars like Camila Cabello and Charli XCX, which makes the widespread availability even harder to understand.
The Arizona show is roughly one week away.  But other shows scheduled immediately afterward are showing even broader ticket availability.  In total, thousands of tickets remain unsold.
Indeed, upcoming shows at major stadiums like Levi's Stadium in Santa Clara, CenturyLink Field in Seattle, and Sports Authority Field in Denver are showing vast portions of unsold tickets.  Like Phoenix, entire rows in many of these stadiums are entirely open.
In other cases, entire sections are completely available, even though these shows are just weeks away.  Here's a look at ticket availability at some of those dates.
Santa Clara, CA: Levi's Stadium, May 11th.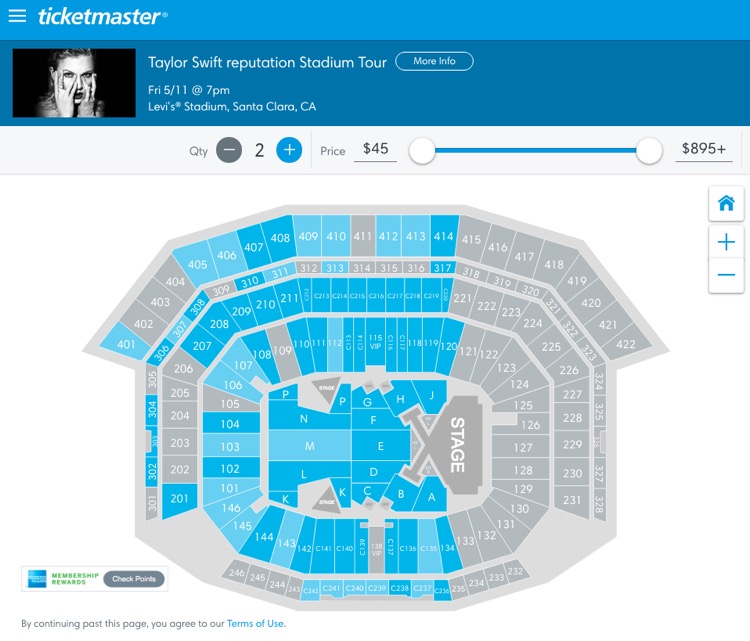 Seattle: CenturyLink Field, May 22nd.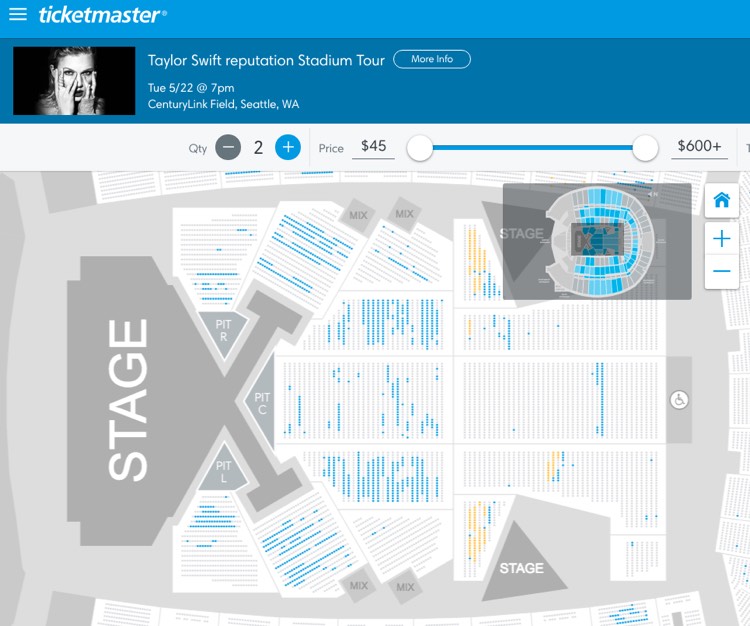 Denver, CO: Sports Authority Field, May 25th.
Dates further out have greater availability, including marquee gigs in Chicago (Soldier Field) and Southern California (Rose Bowl).
That all seems to be part of Taylor Swift's 'record-breaking' strategy, one that involves higher-priced tickets and last-minute sellouts.  Though it's getting harder to reconcile those claims with partially-filled stadiums across the country — especially with the opening gig just days away.
---