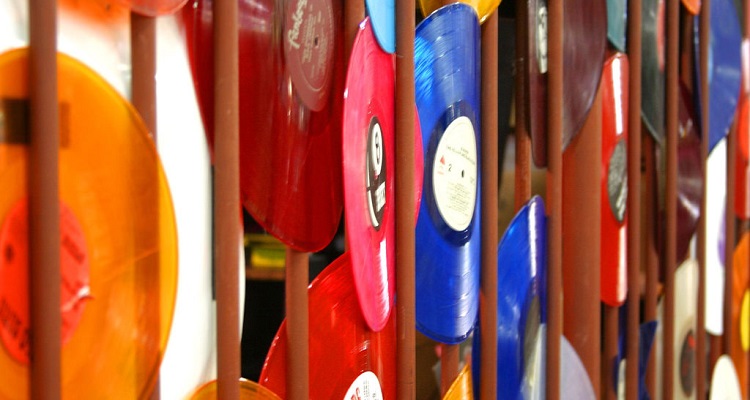 Thanks to independent record stores, Record Store Day 2018 was a massive success.
Nielsen Music has released its report on Record Store Day 2018.  Held on April 21st, the 11th annual edition yielded a whopping 733,000 vinyl albums sold for the week ending April 26th.  Vinyl album sales went up 190% over the previous week, 733,000 to 253,000.  This marks the biggest week ever for vinyl sales during a Record Store Day week.
The week ending April 26th also ranked as the largest week for vinyl sales outside the Christmas season.  Nielsen Music first started tracking sales in 1991.  The week ending December 21st, 2017 ranks as the biggest week overall with 811,000 records sold.  The week ending December 24th, 2015 remains in second with 753,000 total units sold.
Of the total vinyl albums on Record Store Day 2018, Nielsen Music found that consumers purchased 580,000 records at independent retailers.  This marks the single largest week for the format in the retail sector.  Overall album sales across all sellers also grew 17%, the largest weekly gain in sales this year.  Without taking into account indie retailers, album sales would've dropped 2.5%.  In addition, 25% of all albums sold for the week ending April 26th were sold at these stores.  In fact, total album sales at indie record stores rose 200% during this week.
The red vinyl release of Bruce Springsteen's Greatest Hits album ranked as the vinyl record most sold.  David Bowie's Welcome to the Blackout (Live London '78) and Neil Young's Tonight's the Night – Live at the Roxy followed close behind in second and third place, respectively.
For singles, Led Zeppelin's double-sided 7-inch single, 'Friends'/'Rock and Roll' ranked as the most sold.  The full-length demo of David Bowie's 'Let's Dance' on 12-inch vinyl took second place.  Sufjan Steven's 10-inch translucent vinyl of 'Mystery of Love' came in third.
Overseas, Record Store Day also smashed records.  According to the Official Charts Company, vinyl sales rose 16% year-over-year.  Retailers across the UK sold 60,000 vinyl albums and 30,000 singles.  David Bowie's Welcome to the Blackout topped the UK vinyl chart.  Pink Floyd's The Piper at the Gates of Dawn and Arcade Fire's blue vinyl debut EP also proved very popular.
---
Featured image by Thomas Hawk (CC by 2.0)