$25 was once unthinkably cheap for a Taylor Swift show.  Now, it could be the norm for the singer's upcoming 'Reputation Stadium Tour'.
Taylor Swift's upcoming 'Reputation' tour is selling out in Australia.  But back in the U.S., the tour has yet to produce a sellout, and prices are starting to sink.
The 'Reputation Tour,' which also features Camila Cabello and Charlie XCX, starts in less than 5 days.
In many venues, thousands of seats remain available, yet many of the unsold seats carry ticket prices north of $100.  That may be causing fans to pass, suggesting slower-than-expected demand.
+ Thousands of Taylor Swift Tickets Remain Unsold — Just Days Before Showtime
In earlier tours, Swift has enjoyed splashy sellouts and $1,000+ ticket prices for premium seats.  In fact, it was sometimes impossible to get a ticket — even with hundreds of dollars in hand.
This time, things are starkly different.  But throughout, Taylor Swift's team has insisted that the lack of sellouts on the Reputation Tour is intentional.  Instead of selling out and giving the upside to scalpers, the new strategy involves higher pricing and a 'slower-selling' strategy.
Sounds logical enough, though it's unclear exactly how that strategy is panning out.
Just days before an opening date in Phoenix, hundreds of seats — if not more than a thousand — remain unfilled.  But even crappy seats are priced at more than $100, suggesting that fans are either passing or waiting for a last-minute discount.
Others maybe flat-out balking at the high ask.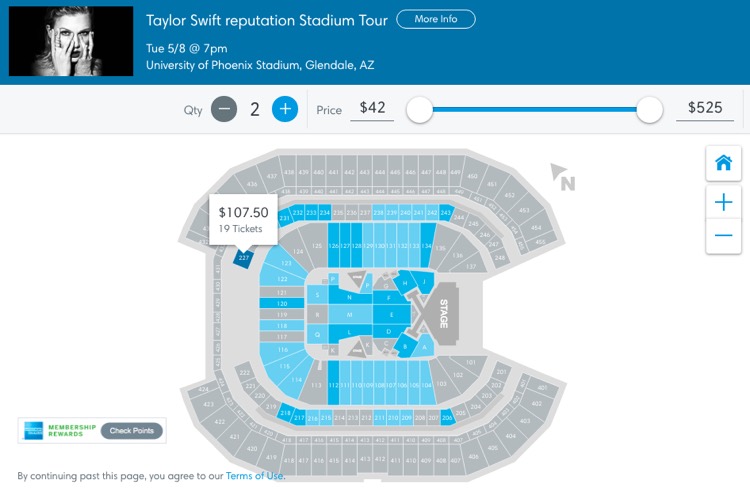 Swift's show in Miami isn't slated to happen until August, suggesting even cheaper prices ahead.
Amazingly, fans can't purchase a ticket to the Miami date on ticketmaster.com for less than $49, suggesting a dump-off on sites like Stubhub.  Though not the exact same seat, the differential of $24 is alarming, especially since prices usually go up in the secondary market.  And that's certainly not the only ticket on StubHub falling below Ticketmaster's lowest available price.
Meanwhile, Billboard is now reporting that Taylor Swift's team is actively lowering prices to fill seats.  Accordingly, Ticketmaster is "reducing prices in many markets as part of an effort to sell remaining inventory," a move that has predictably led to a "significant lift in primary ticket sales".
A quick look at some other dates reaffirms that reporting.  For example, ticket prices for a September date in Kansas City have slumped to $39, while shows in both St. Louis and New Orleans both feature $34 bargains.  Of course, those prices are likely to sink in the coming months — and for proof of that, look no further than the presence of a $39 ticket for a June 30th show in Louisville, KY.
The continued price-drops could be courting disaster, with fans waiting until the absolutely last-minute to scoop bargains.
That is, if they haven't been permanently alienated by $100+ prices.  Sellers on secondary sites like StubHub, sensing that dynamic, may feature heavily-discounted tickets simply to cut losses.
That vicious cycle seems to have impacted Jay-Z, whose recent '4:44' tour was marred by sub-$10 ticket prices in multiple markets.  When Digital Music News highlighted a $6 ticket in Anaheim and a flat-out cancellation in Fresno, CA, Jay-Z's attorney threatened to sue if we didn't change the tone of our coverage (we refused, and they never followed through on the threat).
Now, another glare is shifting towards Jay-Z's combined tour with Beyonce, an outing that may experience similar pressures filling seats.  Now, the broader question is whether single-act tours are as viable a machine as before, especially with festivals commanding such high prices and interest.  Indeed, Coachella's recent $300+ double-weekend festival sold out in minutes, which of course leaves tens of thousands of concertgoers with $300 less to spend on the next show.
---