Rumors abound that Google will be merging its YouTube Music and Google Play Music platforms into one giant music juggernaut.  Now, a redesigned YouTube Music app supports those claims.
If Spotify represents order, then YouTube is the chaotic mess it's cleaning up.  Regardless, YouTube's usage remains outrageously large, thanks to infinite selection, free access, and easy sharing.
But maybe this isn't a game that lasts forever.
The music industry has long hated YouTube for exploitative abuse of the DMCA and bottom-scraping royalties.  But users may also be getting sick of a UI that features lots of pulled tracks, bad metadata, and general chaos.  Sure, it's free, but then again, Spotify has a free tier, too.
Now, under pressure from the industry and fans alike, it looks like Google may be taming YouTube Music a bit.  Incoming YouTube global head of music Lyor Cohen recently teased YouTube Remix, the video platform's latest attempt to launch a more respectable music property.  That will apparently be different than YouTube Red, which is still being hawked by YouTube as a premium upgrade from the YouTube Music app.
+ Lyor Cohen Says YouTube Has a 'Fundamental Misunderstanding With the Creative Industry'
If that sounds confusing, then welcome to Google's world.  But perhaps they're working on clarifying the different version.  Accordingly, it looks like Remix could combine the best aspects of YouTube Music and Google Play Music.  And it's entirely plausible that YouTube Remix will simply be an overhauled version of YouTube Music.
It's definitely cleaner, and suggests a stronger push towards a Spotify-like UI.
The version looks like a very limited test release, and was uploaded by Reddit user c2fifield.  At first glance, c2fifield observed a far cleaner app, with much better shuffle and playlist capabilities.
Here's a quick demo of what the new YouTube Music looks like in action.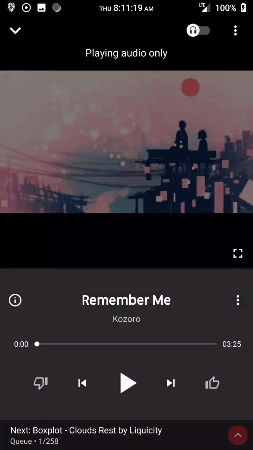 "My first impressions are really positive," c2fifield wrote.
"I love the new player design, the playlist view now reflects the shuffle correctly instead of jumping around, and it's still early to really say anything but the shuffle algorithm feels better to me as well.
"It seems like they're merging a lot of my favorite parts of GPM into YouTube music, so maybe this is a sign that they'll just be rebranding that app instead of making a new one?"
That's a very, very interesting question.  And logically, it makes a ton of sense for Google.  After all, Google Play Music and YouTube Music have immense overlap, with each harboring great strengths that should probably be combined.  Whether the Google, sometimes called 'the new Microsoft,' can actually organize that logic is another question.  Though this update suggests exactly this is happening.
Remix could be unveiled as early as May 8th at the Google I/O conference.  The event runs through May 11th.
---