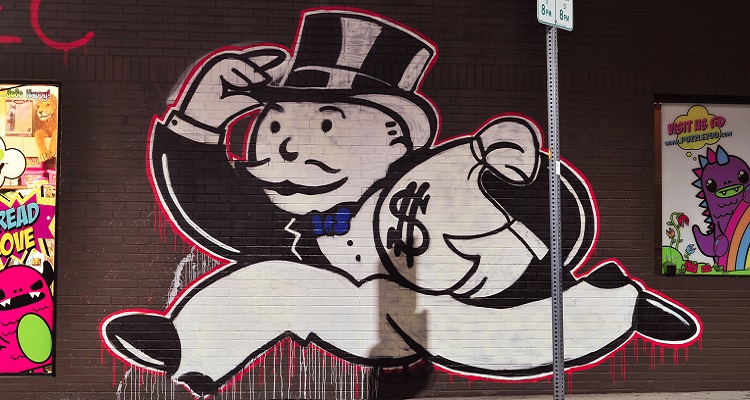 iHeartMedia has proven that filing for bankruptcy can lead to a very solid payday.  Well, not for the artists, labels, and PROs it owes.
Last March, underscoring Digital Music News' theory a year earlier, iHeartMedia filed for bankruptcy.
Just hours before shutting down the company, the radio and online broadcaster struck a last-minute deal with the holders of its $11 billion debt.  As part of its balance-sheet restructuring agreement, iHeart would transfer 94% of the stock in the reorganized company's radio business to its senior creditors.  Those creditors would receive nearly all of the company's stake in Clear Channel Outdoor Holdings.
The bad news?  Current stockholders would only get a 1% share.  The other 99% would belong to 2,021 noteholders and junior noteholders.  Private equity owners had lost their entire $2 billion investment.
In addition, iHeartMedia's bankruptcy filing revealed the staggering amount it owed artists.  Including those tasked with paying royalties, the radio and online broadcaster owes $16.4 million.
Clearly not worried about paying off this debt, iHeart's Compensation Committee presented its 2018 Key Incentive Plan.  For running the company into the ground, CEO Bob Pittman would receive $9.3 million in bonus payments.  COO Richard Bressler would get $5.3 million, and General Counsel Robert Wells will earn $900,000.
Against a backdrop of massive debt, the company's Board of Directors recently approved the Key Incentive Plan.  So much for the $2 billion private equity owners lost.  Oh, and the millions iHeartMedia still owes multiple artists, PROs, and labels.
Now, the radio and online broadcaster has filed a new motion.  No, not to pay back artists.  Nor even to finally present the court with a viable business plan to get out of bankruptcy.  No, of course not.
The radio and online broadcaster wants a court to approve $108 million in bonuses, dubbed the '2018 Incentives Plan.'
iHeartMedia's $108 Million Incentive Plan – why bankruptcy sounds so sweet.
In documents obtained by Digital Music News, iHeartMedia has asked a Texas bankruptcy court to approve the payment of $108 million in 'incentives' to over 700 employees.  On what grounds?  It's necessary for the success of the broadcaster's restructuring plan.
In a preliminary statement, iHeartMedia wrote,
"The Debtors have historically incentivized their employees to deliver operational success through various compensation programs that provide market-based financial incentives based on performance, including a long-standing annual incentive plan."
The company seeks approval for two employee incentive plans: the 2018 Incentive Plan for Insiders (IPI) and the 2018 Incentive Plan for Non-Insiders (IPN).
Under the 2018 Incentive Plan for Insiders, 11 senior executives would receive up to $24.9 million.  Chairman and CEO Bob Pittman would receive up to $10.5 million.  President, Chief Operating Officer, and Chief Financial Officer Richard J. Bressler would receive just under $6 million.  Executive Vice President and General Counsel Robert Wells would receive up to $1.01 million.  Eight unnamed executives would receive up to $7.5 million.
Another 714 non-insider employees would earn up to $83.2 million.
The Incentive Plans contemplate tailoring the use of Operating Income Before Depreciation and Amortization (OIBDAN) to each participant.  The company would make this specific per business segment.
The plans would measure Consolidated OIBDAN and Segment OIBDAN.  Bonuses for Senior Executives (except for three) would only be measured by Consolidated OIBDAN.  Bonuses for 714 non-insider employees would be measured using two metrics:  50% based on Segment OIBDAN with payments subject to management discretion and 50% based solely on management discretion, evaluated quarterly on each employee's performance.  Management has the discretion to award payments even if employees don't achieve performance targets.  It can also reallocate bonus amounts not awarded to other employees in the non-insider group.
Under Basis for Relief in the 75-page court filing, iHeartMedia outlined two reasons why the court should approve the request.
First, the Incentive Plans are an ordinary-course continuation of its prepetition compensation practices.  They constitute a sound exercise of iHeartMedia's business judgment.  According to the radio and online broadcaster, the bonuses "are in the best interests of the Debtors' estates."
Second, the Incentive Plans comply with the requirements of sections 503 (b) and (c) of the Bankruptcy Code.  Listed as primarily incentivizing "stretch goals," the bonuses' performance metrics for Senior Executives are tied to financial performance objectives.  They're also aligned with the ultimate interests of all stakeholders.
If approved, the company would measure performance at the end of each fiscal quarter of 2018.  The cost for achieving target performance levels includes $16.6 million for the IPI and $55.5 million for the IPN.
The court filing includes the declaration from a consulting director at Willis Towers Watson.  According to Zachary P. Georgeson, the Incentive Plans "align well with stakeholder interests."
"I believe that the design, structure, cost, and award opportunities available under the IPI and IPN are reasonable given the facts and circumstances of these Chapter 11 cases."
Meanwhile, iHeartMedia has yet to present a feasible plan to actually pay back artists what it owes.  Now, the broadcaster can argue that the IPI and IPN will achieve precisely that.  Yet, in the court documents, iHeart has clearly failed to show that, or even mention it once.
Oh, well. At least top executives get to enjoy their 
(unmerited)

 bonuses.

You can check out the court filing below.
---
Featured image by aisletwentytwo (CC by 2.0)