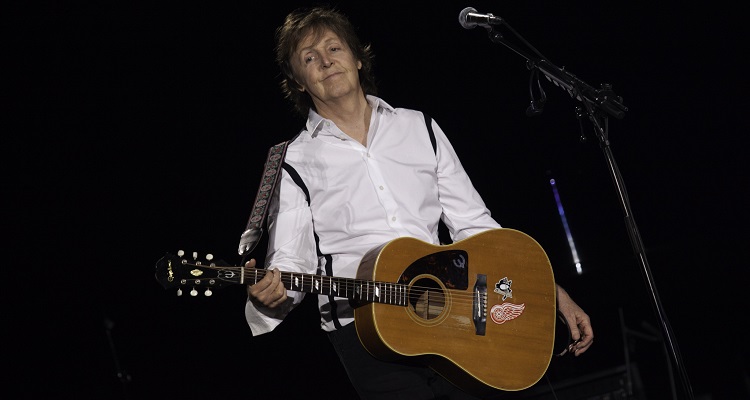 LANDR launches free curated samples service.
LANDR, a cloud-based automated mastering service, has launched Samples, a cross-genre service that provides royalty-free samples to music producers.  The company has partnered with Dirty Projectors, Marc Houle, Pan-Pot, Mike & Keys, Jazzfeezy, and others to deliver a highly curated set of sample packs exclusively for the LANDR community.
---
Mariah Carey headlines Blackpool's LIVEWIRE Festival.
Mariah Carey has chosen Blackpool's second annual LIVEWIRE Festival for her only UK 2018 festival appearance.  She'll headline the first day of event.  Tickets go on sale Friday, May 11th at 10 am at livewirefestival.co.uk.
---
Dame Dash appears on The Domenick Nati Show.
American entrepreneur and music producer Dame Dash recently talked with publicist Domenick Nati.  He discussed Kanye West's recent behavior, calling him bipolar and imbalanced.  Speaking about his former partner's issues with the SEC, Dash lambasted Jay-Z and Rocawear.  He compared Jay-Z's continued missed federal court appearances to Donald Trump.
---
Spotify tests Friends Weekly.
Spotify has started testing a new, social-oriented playlist dubbed Friends Weekly.  The playlist features a curated list of songs that users' friends have recently played on the service.  The company has now rolled out the feature to more users.  It remains in the test phase.
---
Two fired baristas prove Rap isn't coffee shop music.
A coffee shop at Duke University has fired two baristas after the Vice President of Student Affairs, Larry Moneta, complained about a rap song playing over the shop's speakers.  Britni Brown and Kevin Simmons, the fired baristas, claimed that they played the music from playlists created by Spotify.  They had apologized to Moneta, who soon complained to the coffee shop's main office, leading to the sackings.
---
Success runs in the family.
Celine Dion's son, 17-year old rapper René-Charles Angélil, has topped SoundCloud's R&B and Soul chart following the release of several covers on the platform.  Released under the name "Big Tip," his 'Catwalks (Sidewalks Remix)' features instrumentals from The Weeknd's 2016 track.  'Loft Music Remix' also features instruments from the star's 2011 hit.
---
Could Liberty Media still purchase iHeartMedia?
During Liberty Media's first quarter earnings call, CEO Greg Maffei told investors that the company remains interested in purchasing iHeartMedia "at the right price."  He believes the radio and online broadcaster's assets are an "attractive free-cash flow generator."  With the acquisition, iHeartMedia would prove "additive to our music holdings."
---
Childish Gambino hits 50 million views with 'This is America,' on track for the top 5 on the Hot 100.
Donald Glover, aka Childish Gambino, has broken his previous videos with the release of the music video for 'This is America.'  In the first 24 hours, the video had 12.9 million views.  From May 6th to May 8th, it became the most watched video on YouTube.  In the four-minute satirical video, Gambino tackles controversial topics in the US, including mass killings, police brutality, and gun violence.
On streaming music platforms, the song will surpass his prior No. 12 high on the Billboard Hot 100.  According to Nielsen Music, 'This is America' may debut in the top five of next week's Hot 100.  It has drawn over 20 million streams so far and sold over 50,000 downloads.
---
ABBA finds new life.
Following news of the group's reunion, sales of ABBA's music in the US have risen 57%.  Led by 'Dancing Queen,' in the week of May 3rd, ABBA's songs gained 36% in on-demand streams (audio and video combined).  According to Nielsen Music, the group's tracks totaled 6.38 million streams, up from 4.69 million a week earlier.  Combined sales of the group's albums and songs rose to 11,000, up from 7,000 a week earlier.  ABBA's overall equivalent album units rose 39% to 8,000 units, up from 6,000 a week earlier.  The group's 1993 best-of album, Gold – Greatest Hits, tallied 5,000 units.
---
Paul McCartney is still the richest person in Britain.
On May 13th, the Sunday Times will publish its 2018 "Rich List," ranking the 1,000 richest people in the United Kingdom.  Paul McCartney and his wife Nancy Shevell topped the list with a combined wealth of £820 million ($1.1 million).  McCartney has appeared on the list since the paper first released the Rich List in 1989.  U2, Elton John, Mick Jagger, Keith Richards, Ringo Starr, Sting, and Rod Stewart also appeared on this year's list, among other musicians.
---
BIGSOUND announces its first round of speakers.
BIGSOUND, Australia's most prolific music industry festival and conference, has unveiled the first round of speakers for the 2018 event.  Taking place on September 4th-7th at Fortitude Valley in Brisbane, Mardi Caught and Virginia Grohl will speak at the event.  Caught will explore the current challenges facing the Australian music industry, including gender equality, the new music economy, and entrepreneurship.  Grohl, the mother of Foo Fighters' frontman Dave Grohl, will discuss the role of parents in nurturing future industry leaders.  She'll also share the ups and downs of juggling the rollercoaster of children's lives.
---
Mardi Caught launches The Annex.
Veteran music industry executive Mardi Caught has launched The Annex, a marketing services company.  It boasts Pnau, Unified, and Sheppard among its first clients.  Caught's new company will collaborate with talent, management, and labels to tailor and deliver marketing strategies.  The Annex will take an office space in the central Sydney premises of Unified Music Group.  She has previously served as General Manager of Warner Music Frontline Marketing.  Caught has also served at Sony Music Australia, Sony Music UK, and MTV Networks Europe.
---
Spotify takes down R. Kelly.
As part of its new hate content and hateful conduct policy, Spotify has removed R. Kelly's music from the platform's editorial and algorithm playlists.  The company will no longer promote the troubled R&B singer's music in any way.  Spotify has removed R. Kelly's music from RapCaviar, Discover Weekly, and New Music Friday, as well as other genre and mood-based playlists.  In a statement to Billboard, a company spokesperson confirmed that the singer's track will remain on the music.
"We don't censor content because of an artist's or creator's behavior, but we want our editorial decisions – what we choose to program – to reflect our values.  When an artist or creator does something that is especially harmful or hateful, it may affect the ways we work with or support that artist or creator."
---
Como Audio introduces SpeakEasy.
Como Audio has launched its new SpeakEasy streaming Wi-Fi music system along with a matching turntable.  The SpeakEasy features a 3-inch, four-layer voice coil woofer along with a 0.75-inch silk dome tweeter.  It also has knobs to control the volume along with Google Assistant built right in. The SpeakEasy can act as a hub to control smart homes, including thermostat and lighting.  The matching turntable, dubbed the Como Audio Turntable, features wireless streaming, letting owners play records over their SpeakEasy system.
---
Even more legal trouble for Chris Brown.
An unnamed Jane Doe has filed a civil lawsuit against Chris Brown and his friend, Lowell Grissom Jr.  The woman alleges Grissom raped her at Brown's home.  High-profile lawyer Gloria Allred represents the unnamed woman.  The civil lawsuit states that at the time of the rape, Brown furnished drugs to his guests.
---
Nadia Ali launches a PR firm.
Publicist Nadia Ali has left Island Records to launch Nadia Ali PR, a boutique agency.  According to the publicist, Nadia Ali PR will create "out-of-the-box and strategic press campaigns."  She will continue to work with Island artists Mike Posner and Bishop Briggs.  Ali will also represent up-and-coming Swedish pop artists, including Seinabo Sey, Chaos Chaos, and LOVA.
---
Frightened Rabbit singer goes missing.
Scott Hutchison, lead singer of Scottish indie band Frightened Rabbit, has been reported missing.  His fellow bandmates worry that the singer may be in a "fragile state."  No one has seen Hutchison since he left a hotel in South Queensferry at 1 am on Wednesday.  His friends have posted an appeal on Instagram asking fans for help in locating the singer.
---
Christina Aguilera announces her first North American tour in ten years.
Christina Aguilera has announced her North American tour in support of her next album, Liberation.  The 22-stop tour, produced by Live Nation, kicks off in Hollywood, Florida on September 25th.  It will wrap up in St. Petersburg, Florida on November 13th.  The tour marks the singer's first US tour since 2008.
---
TuneGO now determines whether artists can go mainstream or stay indie.
Artist discovery platform TuneGO Inc. has launched a new invite-only artist discovery platform.  The portal allows record labels, talent agents, and playlist curators to discover new talent while managing artists and music on their existing rosters.  To determine the likelihood of an artist's mainstream success, the platform leverages data and analytics from a variety of sources, including online activity, fan engagement, and industry feedback.
---
Billy Ray Cyrus inducted into Kentucky Music Hall of Fame.
Billy Ray Cyrus will be inducted into the Kentucky Music Hall of Fame.  Fellow inductees include bluegrass vocalist Dale Ann Bradley, gospel singer Jason Crabb, country performer Bobby Lewis, and singer/songwriter Jackie DeShannon.  The ceremony will take place Friday evening at the Renfro Valley Entertainment Center.  Cyrus will not participate in the ceremony.
---
Tour Battles – 1989 vs. Reputation – Which cost more?
According to secondary ticket marketplace TickPick, average purchase prices for Taylor Swift's Reputation tour plummeted 26.9% over The 1989 World Tour in 2015. Underscoring the concert's poor ticket sales, the average Reputation purchase price reached $149.77 in California. For the 1989 World Tour, the average purchase price reached $332.06 in California. Tickets for the Reputation tour recently sank to $25 in Miami.
---
Featured image by Jimmy Baikovicius (CC by 2.0)