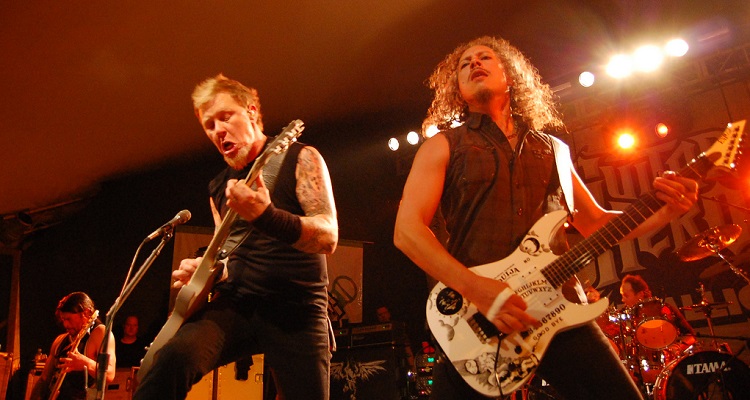 Kirk Hammett expresses his disappointment over the Napster fight.
Kirk Hammett, Metallica's lead guitarist, has expressed his disappointment in other bands for failing to step up against Napster 18 years ago.  Naming the incident one of the biggest regrets in his career, he told The Word of Wheeler podcast,
"If there's anything thing I regret, I regret that no one else supported us during that Napster time.  I don't even know if you can call it a regret.  Maybe it's more of a disappointment.  I was very disappointed that other musicians who saw our point, they supported us in ways that were less inconvenient to them.

"We stuck our necks out there.  At the end of the day, I'd like to say what we were doing had some merit – some truth to it.  From that point on, everyone who cares has seen the music industry go on this total downward spiral."
---
Over 30,000 rightsholders file a complaint with Norwegian police against TIDAL.
Norwegian songwriters, composers, and music publishers have filed a complaint against Jay-Z's streaming music service, TIDAL.  Last week, Norwegian newspaper Dagens Næringsliv (DN) published a damning report about the service.  In conjunction with the Norwegian University of Science and Technology's Center for Cyber and Information Security, DN found that TIDAL had massively inflated Beyoncé and Kanye West's numbers, leading to massive payouts for both artists.
Tono, a Norwegian performance rights organization representing 30,000 rightsholders, stated that the streaming manipulation claims against TIDAL were "strong" and "apparently credible" as they filed the complaint with police in the country.  In a statement, the PRO said,
"We have to protect the interests of the rights holders for whom we work, but we also believe that a complaint is in the interest of Tidal which says the data has been stolen and manipulated."
---
Cisco pulls ads from YouTube.
Cisco has just pulled all of its online ads from YouTube, based on fears that its brand would appear alongside objectionable content.  Taking a veiled swipe at the video platform's past controversies over sensitive content, Cisco's Chief Marketing Officer, Karen Walker, wrote in a blog post that the company doesn't want its ads to "accidentally end up in the wrong place, such as on a streaming video with sensitive content."  The company, however, will continue to upload videos on YouTube.
---
Scott Maclachlan joins Warner Music Australasia.
Warner Music Australasia has appointed Scott Maclachlan as Senior Vice President of A&R.  As cofounder and director of Saiko Management, Maclachlan has developed artists like Lorde and Sol3 Mio.  He will report to Niko Nordström, President of Warner Music Australasia and will divide his time between the company's Auckland and Sydney offices.
---
Vincent Bolloré now owns over 24% of Vivendi.
Billionaire investor Vincent Bolloré now owns more than 14% of Vivendi — right before a possible announcement related to a UMG IPO.  Our full coverage here.
---
R. Kelly's reps defend the singer while he puts on a provocative show.
Representatives for R. Kelly have hit back against Spotify's 'ban' of the troubled R&B singer's music.  In a statement, they said the singer has "never been accused of hate," and Spotify is merely engaging in a "smear campaign."  Amidst the controversy, R. Kelly put on a very provocative show in North Carolina.  He reportedly grabbed a fan's cell phone and put it between his legs.  Kelly also invited another fan on stage to wipe his face, tongue, and crotch with a towel.  Separately, Apple Music and Pandora have also joined the #MuteRKelly campaign.
---
Drake announces a new tour with Migos.
Drake has announced the Aubrey and the Three Amigos Tour to support his upcoming album, Scorpion, releasing in June.  Alongside Migos, Drake will embark on a 41-date tour across North America.  Produced by Live Nation, the tour kicks off on July 26th in Salt Lake City.  The Aubrey and the Three Amigos Tour will end on November 17th in Atlanta.
---
Israel wins the Eurovision contest.
Israel has won the Eurovision contest with Netta Barzilai's song, 'Toy.'  The annual competition, held in Lisbon, featured 43 countries competing for the top prize.  Barzilai, a 25-year-old singer, had previously won Hakokhav Haba, Israel's version of American Idol.
---
The Howard Hughes Corporation unveils its full artist lineup for the Pier 17 Rooftop Concert Series.
The Howard Hughes Corporation, in partnership with Live Nation Entertainment, has announced the full artist lineup for the inaugural Pier 17 Rooftop Concert Series in the Seaport District in New York City.  The full lineup includes Amy Schumer, Kings of Leon, Diana Ross, Gladys Knight, Trevor Noah, deadmau5, Bebe Rexha, Hunter Hayes, and Paul Anka, among other performers.
---
Dido signs with BMG Music.
Ahead of her fifth studio release, Dido has signed with BMG Music.  BMG will release the new album worldwide in early 2019. She previously had a longstanding record deal with Sony Music.
---
Featured image by whittlz (CC by 2.0)