Indie labels are now outranking major labels in terms of total marketshare.  In fact, this is the second-straight year that's happened.
Universal Music Group is a giant major label valued at nearly $40 billion.  But maybe indie labels are worth more than than.  According to revenue data compiled by Music & Copyright, indie labels collectively outranked Universal Music Group for the top slot in 2017.
"A repeat of 2016 saw independent record companies collectively account for the biggest share," Music & Copyright relayed.
Specifically, indies pulled a 32.2 percent marketshare, with Universal Music Group following at 29.7 percent.  Sony Music Group finished with 21.9 percent, while Warner Music Group lagged with 16.7 percent.
The rankings are based on revenues earned, instead of units sold or total streams.
One of the most interesting wrinkles here is that indies are wildly outperforming in physical.
For the year, indies grabbed an impressive 39.2 percent share, while second-place UMG posted a 25.4 percent share.  That result points to disproportionate gains among indie artists and labels from vinyl, not to mention formats like CDs and even cassettes.
Unsurprising considering the increased loyalty that indie artists often experience, with fans buying more valuable mementos.  Additionally, indie fans are more motivated to support their favorite artists, and physical formats like LPs a far greater revenue-generators than digital formats like streaming.
+ Merlin Just Licensed 90% of China's Legitimate Digital Music Market
That's certainly the case on Bandcamp, where unsigned and indie artists are still selling healthy amounts of album LPs, CDs, and cassettes.  Over at Record Store Day, indies may also be outperforming, though majors are certainly moving into the RSD upswing.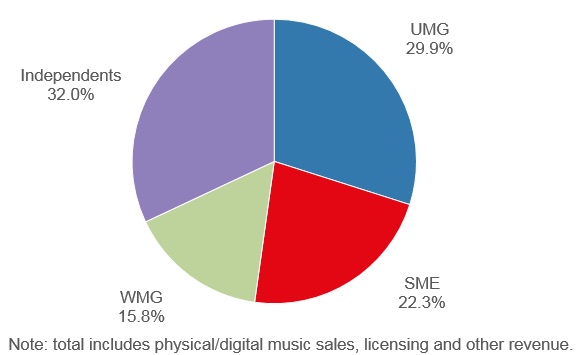 One criticism of this ranking might be that majors and indies are often more intertwined than they appear.  In many cases, majors are supplying the distribution muscle, or partnering with an indie to boost a promising artist.  Even Taylor Swift has claimed to be an indie, though that classification is obviously more complicated.
On the publishing side, indie publishers also managed to outpace their big label rivals.
+ Google Invests $70 Million to Destroy the Major Label Ecosystem
In fact, indies collectively crushed their big publishing rivals.  Specifically, indie publishers grabbed a 41.2% share, with Sony/ATV Music Publishing coming in at second with a 27.3% share.  Universal Music Publishing Group (UMPG) scored a third-placed ranking with 19.8 percent, while Warner/Chappell Music Music finished fourth with a 12.0% share.
Sounds like a big development, but according to Music & Copyright, indies have long taken the cake in publishing.  "Independent music publishers have long dominated music publishing and continue to compete well with the majors for major artists' attention," the group shared.
---