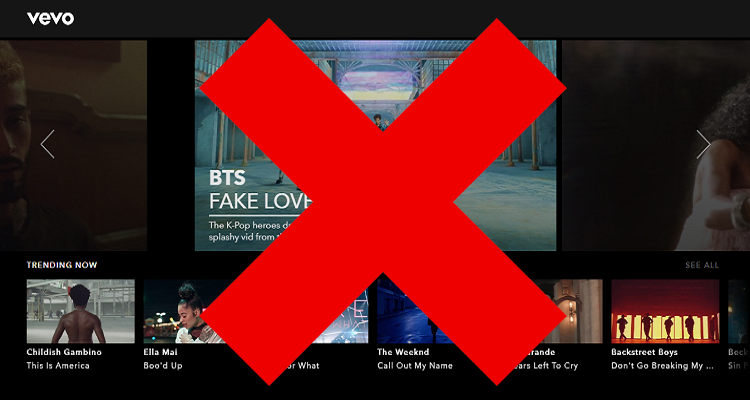 Ironically enough, Vevo's announcement comes right as Google doubles down on its (yet to roll out) music streaming service, YouTube Music.
Vevo has announced that it will give up plans to build its own music video platform.  The company will shut down its mobile apps and main website.
In a blog post, the multinational video hosting service wrote,
"We will phase out elements of our owned and operated platforms.  Going forward, Vevo will remain focused on engaging the biggest audiences and pursuing growth opportunities."
The move comes just months after two top executives abruptly left the company, including its recently-hired CEO, Eric Huggers.  Huggers jumped ship to Bandcamp.  In the last six months, Vevo has also lost its CTO, Head of Product, and several product and engineering employees.
Vevo's announcement today underscores the platform's failure to diversify its product offering and build its own viable music video platform.  Basically, it hasn't shown users why they should abandon YouTube.
In fact, the company has traditionally been a supplicant to YouTube's massive traffic flows.
As part of its recent licensing renewal several weeks ago, Google scored a major win.  Previously, Vevo's sales force had the first choice on selling their music clips to advertisers.  Not anymore.
Now, as part of its YouTube Brandcast offerings, the search giant sells these clips directly to major advertisers without consulting the video hosting service.  The deal will generate higher ad sales for music videos on the Google-owned video platform.
Major labels, of course, will see a greater revenue share.  Meanwhile, Vevo loses out.  Never mind that all three major music labels originally founded the video hosting service to curb YouTube's unrivaled dominance.
Today's announcement also signals a major shift in strategy for Vevo.  Instead of attempting to create its own music video platform, Vevo will now piggyback on YouTube's success.  Basically, for the video hosting service to survive, it now wholly relies on Google's new music streaming service to succeed.
The post continues,
"Our catalog of premium music videos and original content will continue to reach a growing audience on YouTube and we are exploring ways to work with additional platforms to further expand access to Vevo's content."
Paradoxically, as the company shutters its mobile apps and website, it will continue to sell service-specific advertising on every distribution platform.
"We will continue to be the primary seller of Vevo-specific advertising on all distribution platforms – including the sponsorship of video premieres. Vevo offers unique selling propositions for buyers to purchase National, Local and Multi-Cultural audiences at scale, in brand-safe environments, with guaranteed reach and all of the addressability of IP-delivered inventory."
One thing remains clear from today's announcement.  Should YouTube Music fail to succeed on a massive scale, expect more 'strategic shifts' at Vevo, including unexpected resignations and sudden dismissals.
---