Emma Banks will receive the 2018 Music Industry Trusts Award.
The 2018 Music Industry Trust Awards will honor Creative Arts Agency London executive Emma Banks for her 25+ years in the music industry.  Banks' clients include Katy Perry, Arcade Fire, Lorde, and Florence and The Machine.  She also represents Kylie Minogue, Red Hot Chili Peppers, Green Day, Muse, HAIM, and Paramore.
---
Billboard Boxscore editor Bob Allen resigns.
Bob Allen, a longtime editor for Boxscore at Billboard, has tendered his resignation.  Sources say that he may move to Pollstar.  Former Billboard colleague Ray Waddall will oversee editorial for Boxscore.
---
Walt Disney changes Melbourne's Etihad Stadium name.
Following a sponsorship deal with Walt Disney, Melbourne's Etihad Stadium will be renamed to Marvel Stadium.  The eight-year agreement – in effect this September – includes complete rebranding and renaming of the stadium, a premium Marvel store, and a number of other activations that will bring the Marvel universe to life.
---
SZA steps down from tour due to vocal issues.
R&B singer and songwriter SZA has been pulled from Top Dawg Entertainment's (TDE) Championship Tour.  On Instagram, TDE President Anthony 'Top Dawg' Tiffith confirmed that the singer has serious vocal issues.
"I got some bad news.  I have to take SZA off for a few days on the tour.  Her vocal chords are swollen and she has to rest her voice to prevent any permanent damage.  We've been monitoring her close and this is the reason she missed the Arizona and New Mexico dates."
It remains unclear whether SZA will rejoin the tour.
---
Italian live sector association KeepOn Live launches.
A new association for Italian music venues, festivals, and promoter has launched in Milan.  KeepOn Live will represent and defend the interests of venues and festivals in the country.  Marco Manzella – founder of parent organization KeepOn – will lead the company.
---
Amazon Music app now has hands-free Alexa commands.
Amazon has rolled out hands-free listening to the Amazon Music app on iOS and Android.  Users can now use Alexa to play and pause music, change tracks, and create playlists.  Alexa can also play music by mood, activity, genre, lyrics, artist, or song title.
---
Beatport announces Hype Charts, subscription service, and new streaming capabilities.
At the International Music Summit in Ibiza, Beatport, an EDM online store, announced its product roadmap for 2018.  In the third quarter of 2018, the store will launch Hype Charts, a feature that will highlight up-and-coming artists, releases, and indie labels.  Beatport will also launch a DJ discount subscription service in Q4 2018.  Finally, the online store will provide new streaming capabilities for DJ software in Q1 2019.
---
UTA signs Dave East.
United Talent Agency (UTA) has signed Harlem rapper and MC Dave East.  It will represent the artist in all areas worldwide.
---
S-Curve Records/BMG will handle worldwide promotion for Netta's 'Toy.'
S-Curve Records has signed Netta's hit song, 'Toy,' for a promotional push.  The track won the 2018 Eurovision Song Contest earlier this year.  In partnership with BMG, S-Curve will handle worldwide promotion of 'Toy.'  The music video for the hit song has surpassed 53 million views on YouTube.
---
Jim Duguid and Dru Masters join PRS Board.
PRS members have made appointments to the PRS Board at its 2018 Annual General Meeting (AGM).  Music creators Jim Duguid and Dru Masters will serve as Writer Directors of the Performing Rights Society (PRS) Board, replacing Crispin Hunt and Mick Leeson.  Composer Edward Gregson will return to the Board.  Concord's John Minch and Bucks Music Group's Simon Platz have been re-elected as Publisher Directors.  Stephen Davidson and Mark Poole were also re-elected as external Directors on the PRS Board.
---
James Smith joins Live Nation Japan.
Live Nation has hired James Smith as Vice President of Touring and Festivals in Japan.  He has previously booked Kendrick Lamar, Major Lazer, and The XX for Fuji Rock, Japan's largest outdoor music festival.  Based in Tokyo, Smith will report to Live Nation Japan President John Boyle.
---
Fan Fair Alliance partners with O2.
Advocacy group Fan Fair Alliance has announced a partnership with O2.  Both will ensure that Priority Tickets reach as many fans as possible without getting to brokers.
---
BottleRock and Live Nation partner with Cisco.
BottleRock and Live Nation have partnered with Cisco to boost Wi-Fi connectivity to the 2018 BottleRock Napa Valley festival. Organizers offered Wi-Fi connectivity to VIP areas, allowing them to order food and beverages online as well as upload images and videos to social media platforms.
---
Say hello to the world's first zero-waste vegan music festival.
No Planet B, a zero-waste vegan music festival, will take place on in the UK on August 17th to the 19th. Currently crowdfunded on Kickstarter, the three-day event will feature music, classes, and talks from vegan activists including James Aspey and She Grows Wild founder, Louise Smith. Organizers have posted the following festival guidelines below.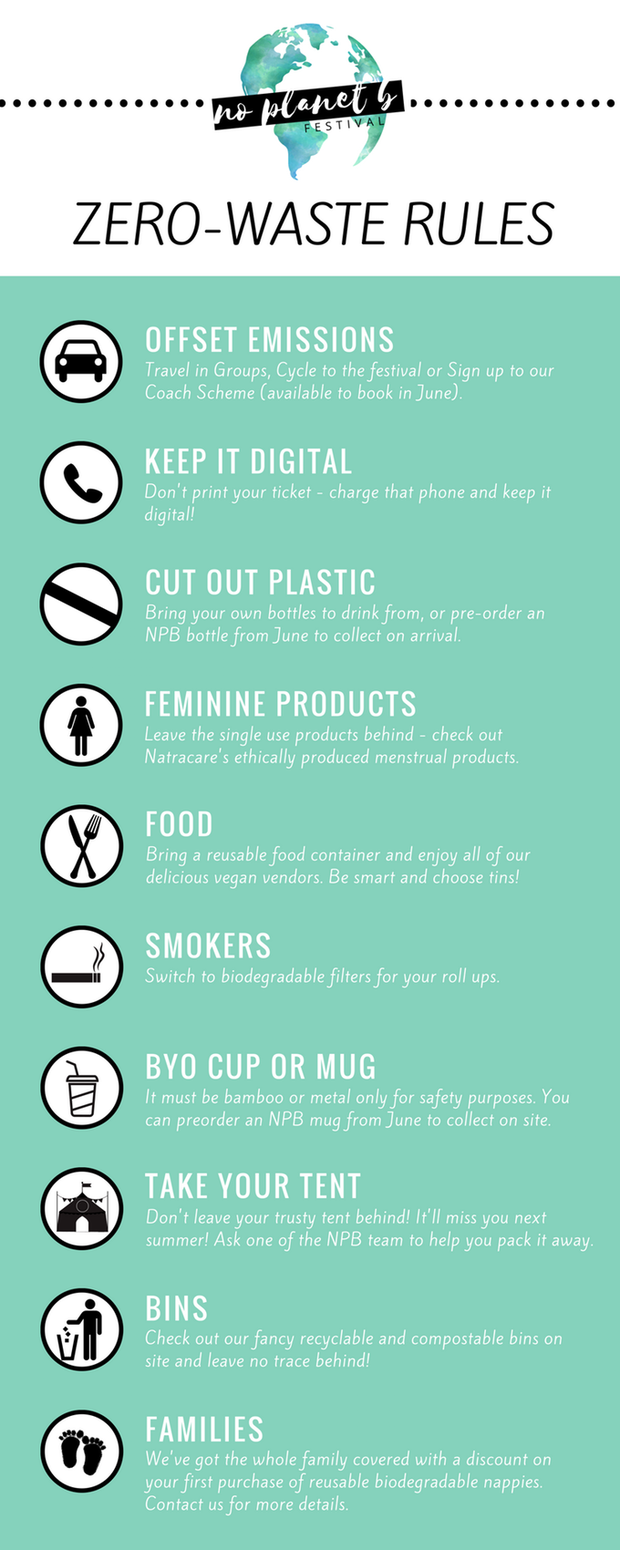 ---
Featured image by Amazon Music.